By Linda Conner Lambeck
WESTPORT — At her last meeting as a Board of Education member, Vice Chair Liz Heyer was praised Thursday from both sides of the political aisle as someone who always came prepared, helped build bridges and sometimes change minds.
"You often influenced my opinion," said board Chair Lee Goldstein, a Democrat, of her Republican colleague. "I appreciate your willingness to talk about it. You always give people the benefit of the doubt."
Fellow Republican Dorie Hordon called her a role model and mentor.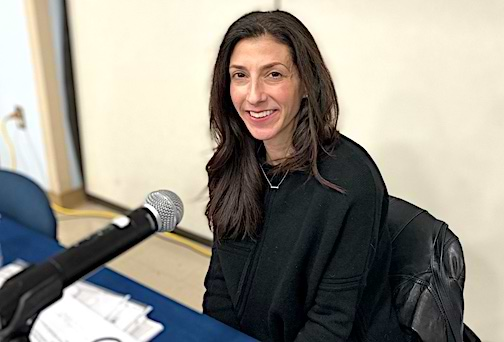 "You come to meetings meticulously prepared on every topic, however interesting or boring," Hordon said. "The town is so lucky you will continue on board of finance."
Heyer was a candidate in the Nov. 7 municipal election — not for the school board, but the Board of Finance. She won the seat and will be sworn in Monday as a member of the finance panel.
Heyer served on the school board for three and a half years, appointed in August 2020. The last two years she was chair of the board's Finance and Facilities Committee and served this past year as a liaison to the town's Long Lots School Building Committee.
Heyer said her tenure felt longer, citing a list of what she said the school board has accomplished in that time, including the reopening of Coleytown Middle School, reframing budget discussions and making changes to transportation, leadership and healthcare.
"So many places where we moved the needle," said Heyer, adding the school district also tackled challenging issues, though she did not name them.
Over the past two years, the district has worked on plan to make schools more welcoming to all students and Diversity, Equity and Inclusion plan some find controversial. It also faced a challenge to books in the Staples High School library that some called inappropriate and pornographic.
Heyer said the board was able to keep the focus local, and on Westport despite national discussions.
Goldstein said Heyer's service to the board included accompanying her to Representative Town Meeting and Board of Finance committee meetings and also serving on hiring and negotiating teams.
"I think we partnered well," said Goldstein, who observed that she would look at problems big picture while Heyer took a detailed approach. They often met in the middle, Goldstein said.
Even though she had been on the board only 18 months when he was elected, board member Kevin Christie said he considered Heyer, along with Goldstein, the "two elder states-people" on the board, since everyone else was new.
Board Secretary Neil Phillips wasn't at the meeting, but in a statement read by member Christine Torres, praised Heyer's impeccable preparation for meetings, her thoughtful analysis and sometimes pointed questions.
"Doing all this while maintaining a high level of civil discourse," Phillips said.
Board member Robert Harrington praised Heyer not only for her leadership on the board, but for helping build bridges with other town boards.
He said he expects her to be a strong ally for education in her new role on the finance board.
Supt. of Schools Thomas Scarice told Heyer she made him a better superintendent in a lot of ways because of her diligence and questions that made him think outside the box.
Two members of the public also praised Heyer.
Elaine Whitney, a former school board member who served with Heyer on the board's Finance and Facilities Committee, called her a wonderful problem solver and a good listener who influenced her thinking on issues as well.
Whitney praised Heyer for taking a stand different from others when she felt it was necessary and owning it.
Lauren Karpf, the RTM's deputy moderator and chair of its Education Committee, gave Heyer high marks for always doing her homework.
Gifts to school programs accepted
In other action Thursday, the board voted unanimously, with six members present, to accept two gifts totaling $5,098 from booster clubs to support the assistant coaching stipends for boys basketball and boys indoor track.
The board also unanimously accepted a $2,386.50 check from the Greens Farms School PTA to buy a new school laminator. The one it replaces was said to be 23 years old and no longer works.
Freelance writer Linda Conner Lambeck, a reporter for more than four decades at the Connecticut Post and other Hearst publications, is a member of the Education Writers Association.