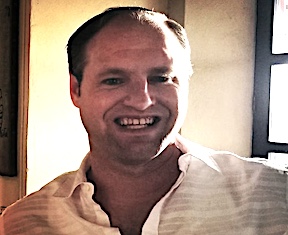 Following is the obituary for ANDREW DAVID ASTER, submitted by his family.
_________________________________
With heavy hearts, we announce the passing of Andrew Aster, 39, on Nov. 12, 2023, in his native city of Dallas, Texas. He was a treasured son, brother and incredible friend.
Andrew was born to Charles and Paula Aster on April 22, 1984, in Dallas, Texas. Growing up alongside his twin brother Jason and younger sister Rachel (Raye), Andrew's childhood in Westport was full of familial warmth and camaraderie.
He attended Staples High School, where he was not only a member of the wrestling team and cheerleading squad, but also a standout athlete in track and field, competing in the pole vault and earning places on the school leaderboard in the 110m and 300m hurdles.
Andrew's graduation from Staples in 2002 marked the first step of an eventful journey. He pursued higher education at Lafayette College, graduating in 2006 with a Bachelor's degree in history, focusing on medieval European and French studies. His college years were distinguished by his role as Delta Kappa Epsilon Fraternity president and his active participation on the track and field team.
Post-graduation, Andrew embarked on a dynamic career path with the global resorts company Club Med, rising through the ranks from a G.O. (Gentils Organisateur) to sports and entertainment manager in roles that expanded his horizons and sent him to Mexico, Israel, France and the Dominican Republic. These experiences enriched his life, endowing him with language fluency in French, Spanish and Hebrew, along with close friendships around the globe.
After his international adventures, Andrew returned to Dallas, where his family had relocated. He continued to excel in various sales and management roles in the retail and technology sectors, and was just beginning a new and exciting opportunity in the industry as recently as October. His professional life was a testament to his hard work, dedication and exceptional interpersonal skills.
As a lifelong participant and enthusiast, Andrew's passion for sports was an integral part of his identity, reflecting his team spirit and love of competition. Youth soccer was an Aster family affair. From a young age, Andrew played alongside his brother Jason as teammates, while Charles coached, and Paula served as league commissioner. As teenagers, Andrew and Jason refereed local games with their father as a trio. His love for athletics never faded. If there was a professional sports league, Andrew had a team he was passionate about. The Dallas Cowboys. The New York Yankees. The New York Knicks. Manchester United. The Texas Longhorns. And always — Team USA. His enthusiasm extended to casual games like fantasy football, board games, card games, and Super Smash Brothers; even though, to Andrew, these games were anything but "casual."
Andrew's departure creates an unfillable void in the hearts of those who knew him. His vibrant spirit, generosity and unwavering dedication to his family will be dearly missed, but never forgotten. He will be forever remembered for his gregarious personality and ability to create true friendships wherever he went, from the cheerleading squad, wrestling and track teams in high school, to his DKE fraternity brothers at Lafayette, and even transcending language and cultural barriers at the Club Med teams he joined and then led around the world. A highlight of Andrew's year was hosting his annual Holiday Tacky Sweater Party, where friends far and wide came together every December with the tackiest sweaters they could find.
He is survived by his mother, Paula; father, Charles (stepmother, Ellen); twin brother, Jason; sister, Raye; stepsiblings, Kristen, Jessica and Cara; and many loving friends and relatives.
Andrew's life was celebrated among family and friends on Nov. 15 at the Sparkman/Hillcrest Funeral Home in Dallas. The family kindly requests that donations be made to a local youth sports organization of your choice, in lieu of flowers, honoring Andrew's commitment to sports and youth development.
The family has so many treasured memories with Andrew and would love to hear yours, too. To share a story, photos and condolences with the Aster family, please email remembering.andrew.aster@gmail.com.