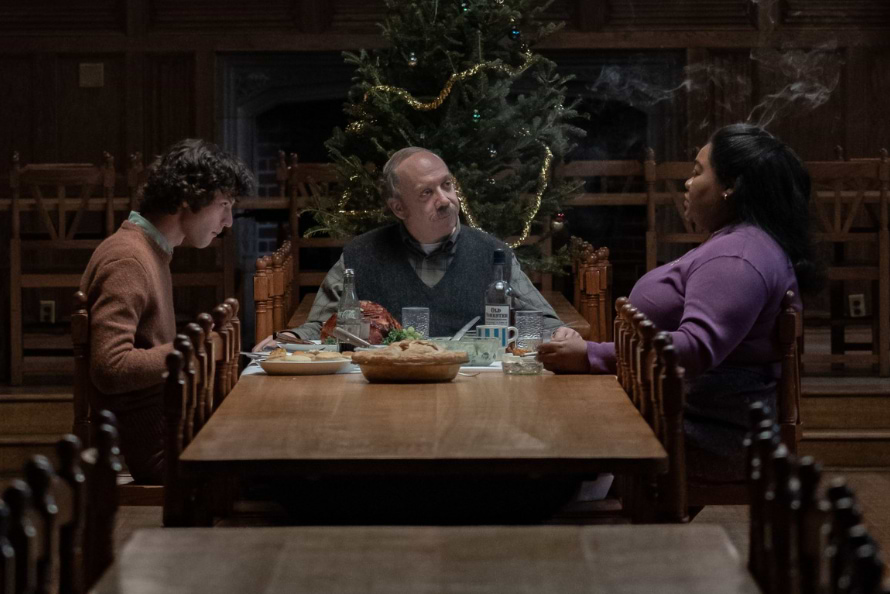 When I evaluate movies on a gauge of "one" to "10," my primary criterion revolves around: How well did the filmmakers accomplish what they set out to do?
So, when I give a total 10, that usually indicates one of the Best Films of the Year. Alexander Payne's new comedic drama "The Holdovers" qualifies.
Best known for his Oscar-winning "Sideways" (2004), Payne's other films include "Citizen Ruth," "About Schmidt," "Election," "The Descendants," "Nebraska" and "Downsizing."
Set at Christmastime in 1970 at prestigious Barton Academy, a rural Massachusetts prep school, "The Holdovers" revolves around Paul 'Walleye' Hunham (Paul Giamatti), the cynical, curmudgeonly classics instructor forced to supervise the unfortunate boys unable to return home for the two-week holiday break.
When a rich kid's dad arrives in his helicopter, he offers to take them all skiing – if their parents give permission. That leaves only arrogant, angry Angus Tully (newcomer Dominic Sessa), whose honeymooning mother and stepfather have abandoned him and cannot be reached.
So Paul and Angus are left on the forlorn campus with the school's grieving cafeteria manager Mary Lamb (Da'Vine Joy Randolph); her only son Curtis, one of Barton's few Black graduates, was recently killed in Vietnam.
Screenwriter David Hemingson devises distinctive and compelling backstories for each of these three lonely, sad souls. Their traumatic misadventures turn out to be therapeutic, yet director Alexander Payne never succumbs to sentimentality.
The subtle, character-driven performances are superb. For Paul Giamatti ("Billions"), academia is familiar territory. His mother was a teacher, as were his grandparents, and his father, A. Bartlett Giamatti, was President of Yale. He perfectly embodies the irascible, misanthropic professor of Ancient Civilizations.
When Dominc Sessa was 'discovered' by casting director Susan Shopmaker, he was a drama student at Deerfield Academy, where some of the location filming took place – along with Groton, Northfield Mount Herman and St. Mark's.
And Da'Vine Joy Randolph ("Only Murders in the Building") adroitly utilizes humor and humanity to hide her heartbreak.
Plus there's outstanding craftsmanship: Eigil Bryld's snowy cinematography and Ryan Warren Smith's nostalgic '70s production design are outstanding.
On the Granger Gauge of 1 to 10, "The Holdovers" is a bittersweet, touching 10, playing in theaters.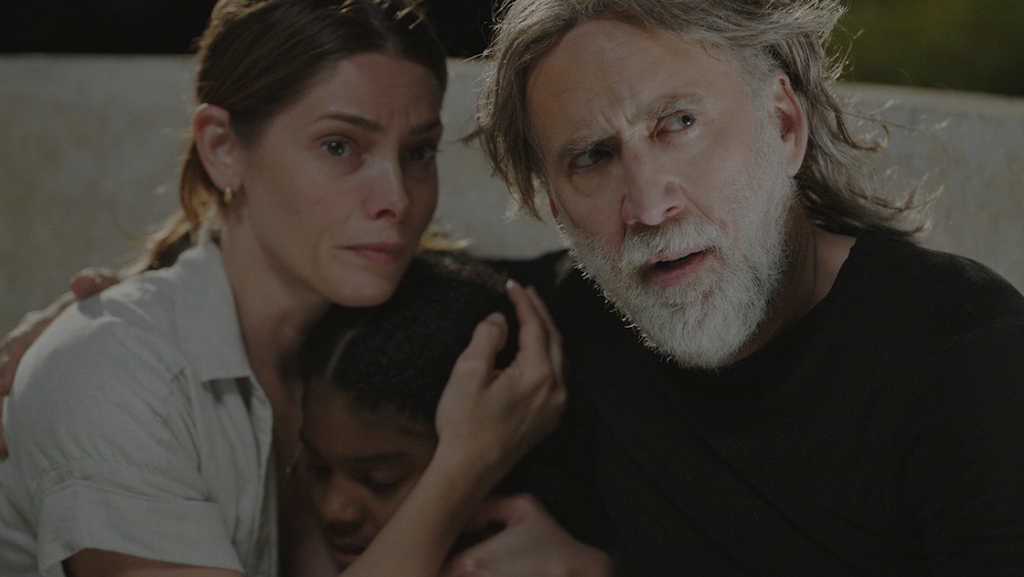 After a brief release in theaters, Nicolas Cage's newest action-comedy "The Retirement Plan" is now streaming.
The story begins in Miami with a heist that goes terribly wrong. As a result, Jimmy (Jordan Johnson-Hinds) and his wife Ashley (Ashley Greene) are in possession of an incriminating flash-drive that mobster Donnie (Jackie Earle Haley) promised to give Hector (Grace Byrne), who heads an organized crime syndicate.
Desperate, Ashley hides it in the backpack of her 11 year-old daughter Sarah (Thalia Campbell) and puts her on a plane to the Cayman Islands with instructions to find a man named Matt (Nic Cage), who turns out to be her grumpy grandfather.
Wearing a Hawaiian shirt and reeking of liquor, scraggly-haired Matt resembles a derelict. Long estranged from Ashley, he doesn't even know he has a granddaughter. He used to be in Special Forces, working as an assassin for the government, but he has no intention of giving up his peaceful beach-bum lifestyle.
Holding Jimmy hostage, Donnie then dispatches his Shakespeare-loving henchman Bobo (Ron Perlman) and General (Ronnie James Hughes) to accompany Sarah to retrieve the flash-drive.
So what happens? Imagine a ruthless 'John Wick'-like hitman drowning himself in drink on an island for 30 years and then coming out of retirement
So how did Canadian writer/director Tim Brown ("The Cradle") get Cage to star in this obviously low-budget crime-thriller? Apparently, Cage was intrigued with playing an older character like the granddad and Brown continuously urged him to improvise on the family theme.
Living on a sunny 'Covid-free' tropical island for several months in 2021 was also an inducement since there was a 16-day quarantine. Plus, Cage became friends with Ron Perlman while filming "Season of the Witch" (2011) and they enjoyed hanging out together.
FYI: Busy Nic Cage has appeared in six other 2023 movies: "The Old Way," "The Flash," "Renfield," "Sympathy for the Devil," "Dream Scenario," and "Butcher's Crossing."
On the Granger Gauge, "The Retirement Plan" is an escapist 6, available to rent or buy on Apple TV+, Prime Video and/or Vudu.
Westport resident Susan Granger grew up in Hollywood, studied journalism with Pierre Salinger at Mills College, and graduated from the University of Pennsylvania with highest honors in journalism. In addition to writing for newspapers and magazines, she has been on radio/television as an anchorwoman and movie/drama critic for many years. See all her reviews at www.susangranger.com.