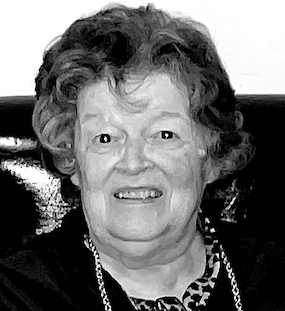 Following is the obituary for NANCY D. WESTCOTT, submitted by her family.
_______________________________
Nancy D. Westcott, 86, formerly a longtime Westport resident, passed away peacefully on May 15, 2023, at the home of her daughter and son-in-law, Mary and Christopher Thomajan, in Belmont, Mass., where she resided for the past six years.
Nancy is preceded in death by her husband of 54 years, Ed Westcott (d. 2011), her son Michael Westcott (d. 2014), and is survived by her sons Mitchell Westcott and William Westcott, and daughters Wendy Westcott, Annie MacPhail and Mary Thomajan, 12 grandchildren and four great-grandchildren.
Spirited, quick-witted and warm, she was dearly beloved by all who knew her.
Nancy was one of five children raised in rural Bay City Mich., where she met Edgar J. Westcott while both working at the same tackle shop. They were married in December 1957 and immediately relocated to Germany for Ed's U.S. Army assignment. Far from home, Nancy gave birth to their first child, Michael. In Nancy's inimitable way, she began her thread of making lifelong friendships that were the fabric of who Nancy was.
Upon their return from overseas, Ed launched a career as an automobile stylist. His talents led him to be recruited into the industrial design world. Together, they ventured out of Michigan to the East Coast, where they formed Westcott Associates, an industrial design firm. Nancy worked at the firm while simultaneously raising their six children in Westport.
Nancy's engaging personality and sense of humor made her a popular figure in the community of Westport, where she made lifelong friendships and generously gave of her time.
She volunteered at Assumption School and Church, was an active member of the Ladies Club, engaged with the elderly through FISH (Friends I Should Help care services) and Meals On Wheels. Nancy was a dedicated member of the Catholic faith which served her well throughout her life.
After the passing of Ed from ALS in 2011, Nancy lived in Heritage Village in Southbury. There, she maintained her volunteer work and activities at her cherished Church of the Nativity.
It was in this bucolic setting where she delved into her hobby of pressing any and all beautiful flowers she found and turning them into "Nan's Notecards." Eventually, she started a small business and sold her cards in local boutiques.
In 2016, Nancy moved to Belmont, Mass. She immediately made connections through the local Beech Street Senior Center and her church, St Eulalia's in Winchester. Her small business thrived in Belmont and she was a fixture at the Belmont Center Christmas Bazaar.
The family will hold a private celebration of Nancy's life on Saturday, May 20. In lieu of flowers, donations may be made to: Compassionate Care ALS, P.O. Box 1052, West Falmouth, MA 02574.