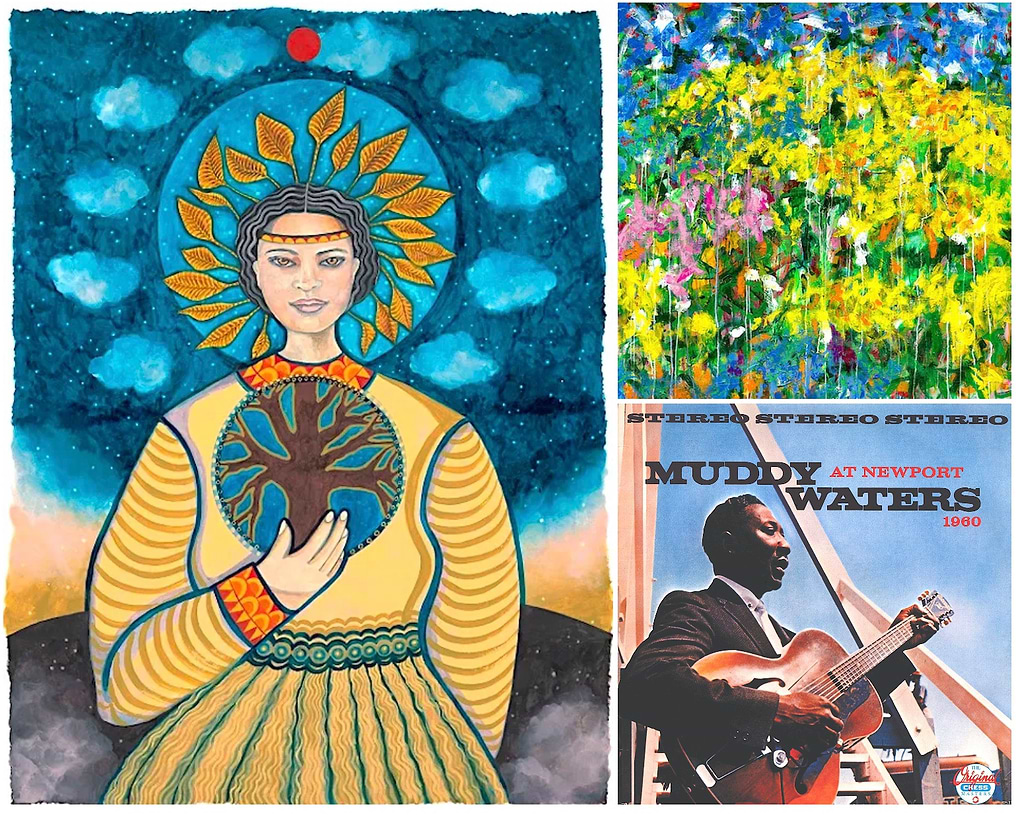 WESTPORT — Three new art exhibits — interpreting the way stories are told, how the seasons are felt and how the blues is sold — are on display at the Westport Library through the summer.
The exhibits are: "Women Telling Stories," paintings by Nancy Moore; "Three Seasons," paintings by Charles Douthat and "Chicago Blues," a collection of classic record album covers.
They can be viewed through Aug. 8 during regular hours at the library, 20 Jesup Road.
"Women Telling Stories:" Moore, with a background in book editing, "has internalized the art of storytelling to inform her passion as a painter," according to publicity for the exhibit. Her work, mainly watercolors, features themes of transformation, ethnography, design, shape-shifting, gender identity, fashion and creation myth.
During 38 years as a book editor, Moore was in "the company of people compelled to describe the world and to tell stories," she said in the press statement. "Around the edges of that career, I painted — a passion I discovered in childhood and never lost. The need to tell stories, to communicate through my work, has propelled me forward in my career as an artist."

A reception for "Women Telling Stores," displayed in the Sheffer Gallery, is planned at 2 p.m. June 4 at the library, including a conversation between Moore and local artist Miggs Burroughs.
"Three Seasons:" Douthat, a retired trial lawyer, poet and member of the Artists Collective of Westport, began painting 15 years ago primarily in the styles of abstract expressionism and lyrical abstraction.
Despite living in the area more than 40 years after growing up in southern California, "I still can't make myself like New England winters," Douthat said in the library's publicity statement for the show.
"Partly it's the cold and the short, dark days. Partly it's the absence of vivid colors in the world around me," he said. "The best I can say for winter is that the more it lingers, the more I long for it to end. And sometimes I'm able to paint out of that longing, as I did this year for the three new works in this exhibit, which were all started and finished during the coldest months."
A reception for the exhibit, on view in the South Gallery, is set for 6 p.m. June 14, including a conversation between the artist and Miggs Burroughs.
"Chicago Blues," on display in the Jesup Gallery, features albums covers from the collection of Ellen and Mark Naftalin, the American blues keyboardist inducted into the Rock 'n' Roll Hall of Fame with the Paul Butterfield Blues Band in 2015.
Included are album covers of some of "the original blues musicians who made their way to Chicago and changed the face and sound of American music forever," the library said.
For more information, call the Westport Library at 203-291-4800.