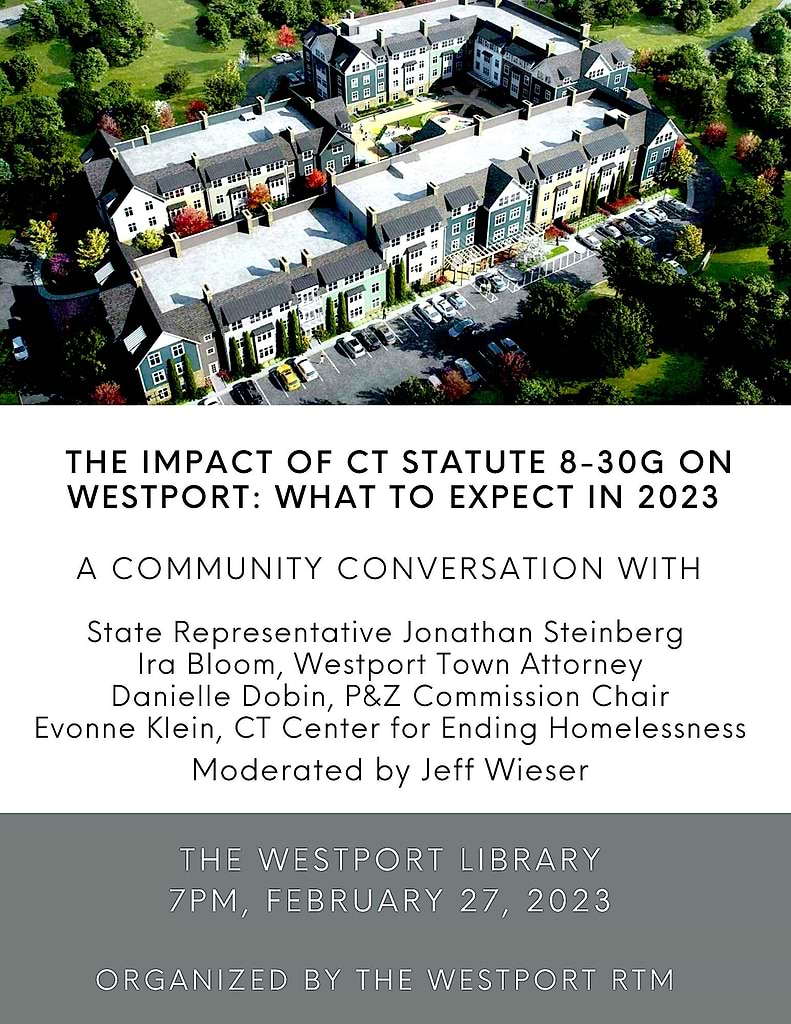 By John Schwing
WESTPORT — As Westport's four-year moratorium to the state's affordable housing law, widely known by its statutory number, 8-30g, expires next month, a "community conversation" about its impact is planned Feb. 27 at the Westport Library.
Panelists for the program, set for 7 p.m. Monday, Feb. 27, will be: state Rep. Jonathan Steinberg, D-Westport; Town Attorney Ira Bloom; Planning and Zoning Commission Chairwoman Danielle Dobin, and Evonne Klien, chief executive officer of the Connecticut Center to End Homelessness.
The program, organized by the Representative Town Meeting, will be moderated by RTM Moderator Jeff Wieser.
The law has provoked widespread discussion — and controversy — locally and across the state since it was adopted in 1989 as a tool to promote the development of more affordable housing.
The state subsequently adopted a related provision, 8-30j, which requires each town in the state to adopt a five-year plan on how it intends to foster development of more affordable housing options.
Westport's Planning and Zoning Commission adopted its mandated housing plan last June. To read the town's full affordable housing plan, posted on the town's website, click here.
Since then, the P&Z's Affordable Housing Subcommittee has discussed ways that provisions of the plan might be adopted. The panel's next meeting, set for noon Feb. 28 via Zoom, will hear more discussion about "implementation strategies" for the plan.
The 8-30g law has sparked debate in communities where less than 10 percent of the housing inventory built after 1990 does not conform with the state's "affordable" criteria — such as Westport. In those situations, the law provides an appeals process for applicants to override local zoning regulations if they set aside affordable units in a development.
In 8-30g appeals, zoning officials shoulder the "burden of proof" if they want to deny an application, such as proving that a significant threat to public safety or health would result if a project is built.
Several controversial Westport projects, including the P&Z's recent approval of an amendment to re-zone part of Saugatuck, have played out in the shadow of 8-30g.
Although developers of the prospective "Hamlet at Saugatuck" development — who proposed zoning changes to pave the way for their plans — have not filed an 8-30g application, advocates said their promise to include affordable units could help the town qualify for another moratorium.
And without the Hamlet units counted toward Westport's total stock of affordable housing, the town would be more vulnerable to 8-30g applicants less willing to cooperate with zoning officials once the moratorium expires, some have warned.
Other 8-30g projects, such as those on Hiawatha Lane (still being challenged by neighbors), Cross Street and Wilton Road at Kings Highway North, all sparked lengthy litigation.
After local zoning officials' initial denials were overturned, ultimately, the town agreed to deals allowing the projects to go forward in reduced scope.
John Schwing, the Westport Journal consulting editor, has held senior editorial and writing posts at southwestern Connecticut media outlets for four decades. Learn more about us here.