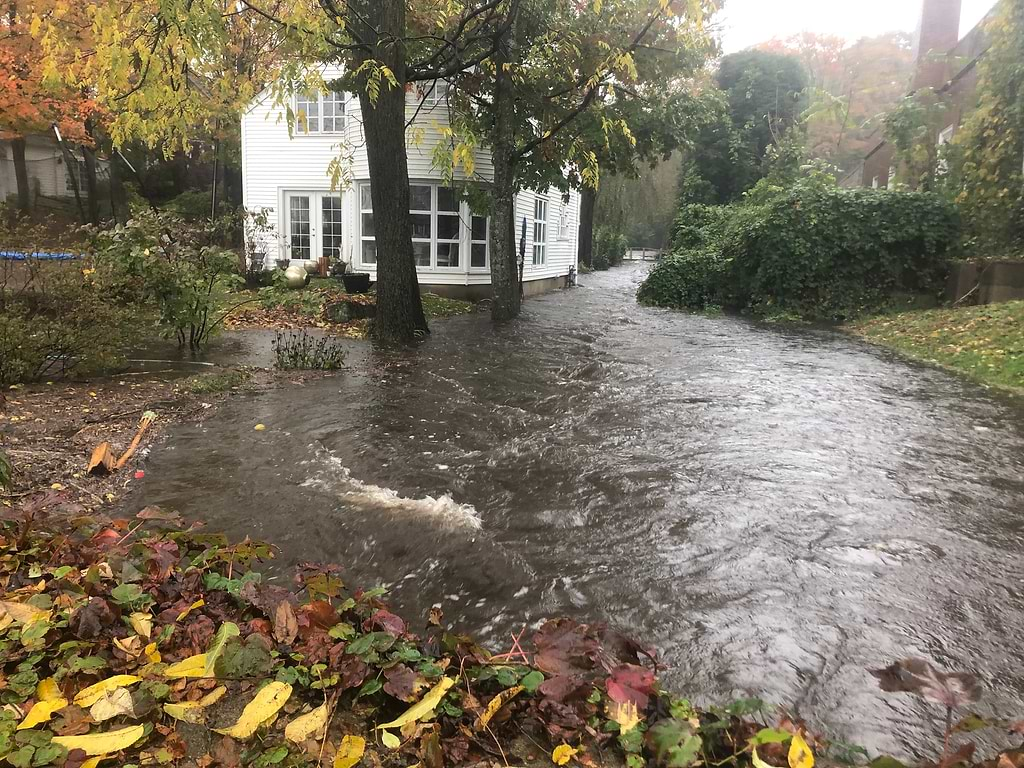 By Gretchen Webster
WESTPORT — Agreement between the town and the Federal Emergency Management Agency last week may seem standard, but it has large implications in a flood-prone town like Westport.
Signing the agreement, called the Information Sharing Access Agreement, is designed to protect homeowners' private information, but is also part of a process that helps Westport residents secure a deduction in flood insurance costs.
The program was discussed at the Board of Selectwomen's meeting last week, and the agreement was signed by First Selectwoman Jennifer Tooker.
Each year, Westport officials act to keep the town certified in what's called the Repetitive Loss property program, Michelle Perillie, deputy director of the Planning and Zoning Department, said after the meeting.
The program requires that the town provide outreach to property owners who have suffered a loss caused by flooding, and to help them protect their property from future flood damage.
"We have over 200 properties that are in the Repetitive Loss program," Perillie said, "and 3,000 properties in town that are in the flood zone."
A Repetitive Loss property is defined by FEMA as "any insurable building for which two or more claims of more than $1,000 were paid by the National Flood Insurance Program (NFIP) within any rolling ten-year period, since 1978."
Westport has to be re-certified for the program every year by giving FEMA information about what the town is doing to help reduce losses from flooding, Perillie said. If the town is re-certified at the same level as last year, property owners will get a 10 percent reduction in the cost of flood insurance, which is costly.
Currently, Westport maintains a "Class 8" certification in the program, which triggers the 10 percent reduction in insurance costs. If the town can qualify for a Class 7 or lower certification, the reduction would grow by about 5 percent with each level, Perillie said.
Although the town routinely works on flood-control projects, the main thrust of the Repetitive Loss program is to help individual property owners who decide to elevate their house or build a new one designed to be more flood resistant.
When a property becomes less flood prone through improvements, the town sends the information to FEMA, which boosts the town's likelihood of getting certified at a lower class level with better insurance benefits.
"The goal is to minimize repetitive loss in the community," Perillie said. "We're always working on this behind the scenes, always working on ways to keep the town safer and with less flooding."
There are different projects that a town can undertake to help prevent flooding to qualify for the program, although some bog down because of concerns raised by neighbors.
All property owners in a flood zone get a mailing each year from the town with information about how to prevent flooding.
Tooker last year also organized a series meetings for property owners who live in flood-prone areas near local streams.
The meetings started in November and two sessions remain: Dead Man's Brook on Thursday, Jan. 19, and Stony Brook and Poplar Plains Brook on Thursday, Jan. 26. Both meetings will take place at 7 p.m. in the Town Hall auditorium.
Freelance writer Gretchen Webster, a Fairfield County journalist and journalism teacher for many years, was editor of the Fairfield Minuteman newspaper for 10 years and currently teaches journalism at Southern Connecticut State University.