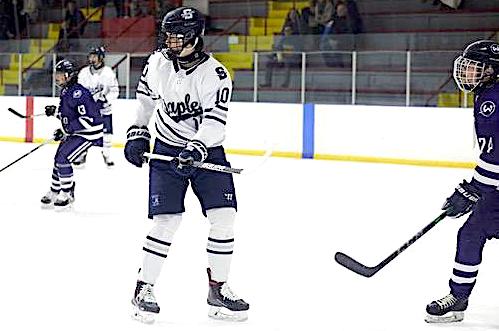 By Andy Hutchison
NORWALK — The Staples High hockey team erased a 1-0 deficit after one period of play with a trio of second-stanza goals on the way to a 3-1 win Saturday over the Norwalk-Brien McMahon co-op at the SoNo Ice House.
Jacob Gomez tied the game, assisted by Niko Ninios and Derek Wolgast. Ninio was set up by Wolgast for a 2-1 lead.
Levi Nevstad was assisted by Ninios and Harry Goodburn for the final goal.
The Wreckers outshot the hosting NorMac 38-28, and Staples goaltender Aaron Kail made 27 saves.
Staples was coming off a 6-1 loss to Trumbull at The Rinks at Shelton last Wednesday. Tyler DiMaio was assisted by Cooper Paul and Ninios for the lone Wrecker tally.
Andy Hutchison has been covering school sports — including Staples athletics — as well as news and feature stories in Fairfield County, since the 1990s. Learn more about us here.