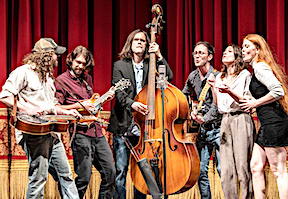 WESTPORT — Buffalo Rose, a "modern folk/Americana band," will perform Jan. 21 at Voices Café at the Unitarian Church in Westport.
The concert will take place at 8 p.m. Saturday, Jan. 21, at the cafe, 10 Lyons Plains Road. Tickets cost $25, and can be reserved online by clicking here.
Buffalo Rose, a six-member band based in Pittsburgh, Pa., performed at the Levitt Pavilion in Westport in 2021 and the Connecticut Folk Festival in New Haven last summer.
The band is known for "vocal harmonies, strong playing and an original vision to operate at every possible emotional level and put on dynamic live shows that are unforgettable experiences," according to a publicity release from the café.
The performers include singers Lucy Clabby and Margot Jezerc, Bryce Rabideau on mandolin, Malcolm Inglis on dobro, Jason Rafalak on upright bass and guitarist/ singer Shane McLaughlin.
A portion of the concert proceeds will be donated to the Center for Food Equity and Economic Development, which works to end food insecurity in the greater Bridgeport area.
For more information, contact Voices Café at 203-227-7205, ext. 20, or email VoicesCafeCT@gmail.com.