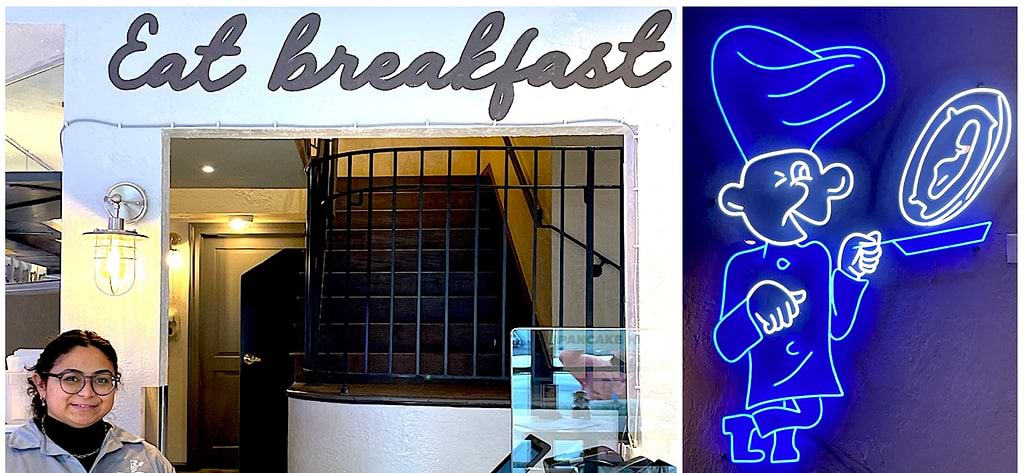 By Gretchen Webster
WESTPORT — There has not been a pancake restaurant in Westport for many years.
But that flapjack void has flipped.
The Original Pancake House restaurant opened Wednesday at 43 Main St., off Parker Harding Plaza, in the space previously occupied by Boca Mediterranean restaurant.
"Fresh" is the word of the day at the Original Pancake House, with a menu featuring a wide variety of pancakes, waffles and crepes made from whole ingredients prepared daily, according to its website.
Freshly made pancakes, served with eggs, can be enjoyed with warm syrups made in-house, ranging from the traditional maple syrup to blueberry, apple, strawberry and a tropical syrup combining orange and lemon.
Orange juice is always fresh squeezed to order, according to Angela Marple, East Coast regional director for the Original Pancake House.

But there's more to the Original Pancake House than pancakes.
The restaurant also offers omelettes, crepes, "Benedicts" (eggs Benedict in three different versions), waffles in many varieties, and meat-and-egg dishes such as country fried steak, bacon and eggs and, of course, traditional corned beef hash and eggs.
The menu also includes lighter entrees in smaller portions than usual servings, Marple said, and everything is available for take-out and delivery.
The business, established in 1953 in Portland, Ore., now owns about 30 restaurants, with most of them on the West Coast. An Original Pancake House was opened in White Plains, N.Y., three years ago, and the Westport restaurant is the second in the Northeast and the only one in Connecticut.
Marple helped choose the Westport location, she said. "We really liked the community."
Also appealing was the multi-level location at Parker Harding, where the restaurant's windows offer diners a "beautiful view" of the Saugatuck River, she said.
Like many other businesses, the pandemic stalled the company's plans to open the Westport restaurant. But with the help of several West Coast managers from the state of Washington, where many of the company's restaurants are located, the local restaurant's "soft" opening took place Wednesday.
Marple invites area residents to come in and sample what the restaurant is famous for — pancakes and other breakfast delights, "made with old-fashioned recipes that have been handed down for generations."
The Original Pancake House, 43 Main St. off Parker Harding Plaza, is open from 7 a.m. to 3 p.m. daily. Phone: 203-635-6233.
____________________________________
Freelance writer Gretchen Webster, a Fairfield County journalist and journalism teacher for many years, was editor of the Fairfield Minuteman newspaper for 10 years and currently teaches journalism at Southern Connecticut State University.