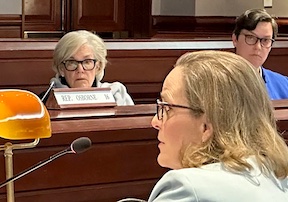 By Mark Pazniokas / CTMirror.org
Sandra Slack Glover withdrew Friday as Gov. Ned Lamont's nominee for the state Supreme Court, unable to overcome legislative questions about her commitment to upholding Connecticut's strong reproductive rights laws.
Glover, 52, the appellate chief for the U.S. Attorney of Connecticut, was wounded by a letter she signed in 2017 on behalf of Amy Coney Barrett, the conservative destined to play a pivotal role in ending a woman's federal right to an abortion.
That letter supporting the judge who President Donald Trump would later nominate to the U.S. Supreme Court, prompted state Sen. Ceci Maher, D-26, whose district includes Westport, and other legislators to question Glover's stated support for women's access to reproductive healthcare.
"I cannot get past being appalled that you — as someone who speaks to the importance to you of reproductive freedom and your values — that you would have added your name to a letter supporting someone who has had made herself known in her belief systems about reproductive rights," Maher told Glover during a hearing on the nomination earlier in the week.
"I'm going to ask you again," Maher said, "and I'm leaving the door wide open, is this something that you would do again, to write a letter supporting someone who took away the rights of every woman in this country?"
In response, Glover said "no," adding, "As I've said before, I've learned a lot in the last six years about our country and about now-Justice Barrett. And, you know, knowing what I know now, I shouldn't have signed it."
Lamont is not expected to make another nomination to the state's high court before the General Assembly's annual session ends on June 7.
"Attorney Sandra Slack Glover would have been an extraordinary justice of the Connecticut Supreme Court," Lamont said. "I stand by that, and I stand by her as a lawyer of experience, character and compassion, while respecting her decision today to withdraw from consideration."
The withdrawal came four days after the legislature's Judiciary Committee declined to vote on her nomination Monday night, unswayed by her strong defense of abortion rights during an arduous seven-hour hearing.
At the hearing, Glover spoke forcefully of her belief that the U.S. Supreme Court erred in discarding the reproductive rights established in 1973 by Roe v. Wade in its 6-3 decision last year in Dobbs vs. Jackson Women's Health Organization.
"Speaking as an attorney, Dobbs was wrong, and egregiously so," Glover said. "Speaking as a woman, it was horrifying. All of us should have a constitutional right to control our reproductive freedom and our bodies. My belief in this is firm and unwavering."
But the next day, legislators said they saw no path to her confirmation to file a vacancy opened by the resignation of Maria Araujo Kahn to become a federal appeals judge. The Lamont administration took the rest of the week before drawing the same conclusion, though it left the final decision to the nominee.
The governor, a Democrat who has decried the Dobbs decision, expressed no regret for the nomination or reservations about her qualifications or performance during the confirmation hearing.
In addition to questions about Dobbs, some lawmakers also expressed concerns about the career federal prosecutor's inexperience in state court.
"Her career in public service and her dedication to the rule of law speak for themselves.  She did a terrific job during her seven-hour public hearing and had substantive and positive meetings with legislative leaders from both parties," Lamont said. "From beginning to end, she showed her talent, demonstrated her keen legal mind and let people know she shares Connecticut's values."
Glover, a Guilford resident, is a Democrat who was hired for a non-partisan career job in the federal Department of Justice in Washington during the Clinton administration, then stayed for the start of George W. Bush's presidency.
She graduated with honors from three universities, with a bachelor's degree from the University of Virginia in 1992, an M.A. from Duke in 1993 and a law degree from the University of Chicago in 1997.
She moved to Connecticut in 2002, where her husband was a federal prosecutor. She was hired at Wiggin & Dana, then joined the U.S. attorney's office in 2004, becoming its appellate chief in 2010.
The problematic Barrett letter arose from an exercise in comity. In the U.S. Supreme Court's 1998-99 term, Glover and Barrett were colleagues as holders of prestigious clerkships: Glover for Justice Sandra Day O'Connor, the first woman to sit on the court, and Barrett for Antonin Scalia, the conservative icon.
With every other clerk from that term, including those who served justices of the court's liberal bloc, Glover signed a letter urging Barrett's confirmation to the U.S. Court of Appeals for the 7th Circuit. Barrett was confirmed to the lower court and then in 2020 to the highest court as Trump's choice to succeed Justice Ruth Bader Ginsburg.
"Professor Barrett is a woman of remarkable intellect and character," they wrote to the chair and ranking member of the U.S. Senate's Judiciary Committee. "She is eminently qualified for the job. This view is unanimous — every law clerk* from October Term 1998 has joined this letter."
The asterisk noted one exception, a colleague who died in 2015.
In January 2017, Glover joined the Women's March on Washington, protesting the election of Trump as president.
Her attendance at the march cut two ways with lawmakers at the hearing Monday.
Maher, for instance, asked how a woman who marched in January 2017, evidently concerned about what a Trump administration might do to undermine the rights of women, signed a letter four months later on behalf of a Trump nominee, Barrett, to the appeals court.
"As I've said before, I've learned a lot in the last six years about our country and about now-Justice Barrett," Glover replied. "And, you know, knowing what I know now, I shouldn't have signed it."