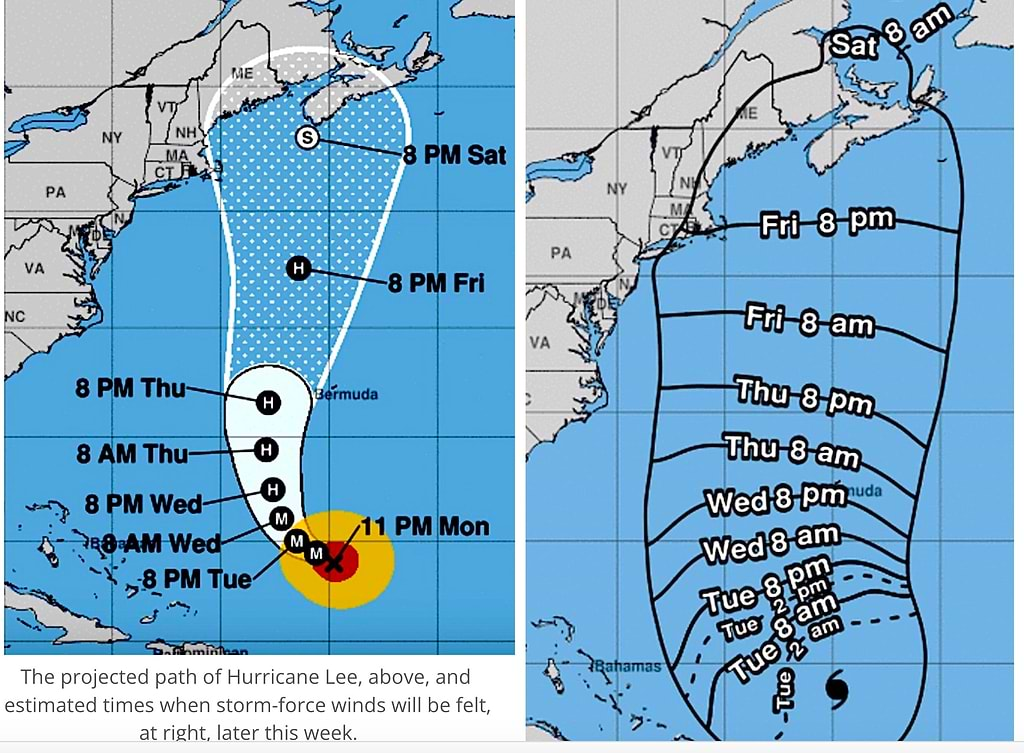 By John Schwing
WESTPORT — Lee, described as a "large and powerful hurricane" by the National Hurricane Center, was churning in the Caribbean east of the Bahamas early Tuesday.
Although forecasters say it's too early to predict Lee's definite path over the next several days, coastal regions of the Northeast U.S. may see "hazardous" surf and possible "life-threatening rip currents" caused by the storm by Friday.
Tracking data from the center indicates Lee was a category three hurricane late Monday, packing 115 mph winds, with higher gusts.
The storm, according to the latest forecast, is expected to slowly turn and head north off the eastern U.S. coast throughout the week.
The center put it this way early Tuesday:
"It remains too soon to know what level of additional impacts Lee might have along the Northeast U.S. coast and Atlantic Canada late this week and this weekend.
"However, because wind and rainfall hazards will likely extend well away from the center as Lee grows in size," the hurricane center said, continued monitoring of its progress is advised.
Graphics issued by the hurricane center early Tuesday show that Lee's currently projected path and wind-time arrival may brush eastern New England early Friday through Saturday.
If Lee continues to follow that path, the storm's impact on this region is expected to depend on how large it has grown by later in the week.
Meanwhile, whether or not Lee has a significant impact on southwestern Connecticut, a "Hazardous Weather Outlook" looms beforehand.
Heavy rain, and possible thunderstorms, are in the forecast for most of the day on Wednesday, according to the National Weather Service.
Those storms could be powered by "damaging winds," the NWS warns, and downpours could trigger flooding.