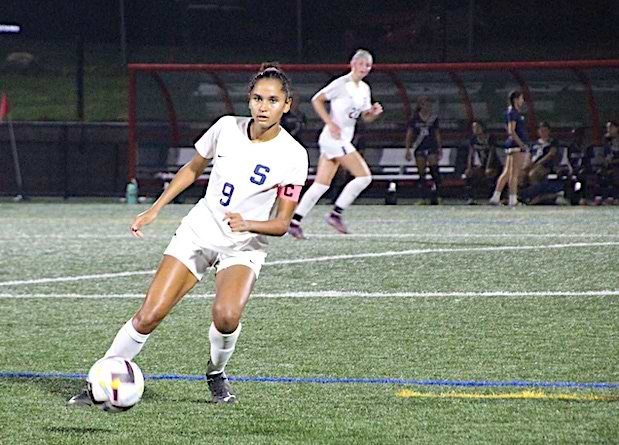 By Andy Hutchison
WESTPORT — The Staples High girls soccer team blanked FCIAC foe New Canaan 3-0 in a rain-shortened game on Monday, on the heels of a hard-fought 3-2 win over host Notre Dame-Fairfield in a non-conference clash on Saturday.
Against the Notre Dame Lancers, Natalie Chudowsky set up the opening goal with corner which Coco Crombie headed in from close range. Notre Dame was strong and physical, fought for every ball, and equalized before the half.
Early in the second half, Evelyn Chudowsky set up her sister, Natalie Chudowsky, to score and make it 2-1 Staples. Neva Mermegan added what turned out to be the difference-making tally. The Lancers scored with 59 seconds left.
In their first home match Monday, the Wreckers got goals from Coco Crombie, Annabel Edwards and Natalie Chudowsky. Natalie Chudowsky logged a pair of assists and Evelyn Chudowsky set up one goal.
The teams managed a half-match of play until weather halted the game. Because the first half was completed, the game is official.
Up next for the Wreckers is a visit to Brien McMahon on Wednesday, Sept. 13. (Game schedules are subject to change; click for the latest CIAC updates.)
Andy Hutchison has been covering school sports — including Staples athletics — as well as news and feature stories in Fairfield County, since the 1990s.