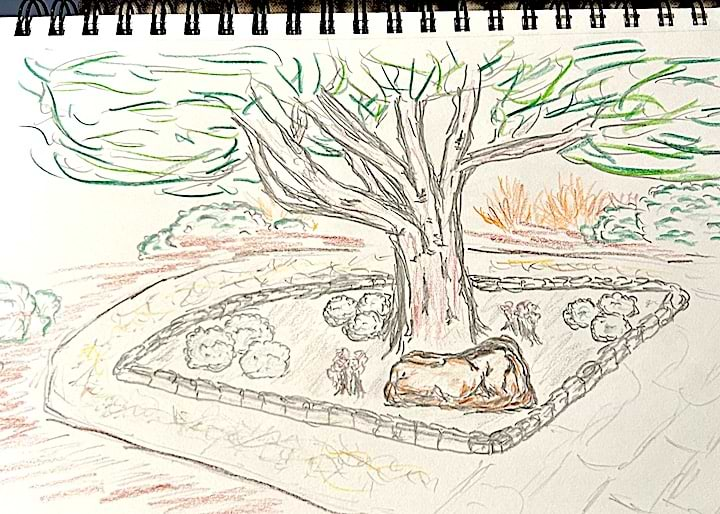 By Linda Conner Lambeck
WESTPORT — Matt Jahansouz loves nature.
The town resident said he also loves landscape design, and after spending the last three years whipping his own property into shape, decided it was time to take on something new.
The courtyard at Long Lots Elementary School, where his children attend classes, caught his eye. It struck him as a special space, ripe with potential, but in need of some tender loving care.
Sure, the aging school is slated to be renovated or replaced in a year or so.
The Long Lots Building Committee has indicated it will make a recommendation on plans for the school's future in three weeks.
Several of the potential scenarios, ironically, would uproot the Westport Community Gardens, which are adjacent to the school grounds on Hyde Lane.
Regardless, and until ground is broken, Jahansouz said the school's nearly 600 students can benefit from and should have the opportunity to learn together in an outside space.
"It's absolutely worth it," Jahansouz said. "Cherish the present. Tomorrow, we can busy ourselves planning for the future."
So this summer, Jahansouz reached out to Long Lots Principal Kim Ambrosio about "taking over" the courtyard before the new school year started.
She said yes.

Jahansouz sketched out some designs on his train ride into the city, where he works in recruiting and human resources for a financial firm. He tapped a number of Westport and Fairfield landscapers who helped him with his own property.
Some $22,550 in goods and services later, the school has an outdoor learning space that can be used to break up students' day while getting them closer to nature, according to Jahansouz.
The Board of Education last week voted to accept the gift, which included support from the Jahansouz family, as well as Robert Uva Landscaping, Outdoor Design & Living, Matt Beir, Bartlett Trees and Izzo's Nursery.
"The entire courtyard is stunning," Supt. of Schools Thomas Scarice told the board. "It is gorgeous."
Scarice said classes are already being held in the renovated courtyard, which includes not only plantings, garden beds and bird feeders, but an outdoor library and lots of nooks where students can read.
The space will contribute to the overall experience at the school, Scarice said.
"Even though we are fully committed to a brand-new Long Lots and a brand-new Stepping Stones, it is great in the interim to still be welcoming this kind of generosity from our parent community," Scarice added.
Jahansouz said his children — Calvin is in fifth grade and Joey in second grade — helped pick out some of the flowers, critiqued his sketches and helped stock the courtyard's "give a book, take a book" library with some of their own collections.
"And my daughter's job this school year is to tell me which plantings are doing well and which need water," Jahansouz said.
When people asked why he would invest in a courtyard that won't be there for long, Jahansouz said he didn't view it that way.
"I will admit … I'm excited this just means I'll get to do it all over again when there is a new school," he said.
Freelance writer Linda Conner Lambeck, a reporter for more than four decades at the Connecticut Post and other Hearst publications, is a member of the Education Writers Association.