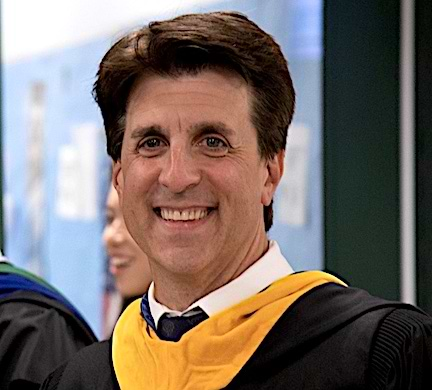 By Linda Conner Lambeck
WESTPORT — The Board of Education is spending two nights this week behind closed doors to discuss and prepare the annual performance review for Supt. of Schools Thomas Scarice.
The first "executive session" was held Monday, the second is set for Wednesday.
Board Chairwoman Lee Goldstein said neither session was planned to include the superintendent.
"We have not yet scheduled the meeting with Tom," Goldstein said in an email Monday.
Last June, after several executive sessions, the board voted in a brief public meeting to extend the superintendent's contract through June 2025 and give him a 2.25 percent salary boost and a one-time $10,000 deferred compensation payment in January 2023. That was on top of $5,000 being contributed to a tax-sheltered annuity of his choosing.
With that, Scarice's base salary grew to $303,196.
Scarice's contract allows for him to be evaluated in writing, but last year Goldstein and Scarice said the critique was conducted verbally.
Carrying out the evaluation verbally, shields the process from disclosure to the public under the Connecticut Freedom of Information laws.
Goldstein did not say if a similar practice would be followed this year.
She did give the superintendent a personal thumbs up.
"I believe our superintendent is doing an excellent job leading our schools and I look forward to the conversation with my colleagues," Goldstein said in Monday's email.
Scarice became superintendent in July 2020, months after the start of the COVID-19 pandemic. Now three years in, he has won high marks from town officials.
At a meeting last December, James Foster, vice chairman of the town Board of Finance, credited Scarice with helping to build confidence and trust between the school board and other town bodies. Others praised his transparency.
The board now has a multiple-year capital plan, starting with the rebuilding or replacement of Long Lots Elementary School.
Coming out of the pandemic, the district under Scarice has dealt with an enrollment surge, is exploring redistricting options and has embarked on a three-year strategic plan to strengthen the social and emotional well-being of the district's 5,300 students so they can work collaboratively on solving complex problems.
The district also is forging ahead with an equity plan that seeks to make all students feel they belong despite concerns voiced by some members of the public.
"The good news is under Tom's leadership a lot has changed," board member Robert Harrington said at a meeting last December.
At a meeting earlier this month, Jonathan Alloy, a parent, told the board during public comments, that Scarice was doing an amazing job.
"When it comes to handling sensitive items. His communication style … Whether we're going to close or open which is obviously a no-win game, … [or] the recent incident that occurred off campus, just consistently, there is a professionalism and a quality that I don't think is common."
Alloy said he moved a few years ago to Westport from San Francisco and called it wonderful to see the quality and expertise that Scarice and his staff bring every day to their jobs.
Alloy urged the board to put this year's assessment of Scarice's performance in writing so citizens can in turn evaluate board members on the job they are doing in evaluating the superintendent.
"And certainly, when it comes time to renew the contract I would encourage you to make sure that happens," Alloy said.
Goldstein said the board will vote publicly on Scarice's contract at a future meeting.
Under state statue, public school superintendent contracts are limited to three years. Generally, districts that want to keep their school chief will extend the contract by a year and set the salary for the coming year.
Scarice did not immediately respond to a request for comment.
Last year when his contract was renewed, he said he was excited about where the district was headed and pleased with feedback the board gave him.
His goal post-pandemic was to move the district from playing defense to offense.
Freelance writer Linda Conner Lambeck, a reporter for more than four decades at the Connecticut Post and other Hearst publications, is a member of the Education Writers Association.