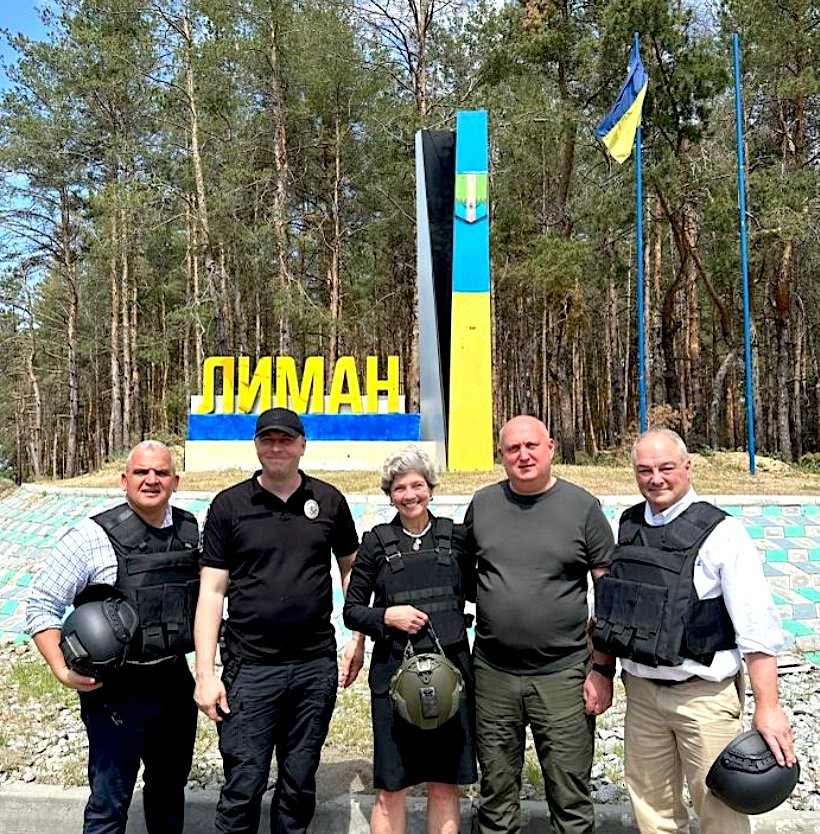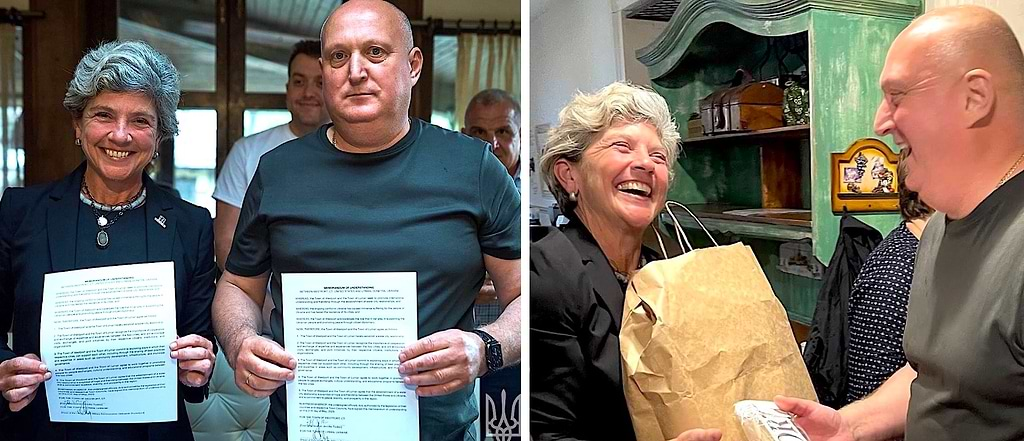 By John Schwing
In what is being called a "groundbreaking" visit by American officials to the frontlines of Ukraine's battle with Russia, Westport's First Selectwoman Jennifer Tooker and Police Chief Foti Koskinas were among a group that visited the war zone Sunday under auspices of a Westport-based nonprofit providing aid to civilians under siege in the eastern European nation.
In a statement issued Tuesday morning, Ukraine Aid International — which has helped to establish Sister City ties between American communities, including Westport, and cities in Ukraine — said Tooker, Koskinas and Easton First Selectman David Bindelglass, made the visit as "the first-ever delegation of US officials at any level to set foot in the liberated territories in Donetsk."
Westport has forged Sister City ties with the city of Lyman in Ukraine, with formal approval given by the Board of Selectwomen in January.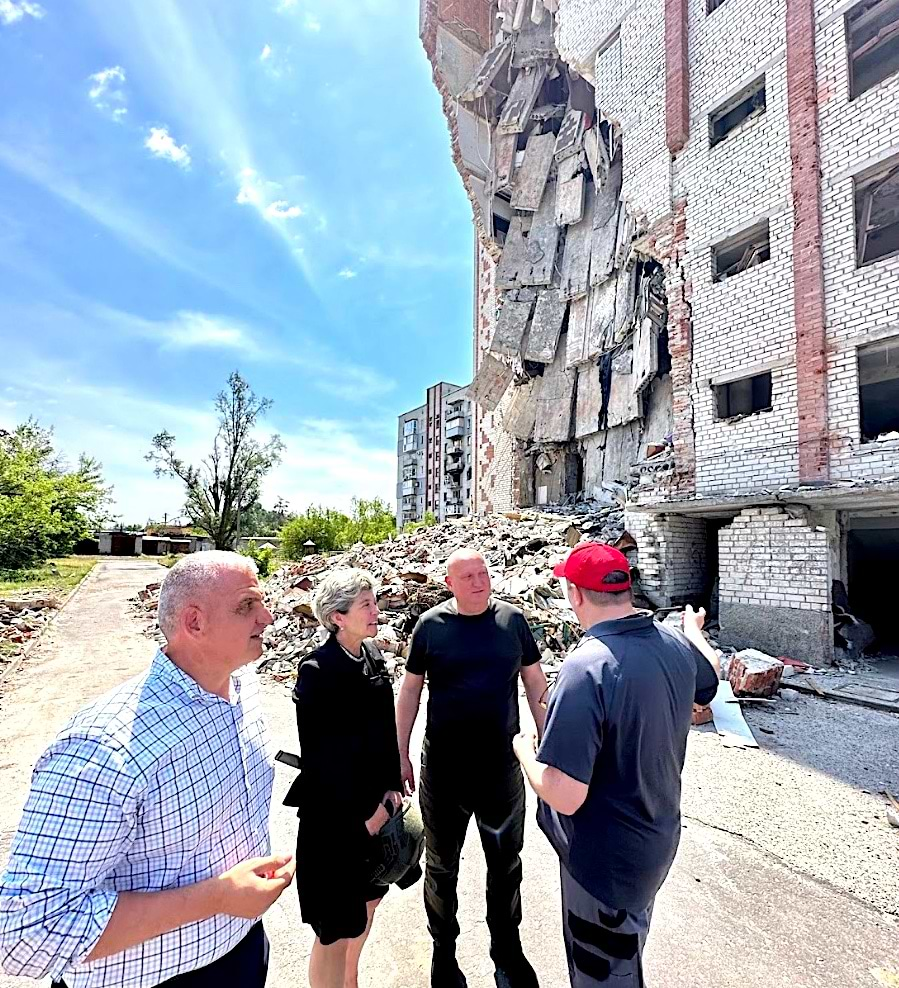 That relationship, and continuing donations of humanitarian aid and supples, have been facilitated by Ukraine Aid Interactional, founded by Westport natives and brothers Brian and Marshall Mayer.
During their visit to cities of Lyman and Sviatohirsk, the Americans met with Mayor Alexander Zhuravlov and Police Chief Igor Ugnevenko of Lyman, and Mayor Volodymyr Ribalkin and Police Chief Ruslan Cimbal of Sviatohirsk, UAI said in the announcement. They were accompanied by the Mayer brothers and UAI co-founder Liz Olegov.
The delegation saw firsthand the "dire infrastructure damage" to schools, railroads and municipal buildings reduced to ruins by Russian bombing, as well as ecological harm caused by trash and debris accumulated in the wake of the attacks.
"Today, walking through our beautiful sister city that has faced unprecedented devastation, I am humbled by the resilience and spirit of its people," Tooker is quoted in UAI's statement.
"Witnessing the devastation firsthand has only deepened my commitment to this partnership. Together, we will help rebuild, restore, and breathe life back into these unjustly shattered communities," she added.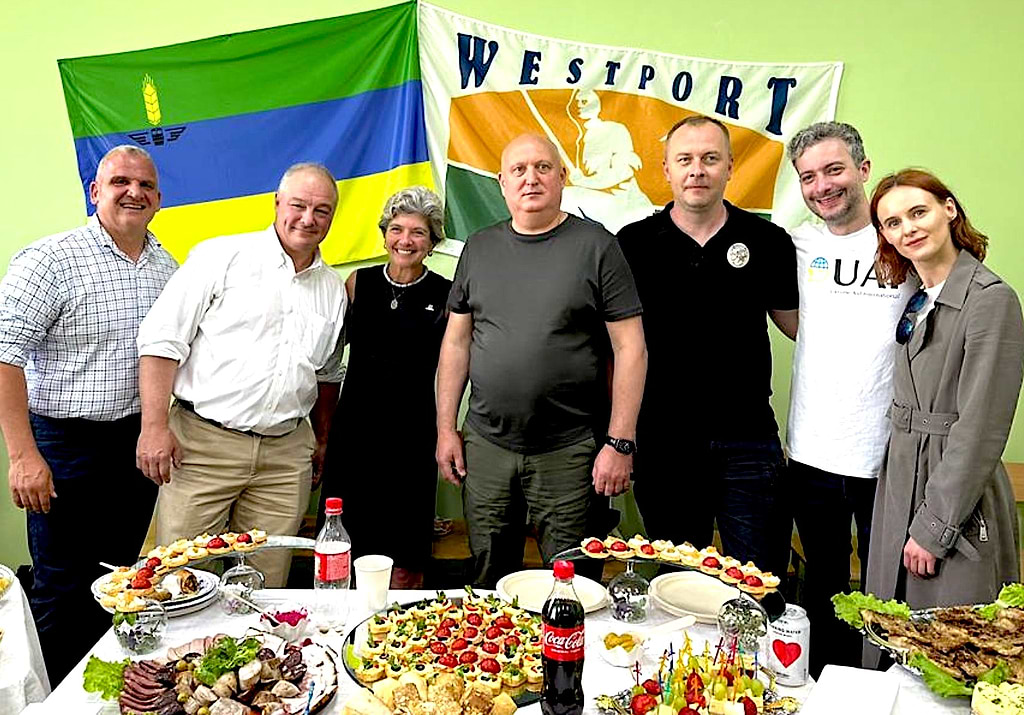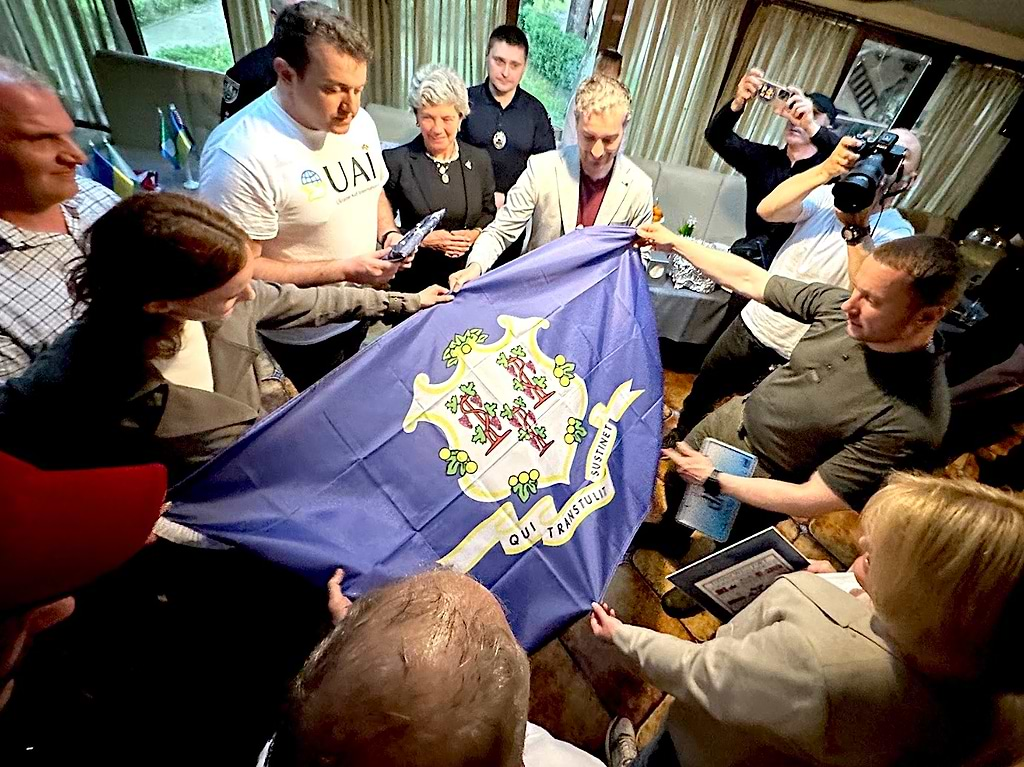 Koskinas, according to UAI said, "We were so fortunate to meet our fellow officers in Donetsk Oblast.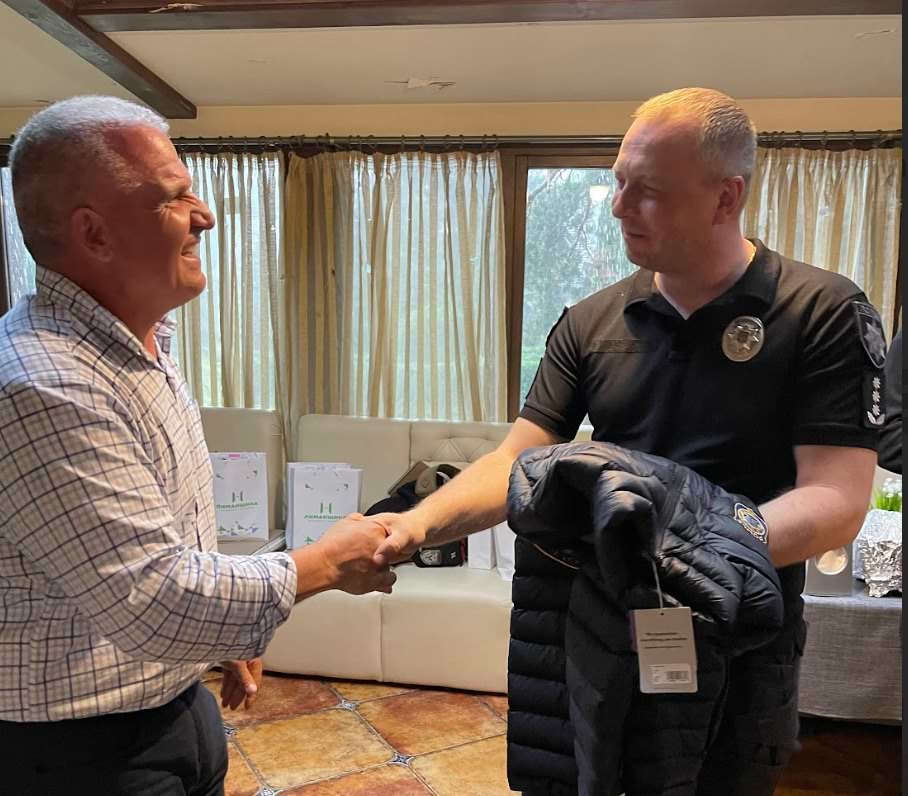 "Their bravery and leadership in protecting the people of this region and keeping order is incredible, and we are looking forward to working more closely with our Ukrainian friends and helping with anything they need," the chief added.
In Sviatohirsk, which became Easton's sister city in March, Bindelglass said he was told by its mayor that "Sviatohirsk had more trees than people, and how that is a key part of the town's natural beauty, and I was thinking, that is just like Easton."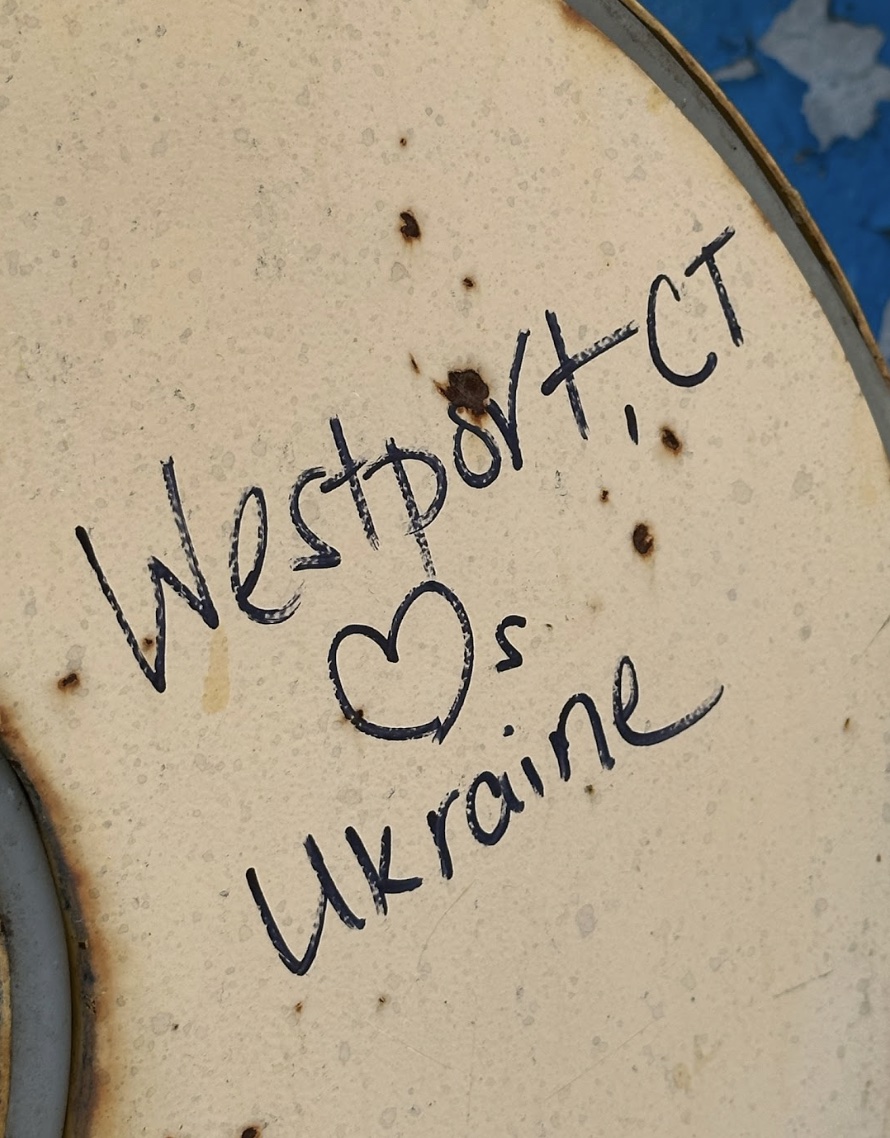 The Easton first selectman, according to UAI, also said, "I am in awe at the way Mayor Ribalkin is managing his town, with no office and no staff, in the face of this horrific destruction. His ingenuity and calm is amazing."
The Americans, convening with their Ukrainian counterparts in Sviatohirsk, later signed official memorandums formalizing the relationships between their towns and the Ukrainian sister cities.
The visitors also met with other Ukrainian officials, who credited the Americans with "bravery" for touring the high-risk area as the war continues. They included Pavlo Kyrylenko, governor of Donetsk Oblast, Vadim Filashkin, the deputy governor, and Andrii Pankov, head of the Kramatorsk District State Administration.
Ukraine Aid International, founded in April 2022, reports that it has facilitated the delivery of more than 1 million pounds of humanitarian aid, including food, medicine, clothing, reconstruction materials, equipment, vehicles and clean water to Ukrainians.
Visit the UAI website for more information about the nonprofit and its continuing mission.