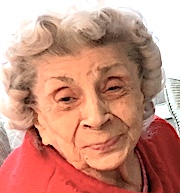 Following is the obituary for SOPHIA ROSE MAKOWSKI, submitted for the family by the Harding Funeral Home.
_______________________________
Sophia Rose Makowski, of Wallingford and formerly a longtime resident of Westport, passed away peacefully on May 20, 2023.
The daughter of Joseph and Marcella Makowski, Sophie was the ninth child born to a large family of ten. She called herself "the last of the Mohicans" from Roseville Road.
A "second mother" to several family members, Sophie will fondly be remembered for her incredible endurance, priceless humor, sharp wit and unending support of her loved ones. She was loved by all who met her.
Family and friends are invited to attend a funeral on Thursday, May 25, at 11 a.m., in Assumption Church, 98 Riverside Ave. Interment will follow in Assumption Cemetery, 73 Greens Farms Road. Condolences for the family may be left online at www.hardingfuneral.com.
Contributions in memory of Sophia may be made to the American Cancer Society.