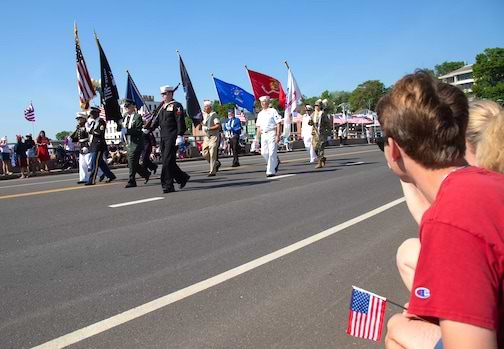 WESTPORT — The town's annual Memorial Day parade and ceremonies, saluting who made the ultimate sacrifice in service to the nation, will take place Monday, May 29.
The parade is set to step off at 9 a.m. near Saugatuck Elementary School, 170 Riverside Ave.
Ceremonies will follow on Veterans Green on Myrtle Avenue.
In case inclement weather cancels the parade, the memorial ceremonies will be moved to Town Hall's auditorium at 10 a.m.
Theme of this year's parade floats is "Veterans Serving the Community."
After stepping off at Saugatuck Elementary School, the parade will follow a line of march heading north on Riverside Avenue and turn right onto Post Road West, cross the Ruth Steinkraus Cohen Bridge to Post Road East, turn left on Myrtle Avenue, pass Town Hall and Veterans Green, and end in Parker Harding Plaza.
Ceremonies on Veterans Green will include the following participants: Tom Dubrosky, of Veterans of Foreign Wars Post 399, as master of ceremonies; Rabbi Greg Wall of Beit Chaverim Synagogue will deliver the invocation; VFW 399 Auxiliary will lead the Pledge of Allegiance, and Nicholas Rossi will sing the National Anthem.
First Selectwoman Jennifer Tooker will deliver a welcome address, and World War II veteran Ben Pepper, the parade's grand marshal, will be introduced.
Concluding the ceremony, a memorial wreath will be placed by members of American Legion Post 63 and VFW Post 399; there will be a firing detail salute by the Police Department; Taps will be performed by Staples High School Band buglers Deneil Betfarhad and Delaney McGee; the Staples Band will deliver "Logan's Orders," and Rabbi Wall will give the benediction.
Following are the participants scheduled for Monday's parade:
HONOR DIVISION: Connecticut Alumni Drum & Bugle Corps, Westport Police Department, Westport Volunteer EMS, Westport-Weston CERT, Grand Marshal Ben Pepper, a U.S. Army veteran of World War II, members of the Board of Selectwomen and Representative Town Meeting, the Westport Community Band, Connecticut Veterans Honor Guard, members of August Matthias Post 63, American Legion, members of Joseph J. Clinton Post 399, Veterans of Foreign Wars and VFW Auxiliary 399 float.
2nd DIVISION: Nash Drum Corps, Westport Fire Department, Y's Men Westport-Weston, Westport Little League, Remarkable Theater, Staples High School Marching Band, Staples High School cheerleaders, Staples Tuition Grants, Westport Library, Westport Soccer Association, Westport Police Athletic League, Coleytown/Bedford Middle Schools' combined bands, Westport Woman's Club and St. Paul Christian School.
3rd DIVISION: Knights of Columbus/Westport, Suzuki Music School, Girl Scouts/Cub Scouts of America, Builders Beyond Borders, Sister Cities, Circle of Friends, Westport Sunrise Rotary Club, Col. John Chester Fife & Drum Corps, Boy Scouts of Connecticut/Westport, Masonic Lodge, United Methodist Church of Westport-Weston, Westport-Weston Family YMCA, My Team Triumph, Westport Rotary Club, League of Women Voters of Westport and Junior Colonial Fife & Drum Corps of Westbrook.