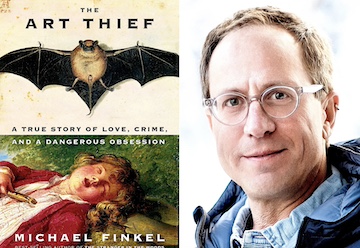 WESTPORT — A book chronicling the life of thief who stole more than 300 priceless works of art, not for personal gain but out of passion for their beauty, has been selected as the centerpiece for the 2024 "WestportREADS" community reading project organized by the Westport Library.
"The Art Thief," by Michael Finkel, tells "the true-crime tale of the world's most prolific art thief, Stéphane Breitwieser, who stole, never for money, but for personal treasure and adoration," according to a publicity release. Total value of the purloined art was estimated at $2 billion, according to the writer.
Finkel is scheduled to deliver the WestportREADS keynote address Friday, Jan. 26. Details and registration will be announced shortly, according to library officials.
A series of programs, related to themes in "The Art Thief," also is planned early next year, according to the library.
Limited copies of the book, which was published earlier this year, can be borrowed now from the library, with a full shipment set to arrive in December. "The Art Thief" is also available in digital format and as an audiobook.
Finkel is "a writer who simultaneously pushes the boundaries of truth while searching for it," William Harmer, the library's director, said in Wednesday's announcement.
" 'The Art Thief' narrative gives us the twists and turns of any great true-crime story while raising existential questions on art, capital and values," he added.
Finkel was fired as a reporter for The New York Times for compositing quotes in the 2001 article, "Is Youssouf Malé A Slave?"
Finkel later discovered that an Oregon murderer, Christian Longo, had used "Michael Finkel" as an alias while still a fugitive, and reached out to Longo, forging a relationship that facilitated his 2005 book, "True Story: Murder, Memoir, Mea Culpa."
In 2017, his book, "The Stranger in the Woods: The Extraordinary Story of the Last True Hermit," told the story of Christopher Knight, who lived an isolated life for 27 years in the woods of Maine with almost no human interaction.
Researching "The Art Thief," Finkel told Esquire magazine, "changed the way I experience museums and commune with a work of art. Breitwieser is often low energy; then, when he walks into a museum, it's like he's had a triple shot of espresso. This is someone who's very parsimonious with his words, then suddenly he's babbling like your favorite crazy art professor."
For questions, call the Westport Library at 203-291-4800.