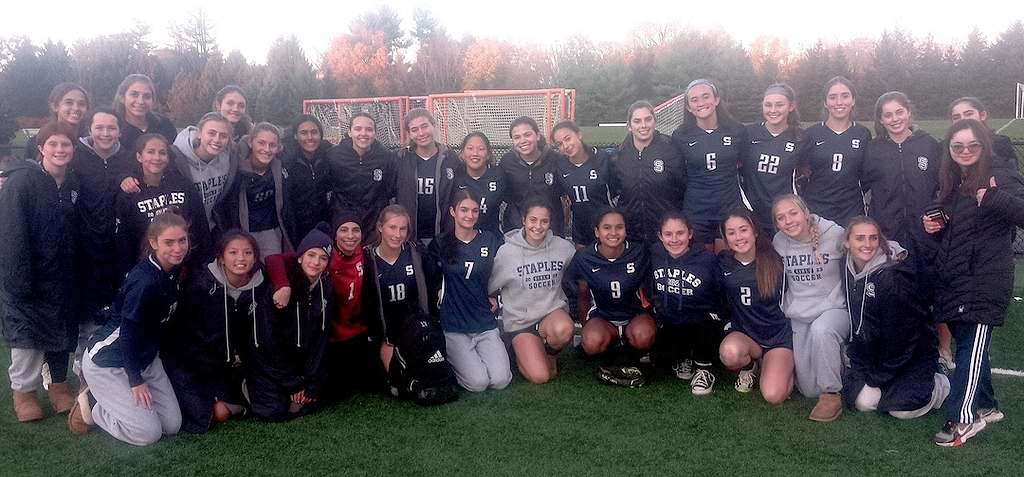 By Andy Hutchison
As the final seconds ticked off the clock and Staples' final push was turned away, there was plenty of celebration on the St. Joseph girls soccer team's sideline.
Despite being eliminated 4-3 in a back-and-forth Class LL State Tournament semifinal game at neutral site Fairfield Warde on Tuesday, the Wreckers had plenty of reason to walk away with their heads held high.
"If I was standing here upset I think that would be me being a bit over picky," said Staples Coach Barry Beattie, reflecting on how much success his team has had throughout the year.
The seniors leave with a pair of FCIAC titles and two state championships.
"What I want from this program every day we saw on the field tonight," said a proud Beattie, adding that his team put forth high intensity and fought hard until the bitter end.
Annabel Edwards scored once and Natalie Chudowsky had a goal in the season-ending setback.
The players competed for 50-50 balls. There was hustle, there were some were collisions and, in the end, some tears from the disappointment.
But, as Beattie said, while the outcome on this particular night was disappointing, the overall picture is a nice one for the Wreckers.
"The girls have been been excellent," Beattie said.
Seniors who will be missed are Ashley Podziba, Leigh Foran, Sophie Hill, Coco Crombie, Olivia Kovics, Gabriela de Brito, Evelyn Chudowsky, Katherine Spada, Taila Moskowitz, Neva Mermagen and Allanah Morris.
Andy Hutchison has been covering school sports — including Staples athletics — as well as news and feature stories in Fairfield County, since the 1990s. Learn more about us here.