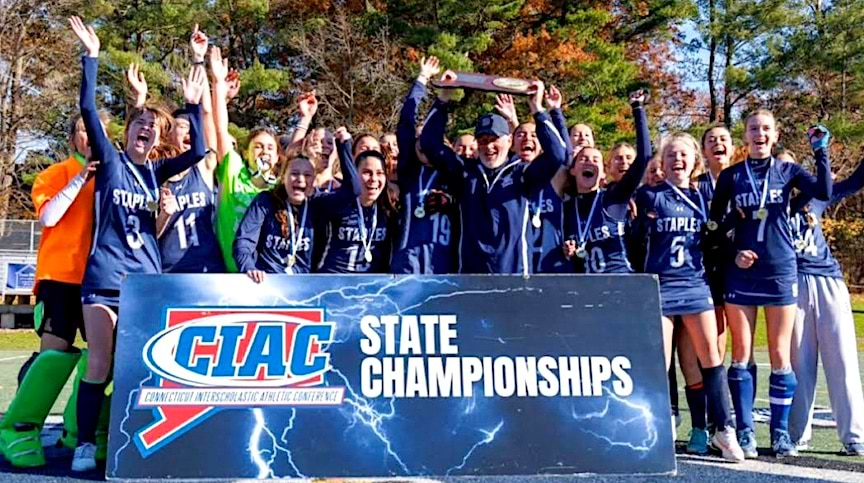 By Andy Hutchison
WESTPORT — The Class L State Championship win for the Staples High field hockey team Saturday was a product of the team's makeup and a microcosm of what the Wreckers became this fall.
No. 2 Staples used its discipline style of play and ability to adapt to the competition to dethrone state champ and top seed Darien with a 3-1 win over the Blue Wave, at Wethersfield High.
"Challenge with this season was re-establishing our identity and culture after a disappointing three prior seasons," said Staples Coach Ian Tapsall, whose squads had captured state titles four straight years — 2016 through 2019.
"We quickly found that we had three very dedicated and influential captains who shared the same values and we went from strength to strength as a group," Tapsall said of Caroline Roschen, Sofia Fidalgo and Kathryn Asiel.
"Darien as always has been the team to beat, but with such a core of such good players who could adapt and play within a system and varying game plans for different oppositions, by the time we came to states I felt we were well prepared for any team," the coach added.
Even a Darien squad that defeated the Wreckers in overtime during the regular season as well as in the FCIAC Championship game.
The Wreckers, much like they shook off a 1-0 deficit to Greenwich for a 2-1 win in the quarterfinals, came from behind to knock down the Wave in the state pinnacle battle.
Darien took lead off a penalty corner in second quarter. The Wreckers responded on a strike from edge of right circle by Fidalgo, an unassisted tally in the first half.
Leah Larit scored off rebound from a penalty corner early in third quarter and Storey Ahl gave Staples some breathing room by cashing in on a breakaway later in the quarter.
Staples withstood some late-game pressure. The Wreckers stood their ground and did not allow Darien clear opportunities on goal.
"All around great team effort with a disciplined effective game plan," Tapsall said.
The win capped a campaign that featured 20 wins, just two regulation defeats and one overtime loss.
Andy Hutchison has been covering school sports — including Staples athletics — as well as news and feature stories in Fairfield County, since the 1990s. Learn more about us here.