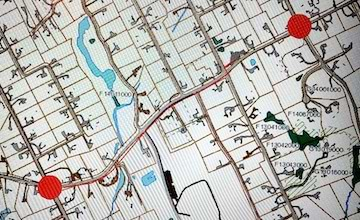 By Linda Conner Lambeck
WESTPORT — The Board of Finance has agreed to spend up to $313,500 to figure out the best way to improve safety on a stretch of Cross Highway between North Avenue and Bayberry Lane.
The unanimous decision approving funds for the traffic study came during a Zoom meeting Wednesday after finance members were told efforts by town engineers to improve what was described as a notorious roadway have not been successful. The appropriation awaits final action by the Representative Town Meeting.
"Luckily, no one has gotten killed, but we are really worried," said Public Works Director Peter Ratkiewich.
More than 20 crashes in three years
Over the past three years, there have been at least 21 motor vehicle accidents between the two intersections, including several T-bone crashes, town officials say.
The area sees heavy vehicular traffic as well as foot traffic from students walking to Bedford Middle School, Staples High School, town-owned Wakeman Town Farm and The Porch, a local eatery.
Ratkiewich said the Bayberry intersection particularly worries him because curves, off-kilter topography and sightline issues often cause drivers to miss the stop sign.
The North Avenue and Cross Highway intersection was also called confusing, and at times, a source of traffic backups.
Survey aims for "holistic" solutions
"There is a lot going on there," Ratkiewich said. "It is not something simple."
He wants a holistic solution for the whole corridor.
The aim is for professionals to conduct a traffic study and propose solutions to enhance safety and upgrade the pedestrian corridor.
Among the suggested fixes are traffic lights, carving round-abouts into the intersections or enhanced stop signs.
The request for proposals to design a traffic study drew five responses. Of the three firms interviewed, Tighe & Bond, with offices in Shelton, was selected.
The firm mapped out a detailed planning period that would start in September, with construction possible in 2023.
Study will include bridge issues — at a price
Ratkiewich said the study's cost rose from an initial $200,000 to $285,000, plus a 10 percent contingency account, because the firm is being asked to analyze the corridor three ways.
The work also includes an evaluation of a small bridge that crosses a stream, which officials want to preserve. Too narrow accommodate a walkway, the idea is to design a separate pedestrian bridge alongside the existing span.
The bridge analysis is the reason the costs increased by $92,000, Ratkiewich said.
Roadway is "incredibly dangerous"
"Anyone who travels along that corridor recognizes it is incredibly dangerous," said Sheri Gordon, chairwoman of the finance board. "We have heard from a lot of people in town who want us to find a way to do something … It's really time."
Jay DesMarteau, a board member, said the cost of the study is a lot of money, but agreed looking at the bridge at the same time as the traffic study made sense.
Remedies may raise neighbors' concerns
Brian Stern, another board member, said he likes the Tighe proposal, but worried the solutions recommended might disturb what is considered a rural section of town.
Traffic lights, he said, could change the area's character. "In my judgment, we need to go slowly on this one," he said.
Stern suggested the project take a pause after a preliminary design is delivered, to give the public a chance to weigh in.
Ratkiewich said public input would be sought and adjustments made if there are strong objections. He said it would be disruptive to the process if planning is cut off midpoint.
"It is a visible part of town and we want [the eventual solution] to work," Ratkiewich said.
Board member Lee Caney, who lives in the neighborhood, agreed the area is dangerous, but also cautioned that including lights as part of the solution "is a dramatic thing."
"It would require a lot of public discussion," Caney said.
Danielle Dobin, chairwoman of the Planning and Zoning Commission, who joined the meeting, assured the finance panel there would be robust public hearings on potential solutions.
Public comments, particularly from neighbors who live around the Bayberry intersection, are what prompted the study, she said.
"People who live in this area want to be able to walk in the area safely," said Dobin.
One mother told Dobin that she believes her children would die if she let them walk to school, she said.
"So I am glad we are looking at It," Dobin said.
Freelance writer Linda Conner Lambeck, a reporter for more than four decades at the Connecticut Post and other Hearst publications, is a member of the Education Writers Association.