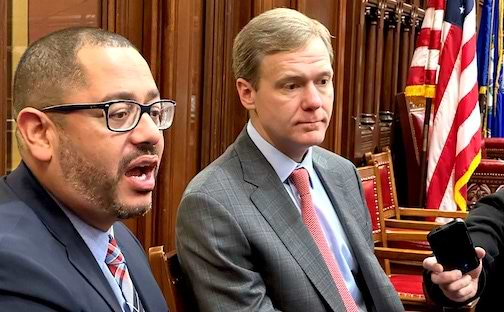 By Mark Pazniokas / CTMirror.org
Much like Gov. Ned Lamont's "State of the State" speech last Wednesday, the bills filed in the first week of the General Assembly's five-month session offer Connecticut a hint of objectives to be pursued, if not a blueprint for actually making them laws.
Senate Democrats filed 10 bills co-sponsored by all 24 members of the majority caucus, each a statement of a lofty purpose, such as Senate Bill 4: "To promote fair and equitable housing opportunities in every community in the state."
Exactly how that would be accomplished is for another day.
"This is just a very first step procedurally," said Senate President Pro Tem Martin M. Looney, D-New Haven. "We wanted to reserve these 10 numbers to show that these are the 10 themes that we want to address in the course of the session."
Lamont also made housing an issue in his speech, though his policy solutions have yet to be reduced to legislative language.
He also promised a middle-class tax cut, details to come.
Adam Joseph, the governor's communications director, said the administration will be offering specifics in the weeks leading to Lamont's budget address in February.
"We look forward to working with our legislative partners to address issues that matter to Connecticut's residents, including: housing, health care, energy, climate, education and career readiness," Joseph said.
All were issues raised in his speech and are addressed in filed legislation.
The goal of Senate Bill 7 is timely, if vague. It seeks to "promote a more equitable and transparent energy market that works in the best interest of Connecticut's consumers of energy."
With everyone's electric bill recently jumping to reflect the competitive market costs of generating power, energy legislation may be in vogue this year.
House Bill 5013 provides a more specific, if whimsical, take on the issue than Senate Bill 7.
It states: "That the general statutes be amended to require a vote by each chamber of the General Assembly on all electric or natural gas rate increases approved by the Public Utilities Regulatory Authority."
PURA sets rates for transmission, roughly half a typical bill. The cost of generating power is set by the markets, not PURA, Eversource or United Illuminating.
The bill was filed by Rep. Christine Conley, D-Groton, who said lawmakers were getting lots of complaints from constituents about electric rates.
"The current laws don't allow the legislature to do anything about it, so I put in a bill to start a discussion about how can we have a little more control over these rates, because the increases are really hard for a lot of families to pay right now," she said.
In legislative speak, "start a discussion" can be synonymous with "don't hold your breath."
Mitch Gross, a spokesman for the company that provides power to the majority of Connecticut homes and businesses, Eversource, declined to address the unlikely prospect of lawmakers voting on electric rates.
"We understand there's been a request for legislation and look forward to seeing the specific language," he said. "Until we can review the bill, it would be be inappropriate to comment."
Looney said not every bill is filed with the expectation that it will become law.
"Some people put in a bill as a statement of an ideal or sometimes as a statement of protest, knowing that it's not actually likely to result in legislation but to strongly express a point of view on an issue and just to stake out a position," he said.
House Minority Leader Vincent J. Candelora, R-North Branford, agreed with Looney but noted that sometimes unlikely proposals gain traction.
"We're sort of in the megaphone process, making a statement, then seeing what can stick," Candelora said. "You put your oar in the water, but if you can get some advocacy on an issue, sometimes to can go forward."
The General Assembly meets for three months in even-numbered years and five months in odd ones. Only in the longer session are lawmakers free to file individual bills; in the short session, they must be filed as committee bills.
"Because any legislator can introduce any bill they want, you do do get a mixture of things," said House Speaker Matt Ritter, D-Hartford.
Committees will screen individual bills, clearing some for public hearings — and allowing others to die without action. The first months of the session turn on getting bills voted out of committee to the floor of the House or Senate.
House members filed about four dozen bills last Wednesday, the first day of the session.
House Bill 5002 would extend bond covenant restrictions adopted in 2017 as a means to enforce so-called fiscal guardrails against overspending when revenues spike.
"This starts the conversation, and it was important to all of us that we get this out early," said Rep. Maria Horn, D-Salisbury, the new co-chairwoman of the Finance, Revenue and Bonding Committee.
This is a conversation that has a better chance of leading to the passage of a bill. It is co-sponsored by Horn and the top Democrats, Ritter and House Majority Leader Jason Rojas of East Hartford, and reflects a priority of the governor.
Rep. Jeff Currey, D-East Hartford, the new co-chairman of the Education Committee, filed House Bill 5003, a measure co-sponsored by the House leaders to reform the state's complex formulas for subsidizing local education.
"Right now, we have a disjointed system of, I believe, 11 different formulas," Currey said. "So we're trying to wrap them all into one so that we get away from the internal and external battles when it comes to funding each budget cycle between our traditional public schools, our magnet schools and our charter schools, all of which are public schools."
House Bill 5004, filed by Rep. Matt Blumenthal, D-Stamford, with Ritter and Rojas is a good bet for passage. It would implement early voting, as permitted by an amendment to the Connecticut Constitution approved in November.
The bill does not yet specify exactly how early voting would be allowed.
Other bills and resolutions run the gamut.
Rep. Keith Denning, D-Wilton, is brand new, but one of his bills addresses an issue as old as Tesla cars: It would allow car makers to bypass dealers and directly sell motor vehicles, the only way Tesla does business.
Rep. Christie Carpino, R-Cromwell, has proposed a constitutional amendment placing a limit of two terms on the governor. It might have been appreciated by the last governor who was elected to three terms, Gov. John G. Rowland.
His third term was cut short by an impeachment inquiry, followed by resignation and a stint in federal prison.