By Gretchen Webster
WESTPORT — Many groups are vying for space in Westport, lobbying for their interests at public meetings and online forums: more parking for shoppers and diners downtown, more playing fields for youth sports and more options to save the Westport Community Gardens as the Long Lots Elementary School project threatens to uproot them.
Another group, with 800 or more local participants, also is in the hunt for more space — to play pickleball. Westport pickleball enthusiasts have been advocating for more courts to play the rapidly growing sport at Longshore Club Park, the Fairfield County Hunt Club, Birchwood Country Club and elsewhere.
"I'm always happiest when I have a racquet in my hand," said Tom Lowrie, who as an "ambassador" to the USA Pickleball Association, promotes the activity.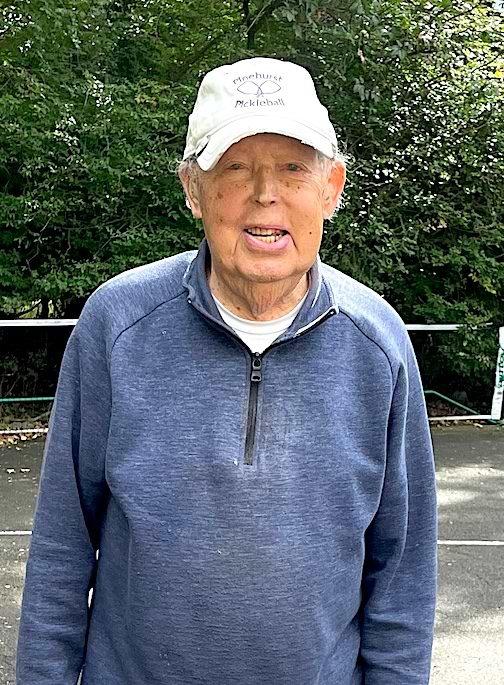 Enthusiasm for pickleball spreads quickly once a player tries it, according to several Westport players. Pickleball, described as America's fastest-growing sport by USA Pickleball, was "invented" in 1965 in Washington State, and the racquet sport is "easy for beginners to learn, but can develop into a fast-paced, competitive game," the group's website says.
The three-year-old Westport Pickleball Association now has more than 680 members, according to its Facebook page, and more become involved all the time, according to Peter Krieger, former president of the group and board member and past president of the Longshore Men's Golf Association.
He first played pickleball with a friend two years ago, "and in very short order I became enamored," he said. "I'm now going to the courts at Compo [Beach] three or four times a week."
The sport is played with a light ball with holes, similar to a Wiffle ball, and players use a light racquet on a smaller court than most racquet sports, he explained.
One of the sport's biggest advantages is the short learning curve, he said. "That's one of the attractions of pickleball." For golfers or tennis players, who may spend years perfecting their skills, pickleball provides a way to enjoy a sport without years of skill building, he said.
There are also many social benefits to playing pickleball, according to Marion Kelly, who has been a player for seven years, and is a board member of the Westport Pickleball Association. She took up the sport when she moved to Westport and found it helped to meet people and join a new community, she said.
"It's hard to meet people when you don't have children in school," she said. "Pickleball is a wonderful way to meet people. It's social and light and fun."
Unlike many pickleball players, Kelly was not previously involved in more common racquet sports like tennis, she said, but she had been a ping pong player growing up. 
Many younger people are becoming interested in the sport, she added, as well as athletes who suffer from tennis elbow or other injuries that curtailed their ability to participate in more demanding activities.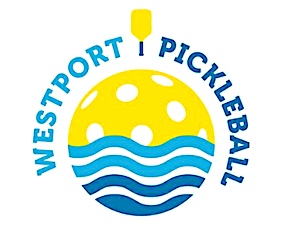 Courting more facilities
Although there are a few pickleball courts in Westport, most are shared by other sports, have limited hours or, if outdoors, can be used only in good weather, players say. The two courts at Compo Beach dedicated to pickleball are challenging because of wind gusts off Long Island Sound, often making play there impossible, Krieger said. 
"Wind impacts the ball. It makes playing challenging. Golf and tennis balls are heavier and not so impacted by the wind," he said.
There are what he called "temporary courts" at Saugatuck Elementary School, but are restricted by school use and can't be used during school hours. And the YMCA has pickleball courts which are also used for basketball, again limiting play for pickleball.
Krieger recognizes that a major challenge posed by introducing pickleball courts in new locations is noise generated by the sport — the hard plastic balls volleying off solid rackets. "But once you get 100 feet away [from pickleball courts] it is not so much of an issue," he said.
The town definitely needs more pickleball courts to address growing demand, Krieger said, and he has been working with the engineering/consulting firm, Stantec of New Haven, on the Longshore Club Park Capital Improvement Plan to include more pickleball courts in the project.
"I'm in favor of the town building pickleball courts wherever they can put them, wherever they can get approval for the location," he said.
One proposed location for pickleball courts in the park was scuttled recently after nearby residents, citing noise problems, complained about a plan to locate the facilities close to Waterside Drive and Vista Terrace. As a result of the pushback, the Parks and Recreation Commission voted Oct. 18 to rehire Stantec to look for another place in Longshore for courts.
Lowrie has devised a plan for locating pickleball courts in Longshore Park, proposing that six courts be built in Zone 6 of the Longshore Club Park Capital Improvement Plan, which would include a year-round enclosure for the courts, protecting them from wind and making them playable all year. That location would also provide plenty of parking, he said. The proposal has been forwarded to the Parks and Recreation Commission, and he hopes it will be considered.
Kelly said while Westport pickleball players continue to advocate for more courts, they also recognize concerns of neighbors. Erecting sound barriers around the courts is one solution to the noise problem, she said.
"The Westport Pickleball Association doesn't want to be an adversary to anyone — we want to be good neighbors," she said. "We will do everything we can to accommodate the need for our shortage while being responsible sports people and considerate of neighbors."
Freelance writer Gretchen Webster, a Fairfield County journalist and journalism teacher for many years, was editor of the Fairfield Minuteman newspaper for 10 years and teaches journalism at Southern Connecticut State University.