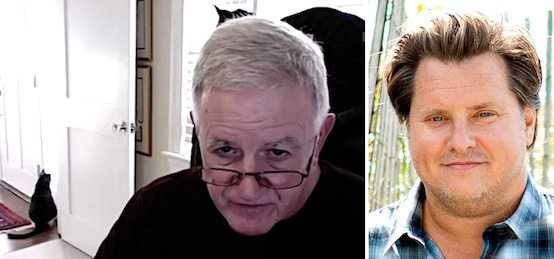 By Gretchen Webster
WESTPORT — When Westporters elected to town bodies Nov. 7 take the oath of office at a Monday ceremony, it will be a familiar event for veteran officeholders, but for others the official rite of passage to public service will be a first.
The swearing-in ceremony is set for 7:30 p.m. Monday, Nov. 20, at the Town Hall auditorium, 110 Myrtle Ave.
James Ezzes, for instance, was elected to serve his 29th year on the Zoning Board of Appeals, and for 26 of those years, the Democrat has been the board's chairman. He was born and raised in Westport.
David Rosenwaks, on the other hand, will be serving in his first elected office as a Representative Town Meeting member from District 6. He moved to Westport with his family during the pandemic two years ago from Brooklyn, N.Y.
But both men had the same reason to run for office — serving others.
"It's important as a resident of the community to learn about your community and that you volunteer your time," Ezzes said in a recent interview. "It's a wonderful thing to be a member of town government. It's important to give back."
Rosenwaks agreed. "I want to do my best for all my constituents … communicate with them on an ongoing basis," he said. "I want residents to know that they have someone listening to them, that they can express themselves and be in the know."
Rosenwaks grew up in Manhattan, graduated from Dartmouth College and worked on Wall Street for 10 years. He started his own financial firm, sold it, became interested in the arts as a singer, songwriter and art collector, and was appointed to the Westport Arts Advisory Commission four months ago. He said he is now mostly a stay-at-home father involved in activities with his children — one in kindergarten and the other in second grade at Long Lots Elementary School.
His interest in town government took root at a birthday party a year ago when he first learned about the possibility that boundaries for Westport school districts would be redrawn. He attended a Board of Education meeting and an RTM meeting to become familiar with issues.
"I noticed that there weren't many people with young children on the town's governing bodies," he said in an interview Friday. "There are a whole group of people who moved here who weren't being represented."
He feels "truly blessed" to be living in Westport, Rosenwaks said, and decided to run for the RTM. During the campaign, "I knocked on a lot of doors, he said, and discovered that Westporters want to be better informed about town government. "They really want to be heard. People deserve transparency in their local government. I don't see why we can't achieve that," he said.
He won his seat with 510 votes, the second highest vote getter in District 6 after incumbent Candace Banks.
Ezzes, in winning election to a new, four-year term on the ZBA, amassed 5,955 votes.
Ezzes grew up in Westport in a political family. His mother was active in the Democratic Town Committee for years, he said, and his brother, Steven, was the first Democrat to be chairman of the Board of Finance and currently is the chairman of the Board of Education in Weston.
Ezzes was chairman of the Westport Democratic Town Committee for seven years, and at the state level, was chairman of the Finance Committee for the Connecticut Democratic Party.
"The town has changed dramatically" over the years, he said of Westport, particularly with a lot of commercial development in a community that he remembers from childhood as abounding with woods and swamps.
But he's pleased to see a lot of younger people moving into Westport, and especially those becoming involved in town government.
"We want them to be engaged. We want them to participate," Ezzes said. "The key thing is for us will be to turn it over to the next generation."
Freelance writer Gretchen Webster, a Fairfield County journalist and journalism teacher for many years, was editor of the Fairfield Minuteman newspaper for 10 years and teaches journalism at Southern Connecticut State University.