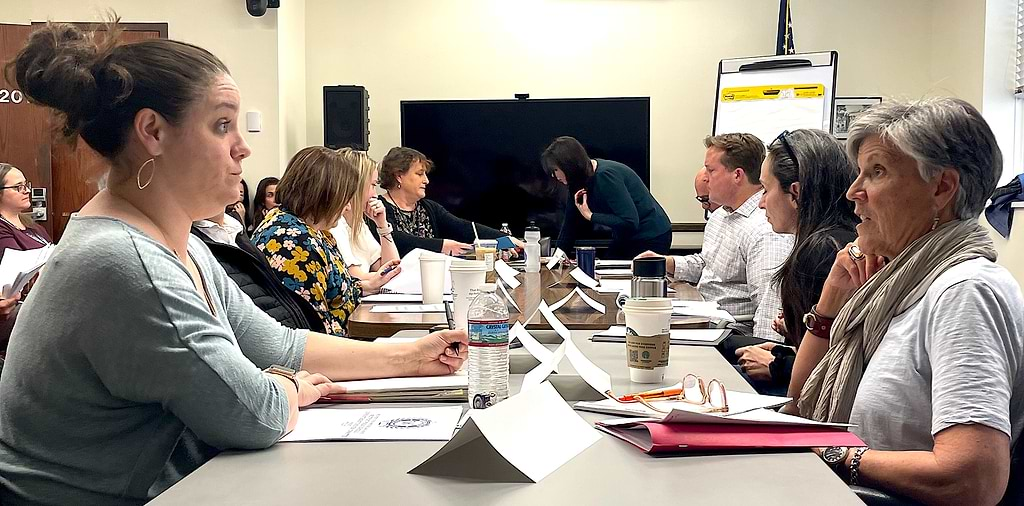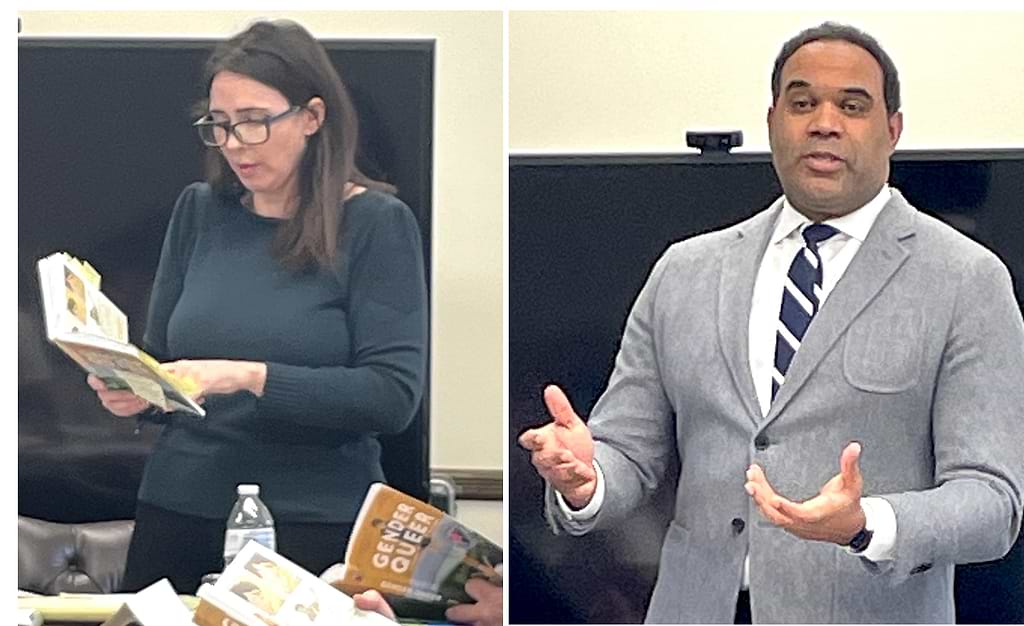 By Gretchen Webster
WESTPORT — Tara McLaughlin, the Westport mother of three formally challenging books she wants removed from the Staples High School library, explained why she thinks the books are inappropriate to a Wednesday meeting of the Superintendent's Review Committee.
McLaughlin, in an hour-long presentation to the rarely convened committee, focused on three books in the school's library that she considers "vulgar" and "without educational value." More than 40 people attended the hearing in a Town Hall meeting room.
The effort stems from controversy that erupted last fall when several parents complained to the Board of Education about books in the school library's "Banned Books" display. Those books are offensive and inappropriate, the parents argued, because of contents they considered sexually explicit and pornographic, as well as providing teens with unsuitable information about things like how to find sexual partners online.
At the time, the school board's majority voted to refer complaints about the books — selected by the American Library Association for its annual "Banned Books" list — to the board's review process. Debate over the books continued at school board meetings and other public forums over the past few months.
"We're raising our kids with certain values consistent with our religion," McLaughlin said of her family. "That's my job, to protect them. I expect the schools to do the same."
McLaughlin read passages from the three books cited in her formal challenge, which detailed gay sex, a girl's visit to a gynecologist, and sexual identity and practices.
The three books are "This Book is Gay" by Juno Dawson, "Flamer" by Mike Curato and "Gender Queer" by Maia Kobabe.
"They're highly controversial. That's why they're there," McLaughlin said of books in the "banned" display. "The whole purpose of the display was to create controversy. … It's a dereliction of duty."
McLaughlin also said that books she wants removed help to "perpetuate negative stereotypes" of the LGBTQ community, such as promiscuity. "I'd like to see us support the LGBTQ community [in Westport] and not break them down."
Also speaking at Wednesday's meeting was Stafford Thomas, principal of Staples High School, and Staples library media specialists Jennifer Cirino and Nicole Moeller.
Thomas said that policies on banning books from school libraries varies from state to state and often follow issues in the news. He cited statistics that show Florida had banned 1,400 books in a year; in California, 10 to 12 books were removed, and Connecticut and Massachusetts "banned zero."
Research also shows that 40 percent of banned books are about LGBTQA+ issues, and 40 percent about people of color, the principal said. One of the books on McLaughlin's list, "Flamer," was not in the Staples' banned books display, he said, but was nominated for Connecticut's Nutmeg Book Awards.
The two Staples librarians also read comments from the positive reviews of the books by educational publishers and reviewers.
At a meeting last fall with school administrators, McLaughlin had requested that either the books be removed from the library, or that pages in books she found offensive be removed from the text or a private reading room be designated where those books could be read by students confidentially. Thomas, however, said that removing pages from books or setting up a private reading room would not conform with school board policies.
McLaughlin said she believes some children feel harassed and stressed when classmates read such books in their presence, or when they see displays like the one in the Staples library. She said she felt harassed in school when boys looked at "pornographic books" nearby.
"I still carry that feeling … you should feel safe from harassment," she said. "I want to protect people like me."
Those attending Wednesday's meeting included some Board of Education and Representative Town Meeting members, teaching staff, members of Westport Pride and others.
After her presentation, McLaughlin was asked her opinion of the proceedings. "I feel grateful," she told the Westport Journal. "The board gave me the opportunity to explain my perspective. I'm just here to protect the kids."
The meeting was part of a nine-step complaint review process adopted by school officials to clarify the district's polices on controversial books and other materials. Two more meetings of the Superintendent's Review Committee will be held for public comment, according to Elaine Whitney, the group's chairwoman. Whitney, a former Board of Education member, is now a member of the Parks and Recreation Commission.
After those two meetings, Whitney said, the committee will prepare a document that reflects its members' views and vote on whether the challenged books can remain or be removed from the Staples library.
The committee's recommendation will be forwarded to Supt. of Schools Thomas Scarice. The superintendent will have 10 days to make a decision. Either side then has 30 days to appeal that decision to the school board.
"Today's hearing portion of the book challenge review process was very helpful … as we strive to conduct an objective, thoughtful and transparent process," Whitney said after the meeting.
"Our ultimate charge is to develop a recommendation to Superintendent [Thomas] Scarise on how to best meet the needs of our students as that pertains to the books that have been requested to be removed from the Staples High School library … We look forward to further input from the community as we progress in our work," Whitney said.
The composition of members appointed to the review committee is specified in the Board of Education's policy on challenged books, Whitney added.
The committee members are:
Central Office staff: Anthony Buono, assistant superintendent of schools for teaching and learning
Westport Education Association president or designee: Dave Willick
Westport Intermediate Administrators Association president or designee: Staples Assistant Principal Christine Cincotta
Faculty: Staples social studies teacher Carol Kaye, Staples English teacher Ann Neary and Staples physical education/health teacher Kelly Shamas
Library media specialist representative: Staples library media specialist Kelly Zatorsky
Community members: writer Sivan Hong, RTM member Jaime Bairaktaris and Whitney.
The public can send comments about McLaughlin's request to remove the books to Buono at ABuono@westportps.org.
_______________________________
Freelance writer Gretchen Webster, a Fairfield County journalist and journalism teacher for many years, was editor of the Fairfield Minuteman newspaper for 10 years and teaches journalism at Southern Connecticut State University.