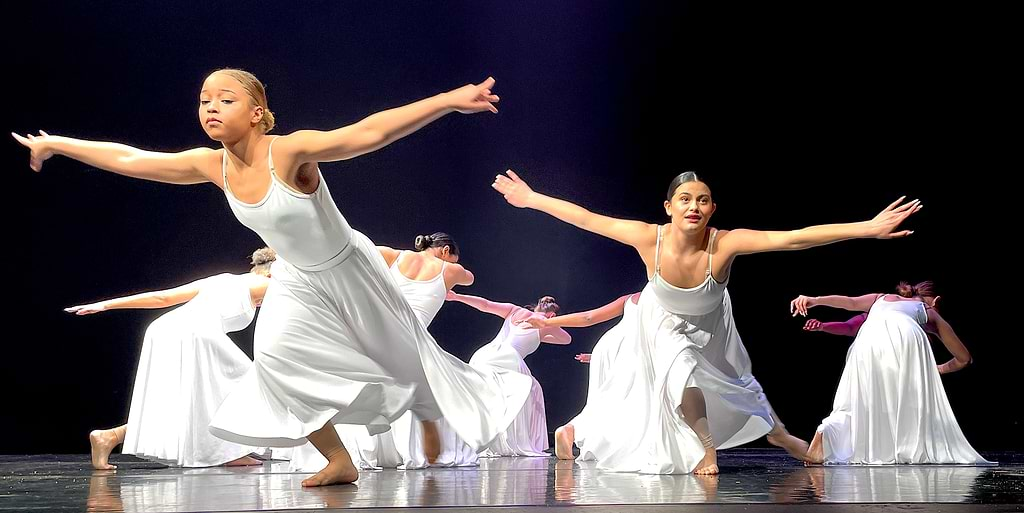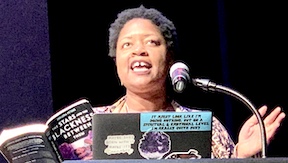 By Gretchen Webster
WESTPORT — A weekend of tributes to civil-rights icon Dr. Martin Luther King Jr., incorporating themes of social justice and the need for communication and understanding, culminated Sunday at the Westport Country Playhouse with a program featuring artist and social activist Junauda Petrus.
"All I really want in life is to be hugged and held and cared for. We live in a society that doesn't recognize that," said Petrus, a writer, poet and performance artist.
The local King tribute, observed for a 17th year, was co-sponsored by Westport-Weston Interfaith Clergy, the Westport Library, the Westport Country Playhouse, Westport-Weston Interfaith Council and TEAM Westport.
Petrus's narrative of how she came to understand the need for social justice in America involves a sequence of events in her life that fostered the same desire for peaceful resistance against injustice that King espoused.
She recalled a school field trip about the Underground Railroad, and how blindfolded students experienced a sense of how slaves were separated from family, shackled and forced into a boat transporting them to a life of servitude in a strange country.
She recounted how the death of an 18-year-old Black male friend, shot 33 times by police in his backyard a few blocks from her home in Minneapolis, "shifted me into activism."
She relayed the comment of a circus-arts instructor who said to a class of Black girls on a ropes course, "Look at all these Black people swinging, and they're not being lynched."
But George Floyd's murder in May 2020 three blocks from her house, when a police officer restraining Floyd refused to listen to pleas to let him breathe, ignited Petrus's resolve to become "a freedom fighter and an activist … a change maker," she said.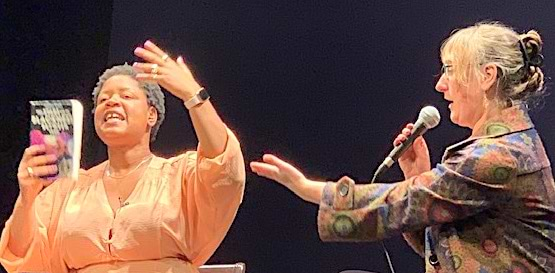 Petrus is the author of "The Stars and the Blackness Between Them," which won the 2020 Coretta Scott King Book Award, and the author of the poem, "Can We Please Give the Police Department to the Grandmothers," which she read at the playhouse event.
The poem speaks of the strength of love overcoming violence, as symbolized by grandmothers who view the world sensibly and without fear:
"She sees the pain in our bravado, the confusion in our anger, the depth behind our coldness. Grandma know what oppression has done to our souls and is gonna change it one love temple at a time."
Petrus was introduced Sunday by William Harmer, executive director of the Westport Library, who said her work is where "art intersects with activism."
Welcoming the audience to the keynote event of the local MLK weekend, the Rev. Alison Patton, pastor of Saugatuck Congregational Church and representing the Westport-Weston Interfaith Council, asked the gathering "to give gratitude for the legacy of Martin Luther King Jr."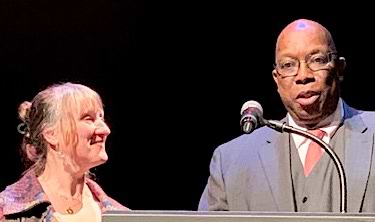 Also speaking was Erika Wesley, the playhouse director of equity, diversity and inclusion. "My hope is that we can continue to find inspiration in MLK's life," she said.
Before the event, Wesley said that she hoped those attending the program "will come away with joy and eagerness to continue Dr. King's legacy in Westport."
Dance students form the Regional Center for the Arts in Trumbull also performed during Sunday's program.
Petrus's visit to Westport began Friday in Westport schools where she discussed with students her vision of social justice. On Saturday, she joined other artists at the Westport Library for "Justice, Art and Healing: An Afternoon of Creative Activism," a series of themed programs that included writing and visual-arts workshops and a panel discussion.
Freelance writer Gretchen Webster, a Fairfield County journalist and journalism teacher for many years, was editor of the Fairfield Minuteman newspaper for 10 years and currently teaches journalism at Southern Connecticut State University.