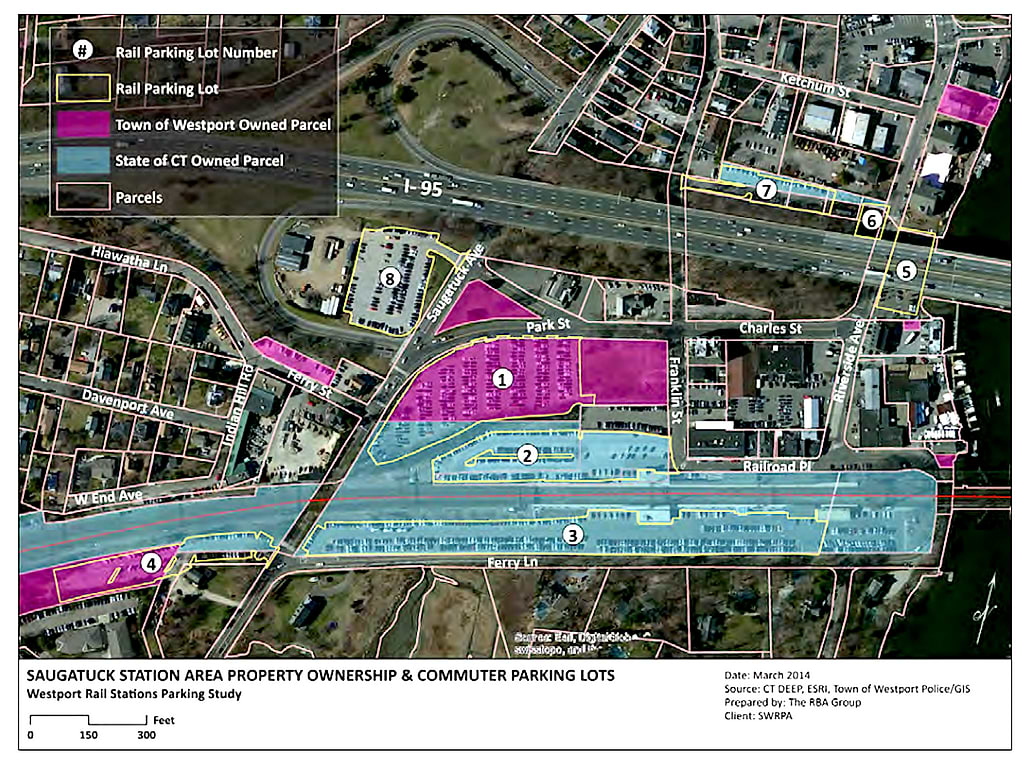 Editor's note: The following letter and attached documents were sent to members of the Representative Town Meeting, and submitted to the Westport Journal for publication.
_________________________________________________
As a former Westport Transit District director and RTM representative, I urge you to vote to overturn Text Amendment #819. While there are many problems with the proposal, here are the top three reasons why I believe the Hamlet project (which is the driving force behind the text amendment) is a bad idea from a transportation perspective:
1. It will disrupt rail access
   
Text Amendment #819 will enable an untested private developer to insert a massive luxury hotel/condo/spa "destination center" (aka "The Hamlet") in a location that will dominate railroad parking as well as choke access to our train station along Riverside Avenue.
The Connecticut Department of Transportation (CTDOT) is the largest landowner in Saugatuck. CTDOT's land, combined with the town's significant landholdings (including Lot 1, part of Lot 4 and Ferry Lane West) are covered by the Railroad Parking Lease. The lease — and the associated 1,400 parking spots and facilities — recognizes CTDOT and Westport's "mutual interest in encouraging use of mass transportation services" and … "seeks to make the most effective use of railroad property" and … "make rail facilities more convenient, attractive, and compatible with the public interest." Under the lease, anyone, including "a local resident; a local taxpayer; a high-volume user; or a user in conjunction with a local enterprise, activity, or organization" can obtain a railroad parking permit.
We can expect the hundreds of people working at the Hamlet to be among the applicants; notwithstanding the idea put forth of busing workers to the site, they will have the right, like anyone else, to purchase a rail parking permit.
CTDOT will not stand idly by and watch Westport implement a project that will compromise virtually every stated town and regional transportation goal, especially one that usurps rails access so that high net-worth clientele can have a nifty new luxury "destination location."
If the RTM does not stop this Text Amendment, the state may well exercise its right to terminate the Railroad Parking Lease "without cause" as they are entitled to do. If that happens, they will also get to keep the $2 million a year that Westport gets from the Lease. Why would we run that risk ?
2. Westport does not need another "study"

After last week's extensive subcommittee hearings, many talked about letting the process under the text amendment move forward so it can be further  "studied." We surely do not need another study to make an informed decision right now.
In recent years, Westport taxpayers have already funded over $2 million dollars in studies of the traffic, density, design and access issues associated with Saugatuck and rail station access (a few are listed in Attachment #2). The Hamlet contravenes the recommendations set forth in all of those studies. You have more than enough studies to justify voting against Text Amendment #819.
Our elected officials need to avoid the temptation to "kick the can down the road"awaiting some other taxpayer-funded study.
3. There is a better option
The RTM should reject Text Amendment #819 and instead urge the P&Z to adopt a text amendment that reflects recommendations like those contained in the 3-Part Saugatuck TOD Study (2018) which was prepared by world-class consultants. Such an action would demonstrate to the state that we are up-zoning land for the purpose of meeting our affordable housing obligations, as the law and common sense require.
As that study showed, it makes sense to locate denser development away from the heart of Saugatuck and closer to Route 136 given the topography and the need for easier rail and fire/emergency access. Yes, this would require "liner buildings" around "tiered parking" (which was vehemently opposed by a vocal minority of Westporters opposed to anything put forth by the consultant). But given the choice that we now face (namely, the flawed Hamlet or some vague 8-30g project looming down the road), it is now worth revisiting immediately.
I've attached a link to the full 2018 study and would urge you in particular to take a look at pages 112 and 114 in Part 3. This gives you the road map we need to responsibly move forward to address our affordable housing needs.
Saugatuck is and always will be the crucial transportation center of our community. The Hamlet would adversely impact residents who rely on Saugatuck Rail Station and destroy the integrity of this vital transportation resource with potentially disastrous consequences for our town.
Jennifer Johnson
Westport