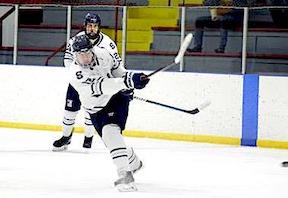 By Andy Hutchison
MILFORD  — Staples High's boys hockey team jumped to a 6-0 lead through one period of play and cruised to an 8-2 victory Monday over Fox Lane of New York at Milford Ice Pavilion.
Nikos Ninios netted a hat-trick, scoring twice in that goal-filled opening stanza.
Carter Fass, Patrick Ashe and Tyler DiMaio all scored in a span of 1:23 midway through the first as the Wreckers seized early control.
Derek Wolgast and Ninios scored less than a minute apart to extend the lead to 5-0 in a span of just 3:37, and with 5:53 remaining in the first. Ninios scored again late in the opening period for a 6-0 lead and lit the lamp once more in the third for good measure. Cooper Paul scored in the middle stanza.
Jameson Russell, Paul and Harry Goodburn all had two assists. Domenic Petrosinelli, Ninios, Holden Cancy, Jacob Serfaty, Connor Moynihan, Levi Nevstad and Jacob Gomez also assisted on goals.
Andy Hutchison has been covering school sports — including Staples athletics — as well as news and feature stories in Fairfield County, since the 1990s. Learn more about us here.