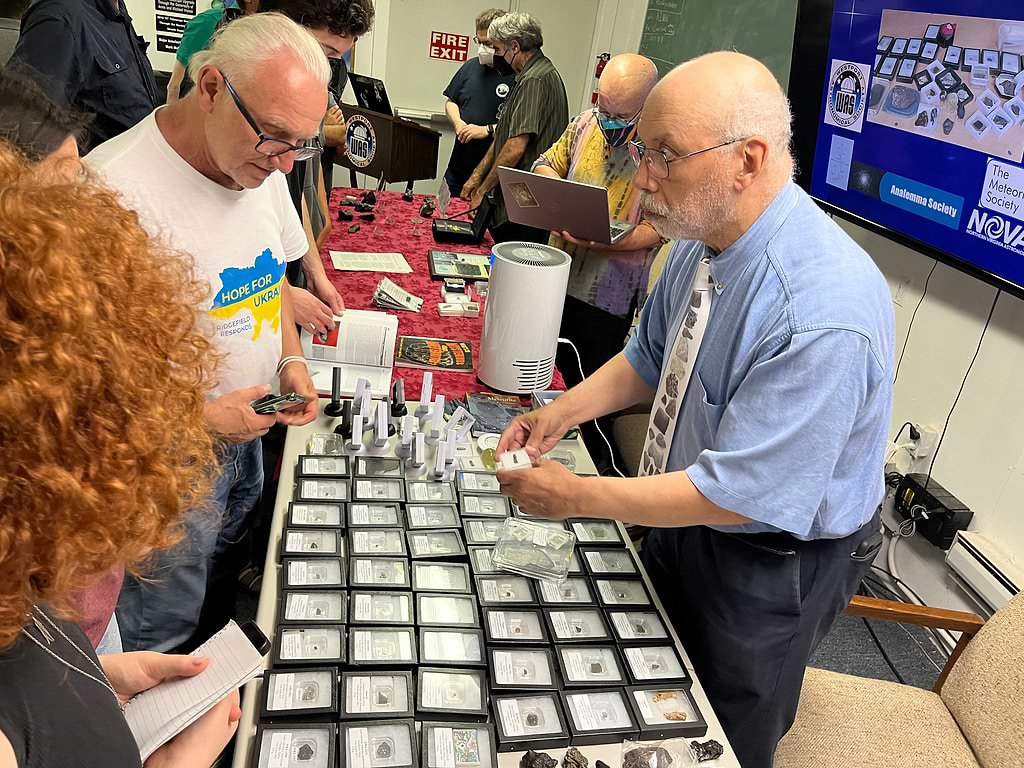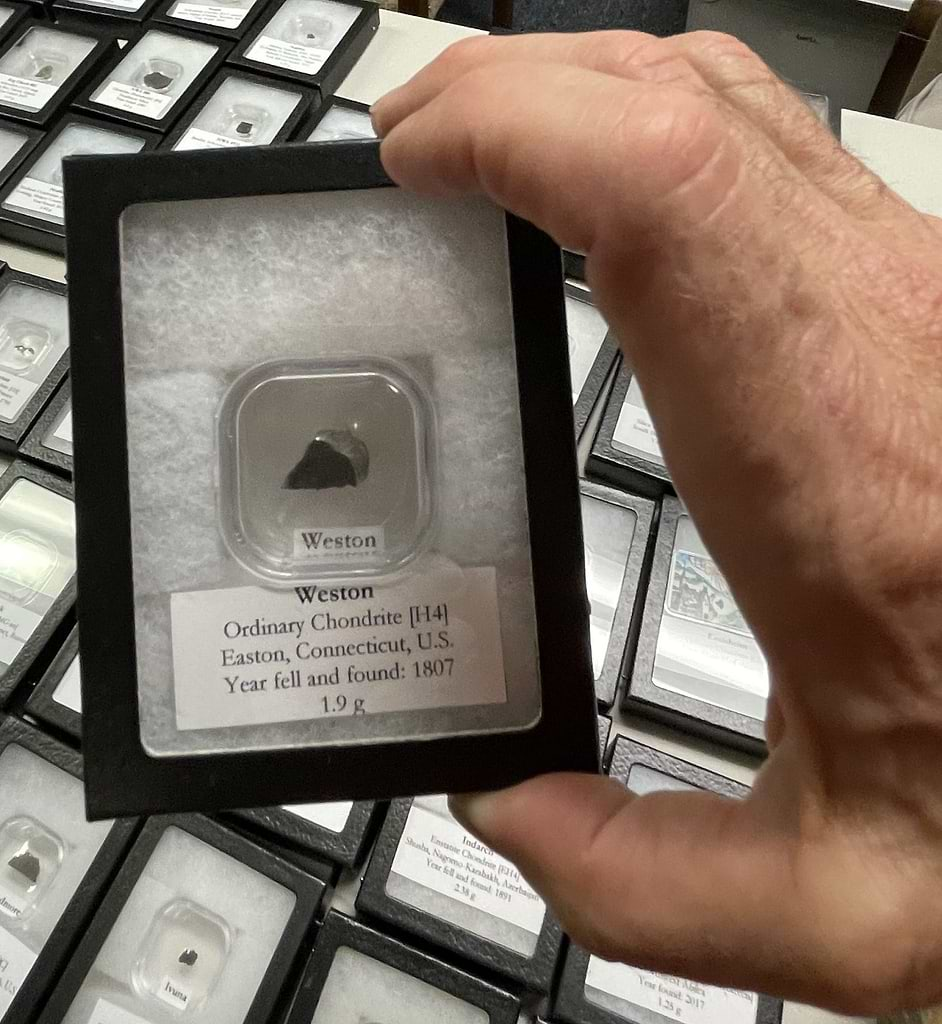 By Lucy Dockter
WESTPORT — You look up into the sky and see a flash brighter than the sun.
Could it be extraterrestrial life invading earth?
In a way, it is. But not aliens, most likely a meteorite.
While most people go about their daily lives here on Earth, there some that are fascinated by what lies beyond.
Meet Cal Powell, a former president of the Westport Astronomical Society.
On Wednesday, he displayed his collection of meteorites at an event at the astronomical society's headquarters off Bayberry Lane.
"It all started with a gift," he said of the collection, which was launched in 2010 with a going-away present from the society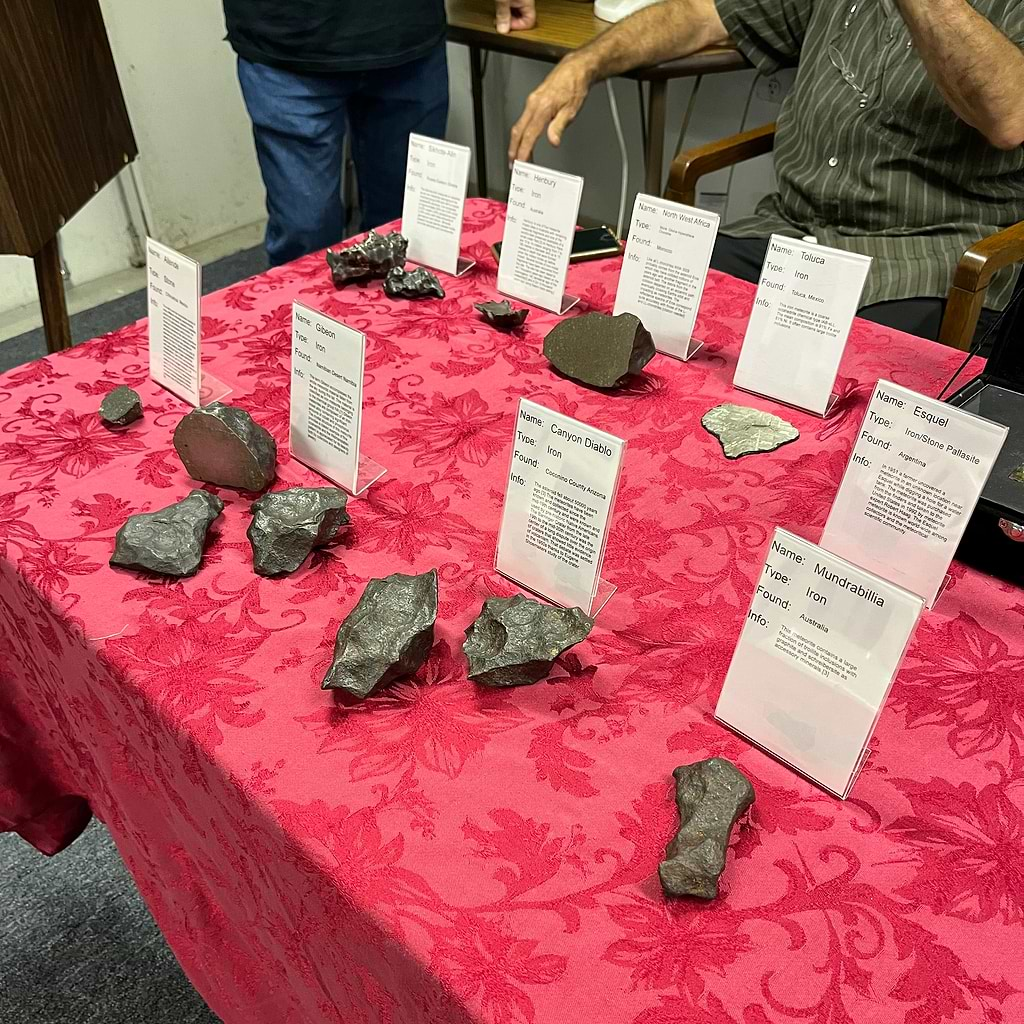 That gift has grown into a collection of nearly 400 meteorites or their pieces.
A meteorite, according to Powell's presentation, is "a meteoroid [a small solid solar system body] or piece of a meteoroid that survives its trip through the atmosphere."
When these meteorites are discovered as a result of a witnessed or documented impact event, they are defined as a "fall." Everything else is called a "find."
Powell's collection encompasses meteorites from all classifications and from all over the world.
He has a 1492 specimen from the Ensisheim meteorite, the earliest witnessed European fall with preserved pieces. 
He also has a piece from a local meteorite.
On Dec. 17, 1807, the first known meteorite to fall in the New World fell in Weston.
Powell's presentation was supplemented by the New Haven Astronomical Society and Stefan Nicolescu, with samples from Yale's Peabody Museum.
Powell gave a few tips for starting a personal collection.
There are two ways to acquire meteorites — hunting or buying online, or from gem/mineral/fossil shows. Hunters have to worry about permissions, equipment, "meteor-wrongs [think meteor-rights]," local ownership laws, transport and export regulations, and other legal stumbling blocks.
He said it may be easier just to purchase them.
"When starting a collection," Powell said, "you want to buy and read a good meteorite book like 'The Field Guide to Meteors and Meteorites' by Richard Norton and Lawrence A. Chitwood."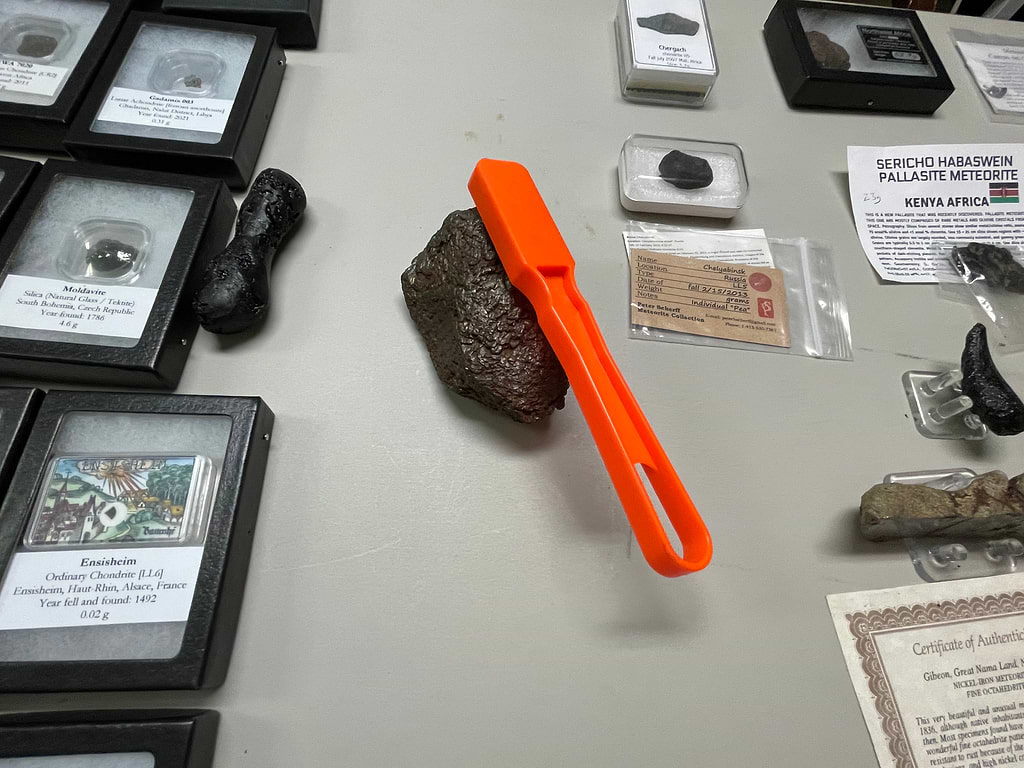 He had more advice for novices.
"You want to select a few inexpensive specimens to start determining what it is you like, and if online, you want to look for sellers who display the International Meteorite Collectors Association membership."
The price of meteorites can range from $20 to $1,000 per gram, based on type, history, rarity, physical attributes, and supply and demand.
Museum-quality meteorites can cost much more than $1,000.
To find meteorites in your own backyard, great places to look are old stone walls or an old hunting bluff, where meteorites might have been used to sharpen blades.
Powell also said to look for rocks with a fusion crust, and rocks that are magnetic (most meteorites are composed of nickel or iron).
Lucy Dockter, a contributor to the Westport Journal, is a member of the Staples High School Class of 2023 and is editor-in-chief of the school newspaper, Inklings. Learn more about us here.