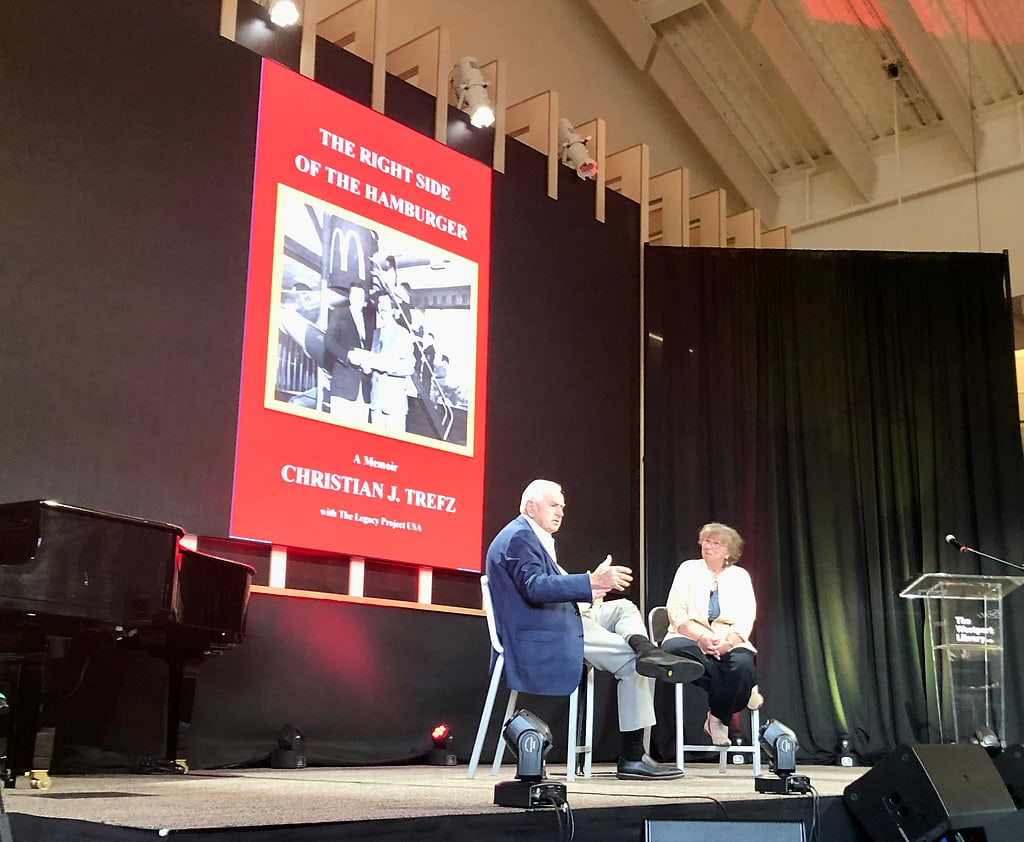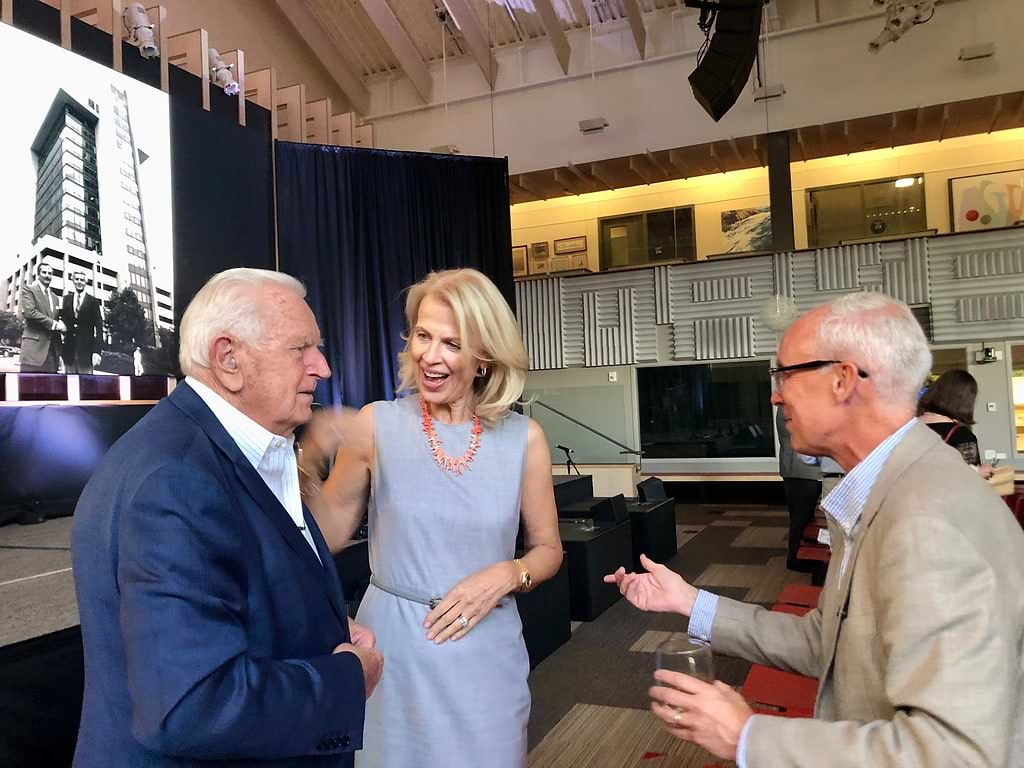 By Thane Grauel
WESTPORT — The centerpiece of the Westport Library's recent renovation is an open meeting area, the Christian Trefz Forum, that can seat up to 600 people.
Anyone who's ever wondered who Trefz is, and how the forum came to be named for him, can now read his autobiography, "The Right Side of the Hamburger."
The book was unveiled Saturday evening in an event at the Trefz Forum.
Foundation for success built by hard work
Spoiler alert: There are no trust funds in the childhood of Trefz, the son of German immigrants, nothing was handed to him on a silver platter. But there are frank stories about a very humble upbringing in West Haven and North Haven, hard work, family bonds and eventual success.
Christian and his older brother, Ernie, went from working at a hotdog plant in Bridgeport to owning 50 McDonald's franchised restaurants in the tri-state area.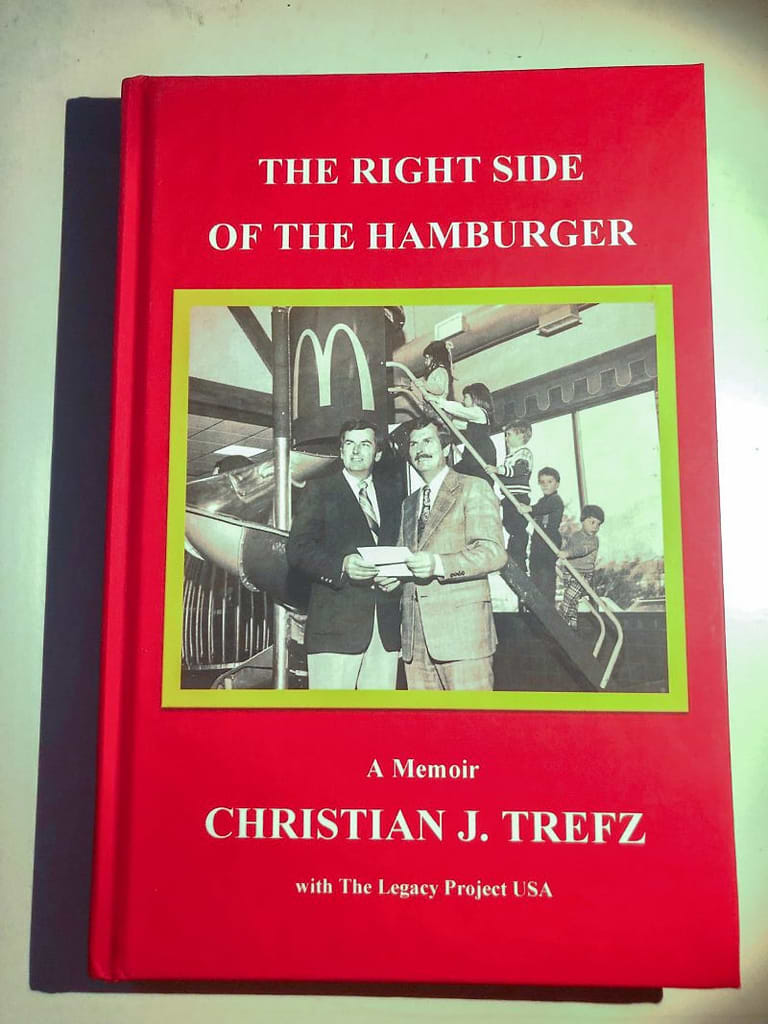 On Saturday, the longtime Westport resident sat on the stage of the Trefz Forum for the launch of the book, published by the library and written with the Legacy Project USA. Rozanne Gates of the Legacy Project led the discussion.
"I think back on my past, and I was very fortunate to have two wonderful parents," said Trefz, now 86. "And I had a fantastically wonderful brother. And I think back on how fortunate I really have been. I thank God every day for all the good, wonderful things that he's provided for me and my family."
"It's just something I had to put in writing," he said.
In the audience were family members, leaders from his company who also worked their way up, and former employees who have gone on to succeed elsewhere after starting their working lives taking orders at a McDonald's counter.
The evening began with an introduction from the Library Director Bill Harmer, who ran down a list of noteworthy speakers who have appeared so far at the forum. First Selectwoman Jennifer Tooker presented Trefz with a proclamation, detailing his philanthropy and the town's appreciation.
Entrepreneurial spirit in youth
Trefz told stories about his childhood, recalling having to share a twin-sized bed with his older brother, Ernie, who often pushed him onto the floor for more room.
But, Trefz said, he was always close with his brother, who died five years ago.
One story he told was about an early entrepreneurial enterprise.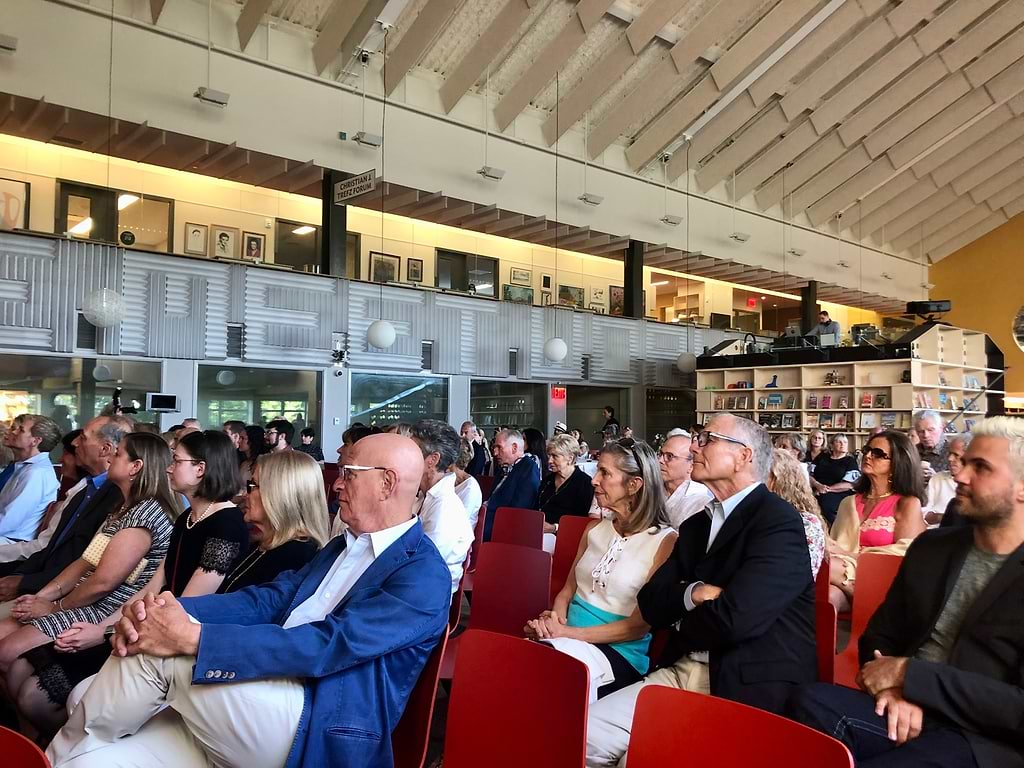 The two brothers hung around the North Haven town dump, because Ernie had inherited a .22 rifle.
"He liked going to the town dump and to shoot the rats," he said. "We were walking around and I would see bicycle parts throughout the dump. It was really amazing people would throw bikes away, pieces of the bikes away."
He brought them home, scrounged spare parts and put together bikes. He gave them a fresh coat of paint and put them in the front yard for sale.
In the first week, he sold all 10.
Next, Trefz bought an engine-powered lawn mower, rare in the day (most people still had push-mowers), and with some help, fashioned a cart to tow it behind his bicycle. Then he'd ride to the wealthy side of North Haven a mile away where he offered to cut lawns. Eight of first 10 people whose doors he knocked on hired him.
From hot dogs to hamburgers
Fast forward several years. Their father had risen to a manager position at Roessler's in Bridgeport, which supplied hot dogs and other meats to restaurants and delicatessens throughout the region.
The two Trefz brothers went to work there as well.
When the first McDonald's in Connecticut opened on Dixwell Avenue in Hamden in the late 1950s, Ernie told Christian he had to see it.
"Golden arches rising into the sky," Christian Trefz recalled. "Red and white tiles on the walls."
And no plates — all the food was wrapped in waxed paper.
"A burger, fries and milkshake cost 53 cents," he said.
His brother had the idea of adding burger patties to Roessler's offerings, and obtained a mechanical burger press that made one patty at a time. They became one of the burger suppliers to the Hamden McDonald's — which cooked hundreds of pounds of burgers instead of 30 or 40 pounds a week, like most of their customers.
Christian Trefz said Ernie got to know the Hamden McDonald's owner, Reub Taylor.
One day, Christian Trefz recalled, his brother told him, "We're on the wrong side of the hamburger."
He said Ernie meant they shouldn't be suppliers, but franchise owners.
They asked Taylor for an introduction to Ray Kroc. Taylor wrote to Kroc, who first offered the brothers a franchise opportunity in Texas, then Colorado or Montana, Christian Trefz recalled.
But the brothers wanted to stay close to home. In 1964, Kroc finally offered the brothers a store in Connecticut, Waterbury. They took it.
It was tough, Christian Trefz said. The McDonald's idea hadn't caught on in the Northeast as it had out West. But then the brothers opened an outlet in Danbury, and it took off.
Decades later, the Trefz Corp., based in Bridgeport, owns 50 McDonald's franchises.
Christian Trefz still likes to stay close to home.
"Fifty years I've lived in Westport," he told the crowd. "And I'll never live anywhere else."
"The Right Side of the Hamburger" is available for purchase at the Westport Library and on Amazon. For more information on the Legacy Project USA, visit its website or call 203-222-1441.
Thane Grauel, the Westport Journal executive editor, grew up in Westport and has been a journalist in Fairfield County and beyond more than three decades. Learn more about us here.