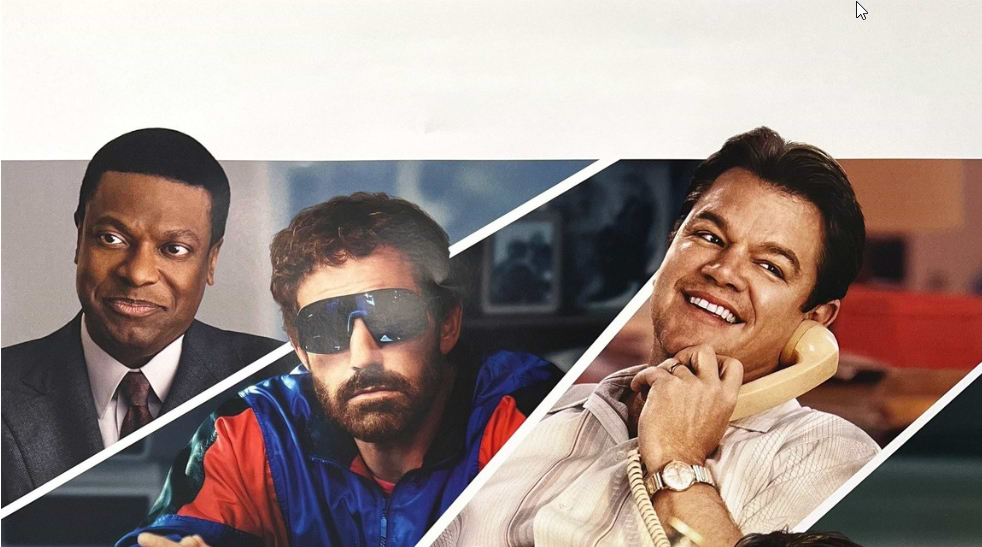 Confession: I knew nothing about Michael Jordan and his signature Nike sneakers before watching "Air," recounting how Sonny Vaccaro convinced the then-rookie to sign a unique endorsement deal that changed the retail sports-apparel industry.
Insightfully scripted by newcomer Alex Convery and astutely directed by Ben Affleck ("Argo"), it's really a sports fable, centered on the 1984 corporate culture at Nike headquarters in Beaverton, Oregon. Back then, Nike was known for its running shoes which had zero impact on fashion.
This underdog story begins as Nike's basketball scout Sonny Vaccaro (Matt Damon) searches for the next player to promote the footwear brand – which, at that time, was far behind Adidas and Converse.
When he suddenly realizes that 18 year-old Michael Jordan, an NBA rookie from the University of North Carolina at Chapel Hill, has superstar potential, Sonny faces major hurdles.
He must not only to convince CEO Phil Knight (Ben Affleck), marketing VP Rob Strasser (Jason Bateman), executive Howard White (Chris Tucker), and Michael's abrasive agent, David Falk (Chris Messina), but primarily Michael's shrewdly savvy mother Deloris (Viola Davis).
"He doesn't just wear the shoe," Sonny proclaims. "He is the shoe. The shoe is him."
"A shoe is just a shoe," Deloris counters, "until my son steps into it."
Cue Nike's creative director Peter Moore (Matthew Maher), who actually designed and, perhaps, named the iconic Swoosh-adorned Air Jordan. (Moore died in April, 2022, just three weeks before filming began.)
Noted as part of the closing credits is how Sonny played a pivotal role in taking on the NCAA to help college athletes get paid for commercial use of their likenesses in 2009's O'Bannon case.
It's a fortuitous reunion for Matt Damon and Ben Affleck, whose debut feature "Good Will Hunting" (1998) won them a screenwriting Oscar. Just last year, they formed Artists Equity, a production company with a profit-sharing model to create better deals for everyone employed in making movies.
FYI: Julius Tennon, who plays Michael Jordan's father, is Viola Davis' real-life husband.
On the Granger Gauge of 1 to 10, "Air" is a scrappy, sneaker-driven 7, streaming on Prime Video.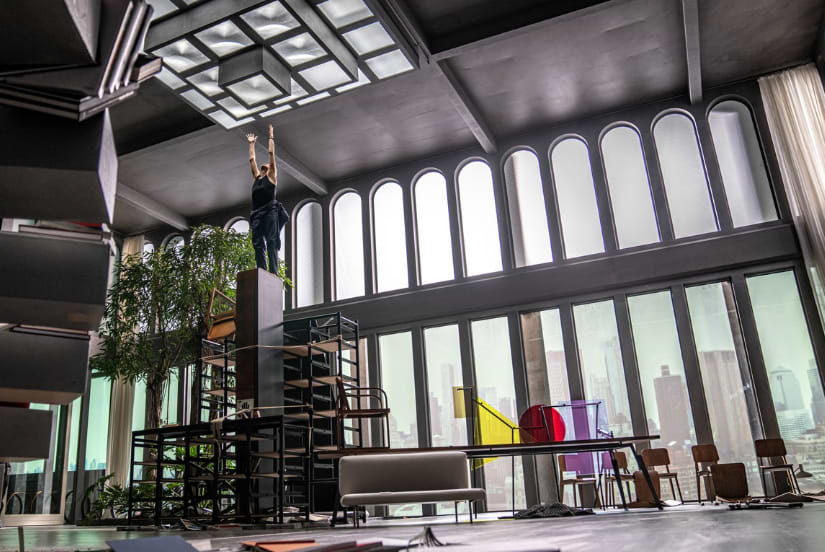 "Inside" features a high-end art thief who is trapped in an extravagant New York City penthouse …it's a Master Class in acting but agony to watch.
When Nemo (Willem Dafoe) inadvertently sets off the alarm system as he's searching for a particular painting, he's imprisoned in the huge, high-tech apartment he was burglarizing. Without food or water, his desperation grows.
The apartment belongs to a Pritzker-prize-winning architect who is working in Kazakhstan on a project called the Tulip Tower. He never appears except in Nemo's dreams and hallucinations.
According to press releases, after viewing the many Manhattan glass-clad high-rises, writer/director Vaslis Katsoupis was impressed with their height, which made him wonder what would happen if someone was stuck on the top floor.
So Katsoupis and writer Ben Hopkins developed the idea of an urban Robinson Crusoe, marooned high above the busy streets, unable to escape. He can see people below, but they can't see him; he can scream, but no one can hear him.
Since the plumbing is turned off, he collects water from an automated plant irrigation system. While caviar, pate, foie gras and vodka are delicacies, they don't supply the nourishment Nemo needs since the pantry is practically bare except for a few cans of dog food.
But Nemo is certainly resourceful in his isolation as the room temperature fluctuates between extreme heat and chilling air conditioning.
While desperately trying to devise an exit strategy, Nemo goes on his own creative drawing/painting binge since, as a child, his sketchbooks were his prize possession.
For wiry, wry Willem Dafoe, it's obviously meditative performance art. But for the yawning viewer, not so much. Bottom line: as a psychological thriller, it's really, really boring.
FYI: In Latin, Nemo is Nobody.
On the Granger Gauge, "Inside" is an inconclusive 3, streaming on Prime Video, Apple TV and Vudu. 
(Editor's Note: Westport resident Susan Granger grew up in Hollywood, studied journalism with Pierre Salinger at Mills College, and graduated from the University of Pennsylvania with highest honors in journalism. In addition to writing for newspapers and magazines, she has been on radio/television as an anchorwoman and movie/drama critic for many years. See all her reviews at www.susangranger.com.)