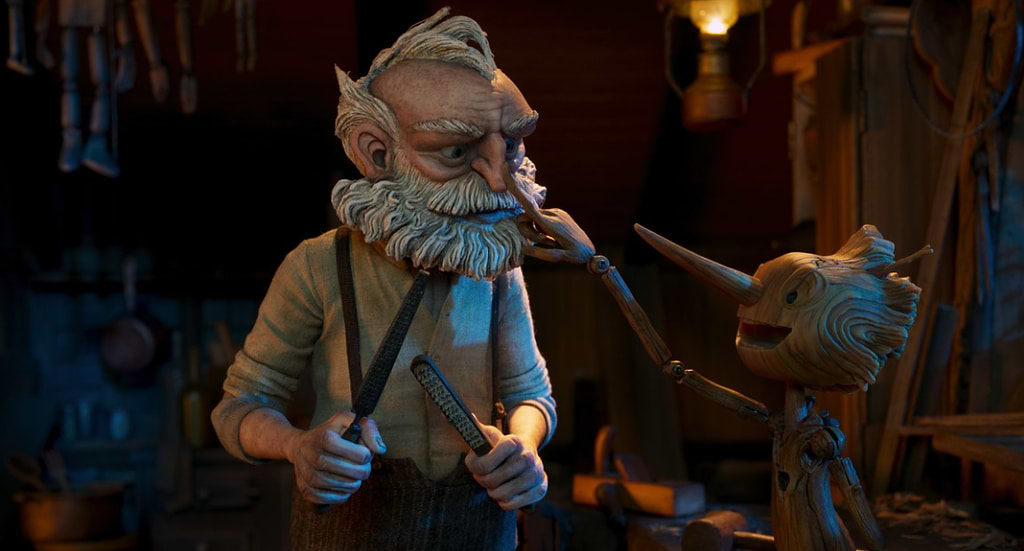 Mexican filmmaker "Guillermo del Toro's Pinocchio" transports Carlo Collodi's classic 1883 children's story to Benito Mussolini's fascist Italy during the 1930s, using stop-motion animation – it's like "Pan's Labyrinth" with a puppet!
As he's restoring the crucifix in a small Italian church, the carpenter Geppetto (voiced by David Bradley) loses both his wife and 10-year-old son Carlo when a W.W. I bomb explodes. Devastated with grief, he retreats alone to his tiny cottage.
Two decades later, the widower Geppetto carves a simple stick figure of a young boy (voiced by Gregory Mann) which is miraculously brought to life by a benevolent Wood Sprite (voiced by Tilda Swinton); he is named Pinocchio.
Gullible to a fault, Pinocchio assumes everyone is honest. Since naïve Pinocchio is incapable of discerning right from wrong, Sebastian J. Cricket (voice by Ewan McGregor) is assigned to guide him – which proves to be a challenging task.
In this interpretation, Pinocchio's nose 'grows' not only when he tells a lie but also when he is not true to himself.
That happens often when he's in the presence of villainous Count Volpe (voiced by Christoph Waltz) and his monkey Spazzatura (voiced by Cate Blanchett) who convince him to join their traveling circus to earn funds for the family.
Significantly, as he grapples with the religious aspects of life-and-death, Papa Geppetto also learns a valuable lesson about individuality, noting: "Pinocchio, my child – I was trying to make you into someone you were not. So – don't be Carlo or anyone else. Be exactly who you are! I love you exactly as you are…"
Writing with Patrick McHale and directing with stop-motion expert Mark Gustafson ("Fantastic Mr. Fox"), Guillermo del Toro's perspective is more politically focused than the familiar fable. The Italian fascist slogan "Credere, obbedire, combattere" ("Believe, obey, fight") appears on one of the town's walls.
It's a far cry from Disney's sanitized 1940 "Pinocchio" and the many versions that have followed, including Robert Zemeckis' mid-2022 Lionsgate adaptation with Tom Hanks as Geppetto.
FYI: Composer Alexandre Desplat had all the instruments for his music made of wood. Significantly, the film begins and ends with a pinecone falling off a tree.
On the Granger Gauge of 1 to 10, "Guillermo del Toro's Pinocchio" is a deeply sad, emotional 8, an animated Oscar contender that's streaming on Netflix.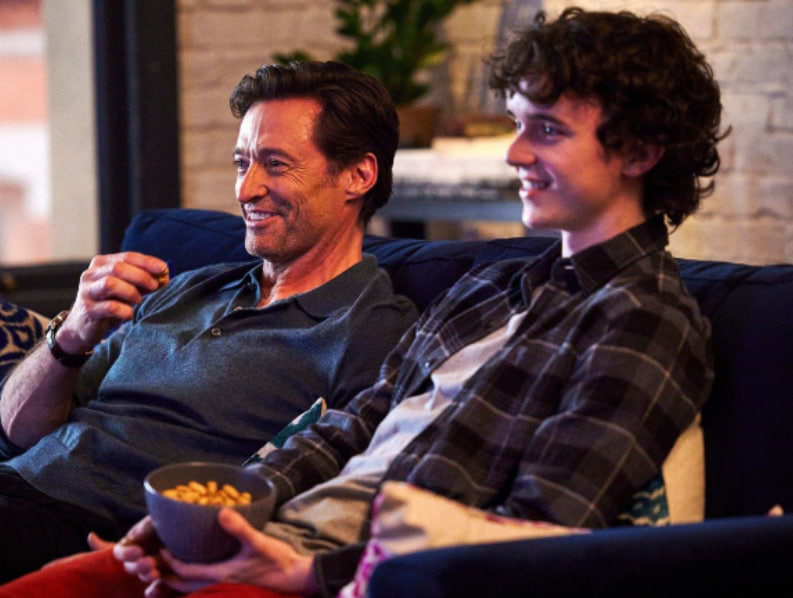 French playwright-turned-filmmaker Florian Zeller wrote a trilogy of psychodramas: "The Father" about an elderly man coping with dementia, whom Anthony Hopkins embodied in an Oscar-winning performance; "The Mother" about a woman afflicted by middle-age ennui; and "The Son," focusing on the vulnerability of mental illness and trauma.
"The Son" revolves around an affluent family, headed by workaholic Peter Miller (Hugh Jackman) who is struggling, along with his ex-wife (Laura Dern), to help their volatile, self-destructive 17-year-old son, Nicholas (Zen McGrath), while grappling with an infant, a younger partner (Vanessa Kirby) and the psychological trauma inflicted by his tyrannical father (Anthony Hopkins.)
What's most remarkable about "The Son" is witnessing Hugh Jackman's remarkable versatility, his constant curiosity for reinvention. He's starred in hit musicals (Broadway's "The Music Man," along with "Les Miserables," "The Greatest Showman," "The Boy From Oz"), played clawed Wolverine in "X-Men" comic-book movies, and delivered several convincing dramatic performances ("Bad Education," "Prisoners").
And Zeller captures the innate cleverness of a teenager, grappling with serious feelings of abandonment and betrayal, and his feral skill at exploiting each of his parents' worst vulnerabilities, thus hampering proper, if painful treatment.
Adapted into English by Christopher Hampton and Zeller, the setting for "The Son" has been transposed from Paris to New York City to accommodate Hugh Jackman and also to make the concept more accessible and universal – since the helplessness of adolescent depression is not restricted to any social class or nationality.
"I like to explore the things that are stuck in a corner of your soul," Zeller explains. "That's what cinema is about – to explore one's pain. It is, to me, at least. It reconnects me to my sorrows and helps me to heal them."
Problem is: the superficial, manipulative melodrama – a parental nightmare – with its heavily foreshadowed conclusion – turns out to be quite a slog to sit through.
On the Granger Gauge, "The Son" is anguished 6, playing in theaters.
(Editor's Note: Westport resident Susan Granger grew up in Hollywood, studied journalism with Pierre Salinger at Mills College, and graduated from the University of Pennsylvania with highest honors in journalism. In addition to writing for newspapers and magazines, she has been on radio/television as an anchorwoman and movie/drama critic for many years. See all her reviews at www.susangranger.com.)