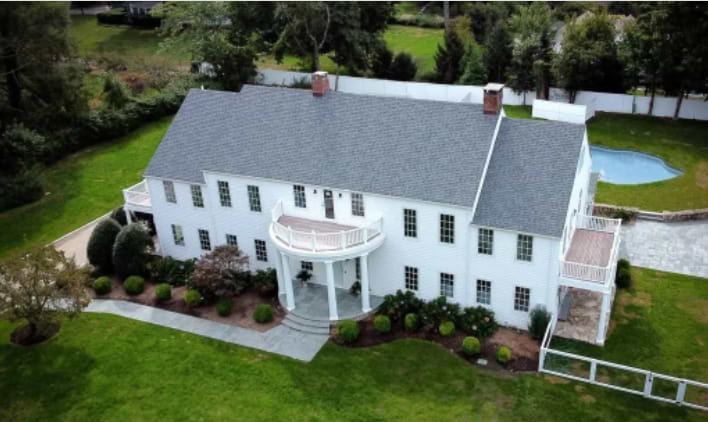 WESTPORT–During the week of December 19-23, twelve properties changed hands for a total of $23.4 million, generating $59K in conveyance tax. One year ago, nine properties changed hands for a total of $14.4 million.
57 79 & 85 Post Road W sold for $5,750,000.
Seller: Cross Street LLC.
Buyer: Lighthouse Westport LLC.
8 Mayflower Parkway sold for $3,550,000.
Seller: 8 Mayflower Parkway LLC.
Buyer: Jean Mary Lepore Tr.
4 Willow Walk Road sold for $2,887,500.
Seller: Graeme & Lisa Farrell.
Buyer: Michael & Colleen Cuffaro.
140 Long Lots Road sold for $1,825,000.
Seller: Gary J Domenico & Jessica A Van Haegen.
Buyer: Reid Tratenberg & Jennifer Denkin.
17 Gault Avenue sold for $1,820,000.
Seller: Peter B & Leslie Cawley.
Buyer: John C & Lara Ernsberger.
5 Terra Nova Circle sold for $1,350,000.
Seller: Elisabeth J Selden Tr, Daniel L Selden.
Buyer: Kathryn & Eric F Eikenberry.
8 Darbrook Road sold for $1,300,000.
Seller: Christina Y Gorshin.
Buyer: Kimberly Walin.
39 Maple Avenue S sold for $1,300,000.
Seller: Eleanor Tsurdinis.
Buyer: 39 Maple Avenue South LLC.
104 Old Road sold for $1,250,000.
Seller: Randal & Amy Dry.
Buyer: Zachary & Lisa Stone.
300 Lansdowne sold for $925,000.
Seller: Elaine Wyden Tr.
Buyer: Kathleen P Canet.
97 Newtown Turnpike sold for $770,000.
Seller: Eloise Reilly Est.
Buyer: Justin Miller & Elizabeth Lecouras.
31 Hogan Trail sold for $700,000.
Seller: Daniel M & Joyce S Sixsmith.
Buyer: 31 Hogan Trail DC LLC.
Source: Westport Town Clerk