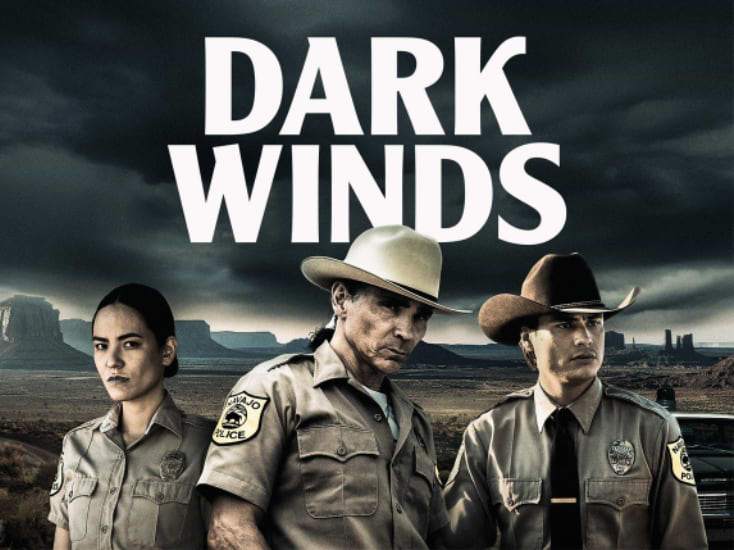 Why is AMC's series "Dark Winds" so compelling? Perhaps because it emphasizes the importance of realistically depicting Indigenous people in Westerns and what it means to have an all-Native American writers' room, along with Navajo elders as background extras.
Based on two of crime writer Tony Hillerman's novels – "Listening Woman" and "People of the Darkness" – this quietly gripping mystery revolves around laconic Detective Joe Leaphorn (Zahn McClarnon) of the Navajo Nation tribal police and undercover FBI agent Jim Chee (Kiowa Gordon), recruited by senior FBI Agent Whitover (Noah Emmerich) who promises to reward ambitious Chee with a plum assignment in Washington.
Along with his wife Emma (Deanna Allison), Leaphorn is still grieving over the death of his only son, Joe Jr., in an explosion at a local mine. When there's an armored car theft and murder in Stockton, California, he teams up with culturally conflicted Chee, who grew up on the Navajo reservation. Joining them in the investigation is no-nonsense Sergeant Bernadette Manuelito (Jessica Matten).
Apparently, the armored car robbery was planned and executed by members of the Buffalo Society, and the stolen cash is stored in a cave, guarded by shrewd James Tso (Jeremiah Bitsui) and escaped convict Frank Nakai (Eugene Brave Rock), who hijack a Mormon family to hold as hostages.
Series creator Graham Roland insisted on authenticity, concentrating on Navajo customs and character development. He was determined to make a show about two Native Americans who were the heroes of their own story, as opposed to being brought in by a Caucasian character.
According to Cheyenne/Arapaho filmmaker Chris Eyre, who directed four of the six episodes, clinging to a deceased son's belongings seems natural in our culture but – for Navajos – getting rid of the deceased person's clothing is an integral part of letting go of sadness.
The series was filmed at Camel Rock Studios, the first Native American-owned film & TV studio, located nine miles outside Santa Fe, New Mexico in the foothills of the Sangre de Cristo Mountains.
FYI: Hunkpapa/Lakota actor Zahn McClarnon's expressive face may be familiar from supporting roles in "Fargo," Westworld" and "Reservation Dogs."
On the Granger Gauge of 1 to 10, "Dark Winds" is an Indigenous 8, streaming on AMC, and it's been renewed for a second season – to air in 2023.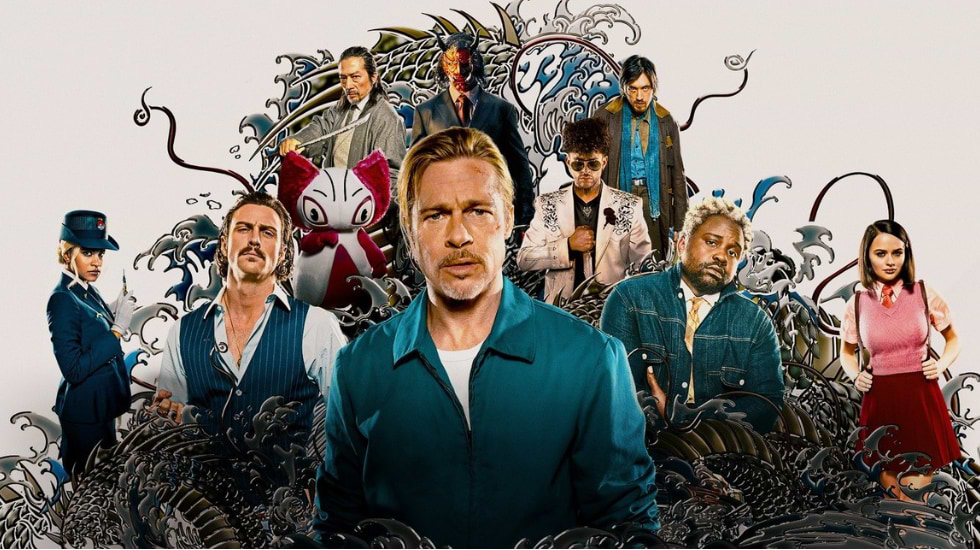 "Bullet Train" may not be the worst picture of 2022 – but it's gonna come close!
The chaotic, confusing, supposedly comedic action begins with Kimura (Andrew Koji), a distraught father, standing over the Tokyo hospital bed in which his young son lies – after being pushed from the roof of a building. The boy's disapproving grandfather, known as The Elder (Hiroyuki Sanada), orders Kimura to find the culprit, take revenge and restore the family's honor.
Meanwhile, there's this low-level crook, known as Ladybug (Brad Pitt), who's obviously deep into psychobabble. He's ordered by his handler (voiced by Sandra Bullock) to retrieve a silver briefcase from the Japanese bullet train that speeds from Tokyo-to-Kyoto.
Problem is: two incomprehensibly mumbling British assassins – 'brothers' Tangerine (Aaron Taylor-Johnson) and Lemon (Brian Tyree Henry) – are after the same briefcase. Plus there's the stealthy Hornet (Zazie Beetz), who poisoned the bride and family of The Wolf (Benito A. Martinez Ocasio – a.k.a. rapper Bad Bunny) at their wedding banquet in Mexico.
Complicating matters further is The Prince (Joey King), a sneaky second-generation killer who looks like an innocent schoolgirl. At the end of the line awaits White Death (Michael Shannon), a Russian underworld kingpin with a handful of hitmen.
Adding to the carnage confusion, there's an uncredited cameo from Channing Tatum as a crook who was supposed to take Ladybug's assignment – along with a slithering poisonous snake that escaped from the zoo.
Incoherently adapted by Zak Olkewicz from Kotaro Isaka's 2010 novel "Maria Beetle," it's feverishly directed by David Leitch ("Atomic Blonde," "Deadpool 2") with bumpy nods to the tenants of "Thomas the Train Engine"
Since there's zero character development, the imbecilic, almost non-stop violence is dutifully chronicled by cinematographer Jonathan Sela.
At one point, Ladybug says, "I just want to get off this train and go to a Zen garden." Me, too!
On the Granger Gauge, "Bullet Train" is a tediously boring 2 – an awful waste of 2 hours, 6 minutes, even if the theater was deliciously air-conditioned – and empty!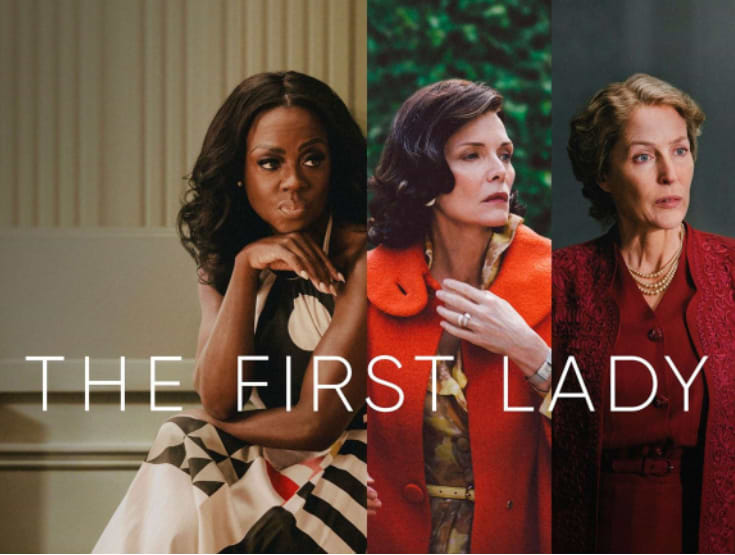 I had such high hopes for Showtime's 10-episode series, "The First Lady," particularly since, years ago, when Gillian Anderson was playing Agent Dana Scully on "The X-Files" in a 1997 episode titled "Small Potatoes," she said that if she could be another person, it would be Eleanor Roosevelt. In this new series, Anderson plays First Lady Eleanor Roosevelt – brilliantly!
Eleanor was a visionary during the Great Depression and W.W.II, championing human rights, particularly the role of women. But her private life was, obviously, tricky to handle without being exploitative. Married to flagrantly unfaithful Franklin Delano Roosevelt (Kiefer Sutherland) and dominated by a powerful mother-in-law (Ellen Burstyn), Eleanor sought solace with journalist Lorena Hickok (Lily Rabe), who occupied a bedroom adjacent to hers in the White House.
Created by Aaron Cooley with Cathy Schulman as showrunner and stiffly directed by Suzanne Bier, the interlocking narratives, utilizing archival footage, are oddly structured, profiling First Ladies Betty Ford, Michelle Obama and Eleanor Roosevelt – before, during and after their East Wing experiences.
A few decades after Eleanor, there was outspoken Betty Ford (Michelle Pfeiffer), a previously divorced Martha Graham dancer/department store model married to amiable Gerald Ford (Aaron Eckhart) whose Presidency was forever tarnished when he pardoned Richard Nixon after Watergate. Melancholy Betty bravely faced numerous health challenges, including breast cancer and drug/alcohol addiction.
Last – and certainly least effective – is Viola Davis's bizarre impersonation of Michelle Obama, facing the challenge of being America's first Black First Lady; Davis's performance is all mimicry and make-up.
To be First Lady of the United States is not a political position but whoever holds the office is incredibly impactful and powerful. Here, because their parts are so blandly written, except for Gillian Anderson's Eleanor, the actresses seem to be delivering impersonations, rather than characterizations, and there's certainly no discernable controversy – which makes this historical anthology far too superficial.
On the Granger Gauge, "The First Lady" is a scrambled 6, streaming on Amazon Prime.
(Editor's Note: Westport resident Susan Granger grew up in Hollywood, studied journalism with Pierre Salinger at Mills College, and graduated from the University of Pennsylvania with highest honors in journalism. In addition to writing for newspapers and magazines, she has been on radio/television as an anchorwoman and movie/drama critic for many years. See all her reviews at www.susangranger.com.)