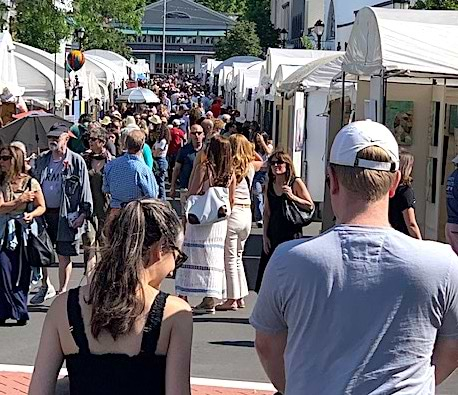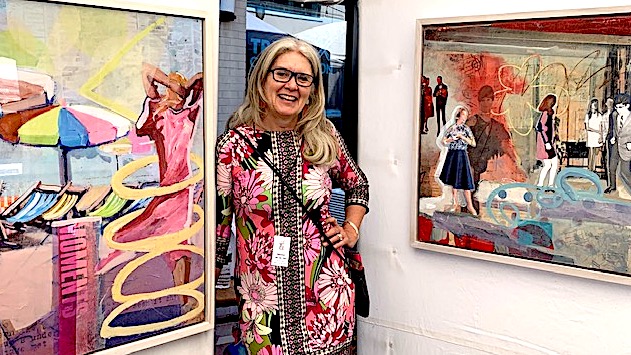 By Gretchen Webster
WESTPORT — The Westport Fine Arts Festival, under appropriately golden sunshine, celebrated its 50th anniversary Saturday as a showcase for artistic works of all kinds and artists from all over the country.
The popular event, organized by the Westport Downtown Association, continues Sunday, from 10 a.m. to 5 p.m., along Main and Elm streets.
"This show is one of the up-and-coming top shows in the country," said Marjolyn van der Hart, a collage artist from Toronto, Canada. She traveled to Westport a second time to show and sell her art work here because she said she participates only in high-quality shows.
Other artists agreed.
Rick Epstein from Massachusetts called the Westport Fine Arts Festival "one of the strongest outdoor art shows. I've done it for years,'" he said.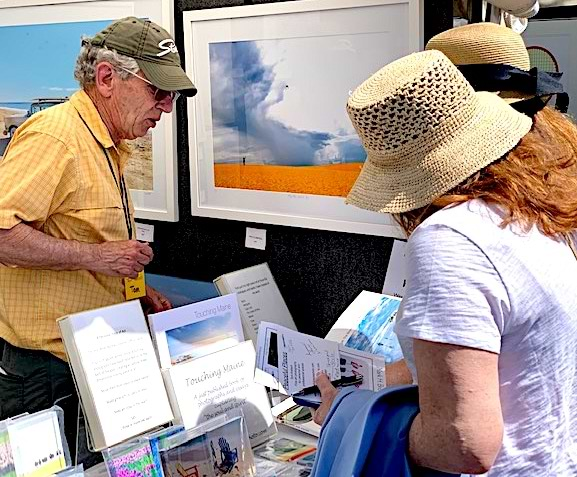 Epstein was displaying what he called sculptural landscapes, three-dimensional artworks in a frame. He uses a clay medium first to sculpt on canvas and then paints over the clay.
Westport photographer Tom Kretsch has displayed his photos in the festival for about 30 years, he estimated. "It's a top-quality show. There are people here who are really interested in art."
He was showing a photograph he'd taken of an old Chevy to David and Jill Denowitz, also of Westport. "Every year we're always looking for a new piece," David Denowitz said. He especially liked the photograph of the car, a 1956 model, "the year I was born," he said.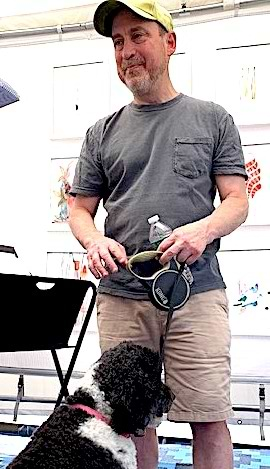 For Westport artist Ellen Ehli, this year was the first time she was showing her work at the festival. Although she had created art work in the past, it was the COVID-19 pandemic that really pushed her to be more productive, more creative and to enter the show, she said.
"It is the first time I'm participating. Finally, I said, 'It's about time.' "
There were more than 150 artists displaying work in the juried show, spanning a wide range of media and styles.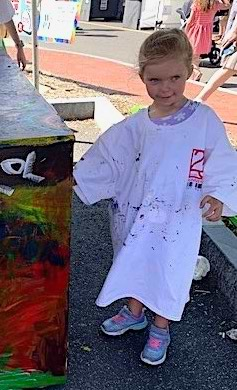 There is also an interactive fiber and paper sculpture on display, by Emily Teall and Lily Morgan, artists in residence at Norwalk Art Space. The two artists collaborated on the sculpture specifically for this year's festival.
The event also features musical performances, and food and drinks for sale. There is also a designated area for children, where youngsters were painting a Suzuki piano on Saturday.
"The weather certainly helped us," said Huang Belpedio, the festival's director of operations, acknowledging the crowds enjoying the event. "I attribute it to the vibrancy of the town."
Diane Feuer and Joe Faranda, both from Westchester County, were enthusiastic first-time visitors to the festival.
"I love Westport and I know this is a good juried art show" Feuer said. "The town is nicer, friendlier and prettier," than other locations for art shows in the region, she said.
Faranda agreed. "The artists are so engaging," he said. "It's incredible … entertaining and really unique."
Freelance writer Gretchen Webster, a Fairfield County journalist and journalism teacher for many years, was editor of the Fairfield Minuteman newspaper for 10 years and teaches journalism at Southern Connecticut State University.