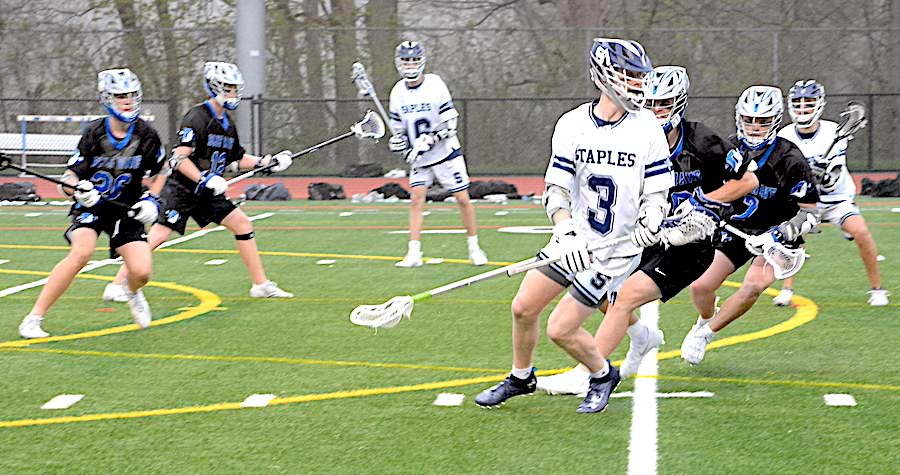 By Andy Hutchison
WESTPORT — Led by four players with hat-tricks, the Staples High boys lacrosse team handily defeated visiting St. Joseph of Trumbull, 19-2, in Saturday's FCIAC Tournament quarterfinals.
Tyler Clark led the way against the Cadets with eight points on three goals and five assists, Gavin Rothenberg notched three goals and an assist and Leo Sequenzia and Ben Burmeister both scored three times.
Charlie Iannone had a goal and two assists, Adam Udell logged a goal and one assist and Mike Nealon had two goals to go along with six ground ball scoops and a trio of caused turnovers.
Sam Eigen, Aaron Kail and Ryan Cirasuolo all added a goal apiece and Max Maurillo, Ryan Skolnick and Will Fleming each recorded an assist.
Cisco Celotto won 13 of 18 faceoffs. Goaltender Josh Marcus made three saves and Scott Kosakowski and Aidan Parnes both had one stop.
The Wreckers take on New Canaan in the FCIAC semis at 4:30 p.m. Tuesday at neutral site Norwalk High.
Andy Hutchison has been covering school sports — including Staples athletics — as well as news and feature stories in Fairfield County, since the 1990s.