Following is the obituary for WINTHROP SARGENT HEADLEY, submitted by his family.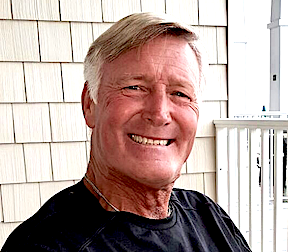 _____________________________
Born on the Fourth of July 1949, Winthrop (Win) Sargent Headley was a real-life Yankee Doodle Dandy.
He became an All-American football player, a lifelong football coach, a successful Wall Streeter, a loving family man, a passionate volunteer, an avid golfer, a loyal friend and a man of faith.
Win Headley was born in California and raised in Westport, where he starred as a Staples High School football player and state champion heavyweight wrestler.
Win then attended Wake Forest University, where he was a football All-American, captain and MVP on its ACC-championship team. He was a recipient of WFU's first annual prestigious Arnold Palmer and Brian Piccolo awards, respectively, as an outstanding athlete and is in the university's Hall of Fame.
He was drafted by the Green Bay Packers and played for the Montreal Alouettes in the Canadian Football League. His career was shortened by injury.
He found a true calling as a coach. Over the years, Win coached at three universities (Winston-Salem State, Wake Forest and Princeton University) and several high schools.
While in Princeton, N.J., Win married Patty Cashill, raised their family, and had a long, successful career as a financial advisor for institutional investments.
In his retirement in Naples, Fla., Win continued to coach and volunteered in libraries, animal shelters and with the Knights of Columbus.
As Arnold Palmer would say, Win "played on through" when he peacefully passed away in his sleep on Jan. 18, 2023, in Naples, Fla.
Win is survived by his beloved wife, Patty, and his two adored children, Summer and Jonathan; his sister, Lynn Kelly, and her husband, Michael; two nieces and one nephew; a stepdaughter-in-law, Rachel Y. Watlington, and stepgrandson Christopher T. Watlington. He was predeceased by his mother and father and by his stepson, Thomas Watlington III.
And as Win would say, "The long and short of it," Winthrop Sargent Headley was a man of passion and faith. He was both a loving father and husband and devoted friend.
There will be a celebration of his life at a later date.
In lieu of flowers, Win would have appreciated your support for the Deacon Club and the Humane Society of Naples. Deacon Club: 499 Deacon Boulevard, Winston-Salem, NC 27105, and the Humane Society of Naples: 370 Airport-Pulling Road, North Naples, FL 34104.