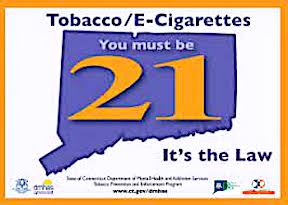 By John Schwing
WESTPORT — Five local shops selling tobacco and electronic cigarettes were in compliance with photo identification rules when police and state officials made unannounced visits Wednesday, police said.
The finding by Wednesday's surprise checks differs from a broader survey prepared last month for the Westport Prevention Coalition, which reported various violations — including failure to ask for photo IDs — were found at several Westport businesses that sell tobacco and electronic smoking goods, as well as THC, or marijuana-related, products.
That report is attached at the end of this article.
At stores visited Wednesday, however, inspectors from the state Department of Mental Health and Addiction Services' Tobacco Prevention and Enforcement Program, accompanied by local police officers, reported they found no violations of state rules prohibiting the sale of tobacco and e-cigarettes to people younger than 21.
The earlier spot checks for the coalition were carried out without knowledge of when DMHAS inspectors were going to be in town, according to a police spokesman. 
And Wednesday's unannounced visits focused only on IDs required to purchase tobacco and e-smoking products, not other problems cited by the December report. Those issues are being handled by others, the spokesman said.
Shops inspected Wednesday were: Shell/A1 Smoke Shop, 322 Post Road East; Cumberland Farms, 690 Post Road East; Westport Cigar & Vape, 1248 Post Road East; Merritt Country Store, 337 Main St., and WP Convenience, 1761 Post Road East.
State law requires businesses selling tobacco and e-smoking products to inspect photo identification for all buyers, although the law prohibits the sale of those products only to persons younger than 21.
Any retailer found in non-compliance is referred to the state Department of Revenue Services, which licenses sales of smoking products, for possible administrative action.
To learn more about the state's Tobacco Prevention and Enforcement Program, click here.
_____________________________________
Read the survey conducted in December for the Westport Prevention Coalition below: