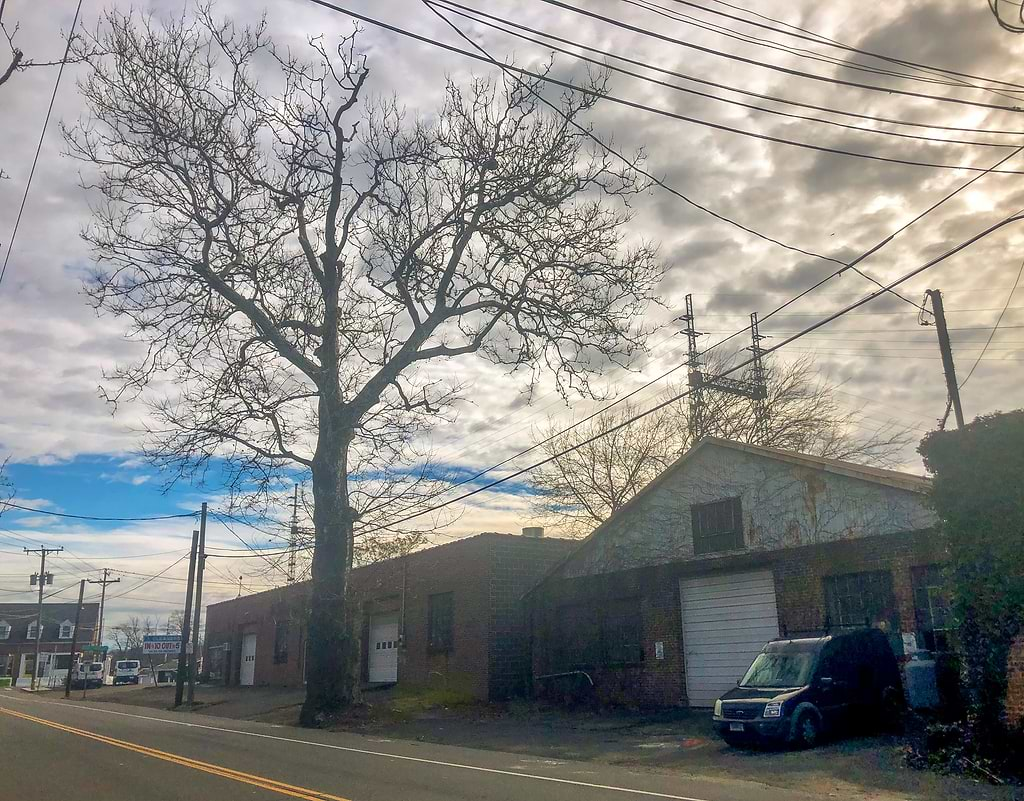 By Thane Grauel
WESTPORT — A towering American sycamore has been rooted about two centuries at the edge of where a huge development may be built in Saugatuck.
The tree, about 6 feet in diameter at chest height, has somehow grown to the upper range of its species, despite being squeezed over time between the roadway that is now Charles Street and a paved area near a dry cleaners.
Tree growth tables put the Saugatuck sycamore at about 223 years old. It could be younger, or it could be even older. Trees along roadways can grow more slowly because of the stressful surroundings.
The sycamore might have been a sapling in 1800, nine years before Abraham Lincoln was born.
Now its future is in question because of a large-scale proposal to tear down many old structures in the heart of Saugatuck and replace them with 11 new buildings, some five or more stories tall.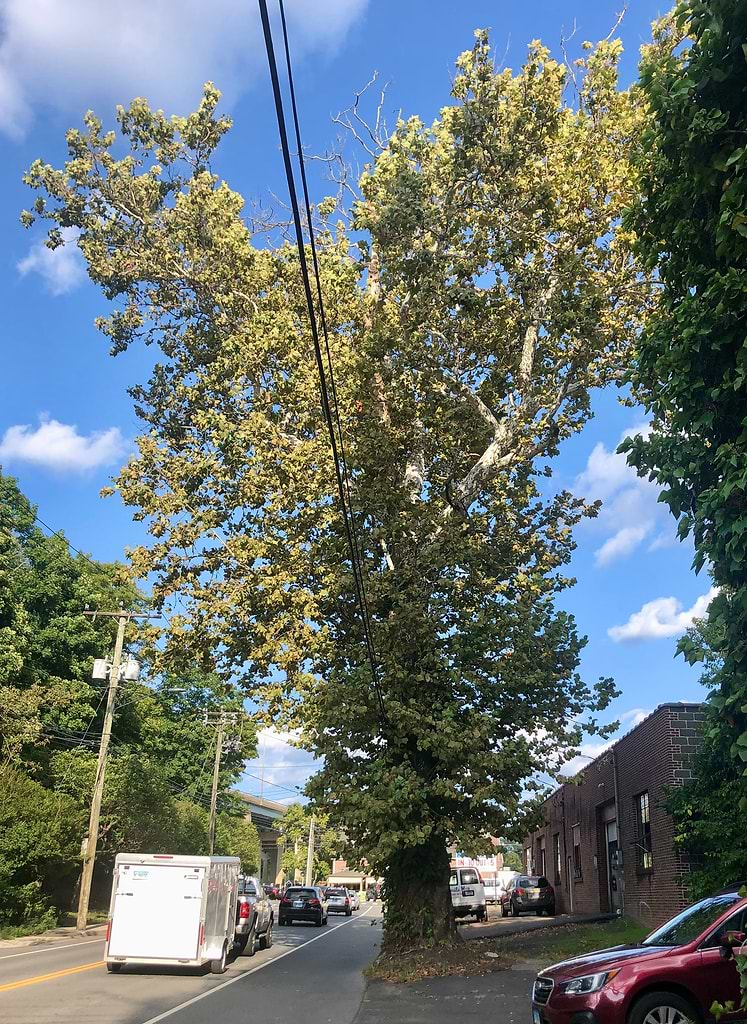 The future of the tree — few exist in the mostly paved areas between the Saugatuck River, Railroad Place, Franklin Street and Charles Street — came up during a meeting of two Representative Town Meeting committees last week on a petition to repeal a recently approved measure to rezone the area for development.
"On Charles Street, right near the dry cleaners, there's a massive old tree," said Dick Lowenstein, from District 5. "Would that tree be saved in terms of the redevelopment? It's the only tree on Charles Street, I think, between Riverside and Franklin."
Planning Zoning Commission Chairwoman Danielle Dobin said her commission also had heard a similar concern. She said the tree is in a state right-of-way.
"We would make every effort, obviously, as a commission, to save the tree and we had the applicant respond to us that they would make every effort to save the tree," Dobin said.
"So, together, I think we can probably exert enough pressure on the state DOT that we can hopefully save the tree," she said, "But it was certainly a priority for the commission and it will definitely be something that we'll look to see in the site plan and special permit that will require feedback and comment from the state Department of Transportation."
Martin Purcell, a partner in ROAN Ventures, the outfit seeking to build the development known as the Hamlet at Saugatuck, responded to the question.
"If you research our architect, Bill Bensley, you'll see that he actually designed a hotel project in Cambodia, and managed to not cut down one tree in a forest," Purcell said.
"So, it kind of tells you the integrity, from a landscape perspective, on the way we're thinking of sustainability for the neighborhood," he said.
Members of the town's Tree Board told the Westport Journal in November the tree is not on town-owned property or in a town right-of-way, so the body has no jurisdiction.
Westport Tree Warden Ben Sykas told the Westport Journal that Charles Street is a state road, and that the Connecticut Department of Transportation would have jurisdiction because the tree is in a state right-of-way.
Westport has several stately sycamores, including another large one at the corner of Post Road East and Compo Road South.
The state's largest, with a 340-inch circumference, is known as the Pinchot Sycamore. It is in Simsbury, and also is the state's largest tree.
Another very large sycamore can be found closer to Westport, at the intersection of routes 53 and 302 in Bethel, just feet from the Sycamore Drive-In.
Thane Grauel, executive editor, grew up in Westport and has been a journalist in Fairfield County and beyond more than three decades. Reach him at editor@westportjournal.com. Learn more about us here.