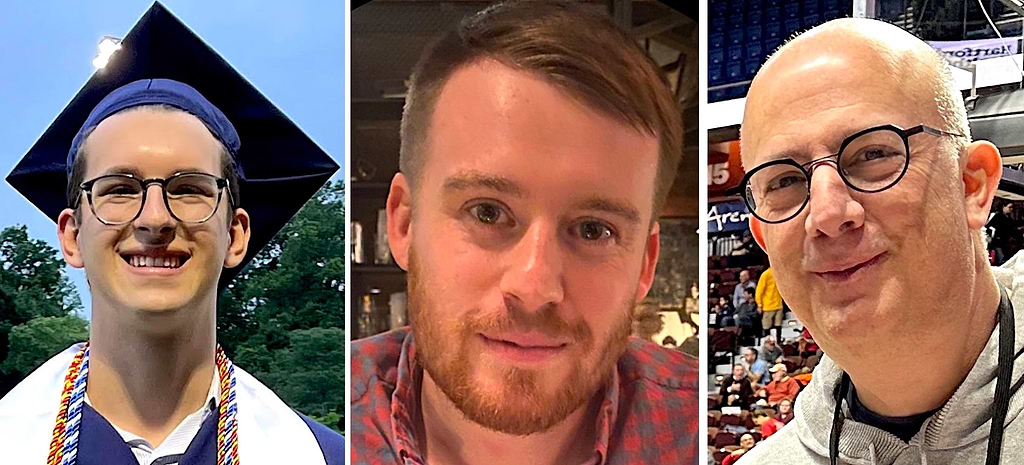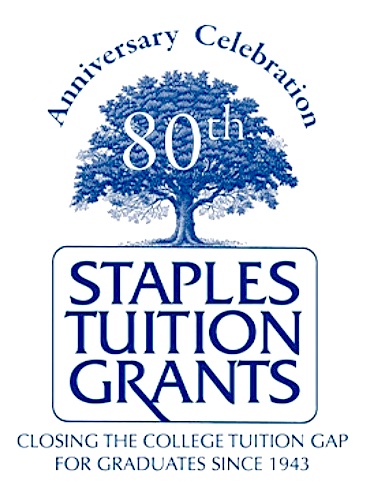 By Gretchen Webster
WESTPORT — Since 1943, the Staples Tuition Grants program has been awarding needs-based grants to seniors at Staples High School — $400,000 to more than 100 graduates last year alone.
Not only are the students given a grant for their first year of undergraduate college or vocational schools, they can apply for grants for additional funding to continue studies each year they are enrolled in those programs.
In the last 80 years, Staples Tuition Grants have totaled millions of dollars, with a growing need to help high school graduates meet the rising costs of continuing their education. With an average college education in the U.S. totaling at least $150,400 for four years at a private college, according to the National Center for Education statistics — and even more in the Connecticut/New York area — students look wherever they can for help paying their college bills.
And although the general impression may be that students in an affluent town like Westport don't need help financial with college tuition, many do, according to leaders of the grants program and grant recipients themselves.
Last year, awards ranged from $1,000 to $7,500 to 108 recipients.
About 10 percent of the Staples Class of 2022 received grants through the program. The rest of the recipients were from the classes of 2018-21, the Board of Education was told in an update on the grants program last month.
"Providing ambitious students with the funds to pursue opportunities and passions is incredibly noble and is something that I am forever grateful for," said Zachary Berman, a Staples 2022 graduate who received a grant last year. The tuition grant made it possible for him to attend the University of Miami, where he is a freshman studying music. "I am very appreciative of the generosity of STG [Staples Tuition Grants] and the donors," he said.
Trevor Lally, a 2010 graduate of Staples and 2014 graduate of Providence College, was so grateful for the tuition grants he received and the impact it had on his education that he has served on Advisory Board for grants program.
"It plugs a necessary gap between what college costs," and funding from parents or other resources, he said. There is a misconception in Westport that in such an affluent town, there is no need to help students pay for college, said Lally, who now works in revenue growth management for a consumer package goods company.
"I was responsible for a large part of paying for college — you try to plug the gap as much as you can," Lally said. "I had some support from my parents … I had some scholarships, but there was still a gap."
Forty percent of the more than 100 students who receive Staples Tuition Grants each year – had zero ability to pay for college, said Lisa Hall, co-president of the program.
"People in town don't understand that the need is there. They say, 'Oh it's Westport.' "
Over the years, "our biggest obstacle has always been letting people know that financial need exists in our community," Hall said. "Many believe it doesn't. STG's only criteria in awarding a student grant is a demonstrated financial need … These students would be unable to pursue this dream without financial assistance."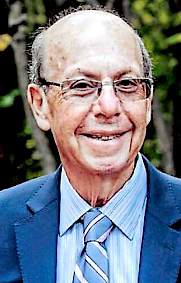 The organization relies on donors to help fund the program, she said. To mark its eighth decade, the group has established a special 80th Anniversary Community Award.
To fund the new award, the group is asking for even small donations to fund the award — for instance, in celebration of a child's graduation with the Class of 2023 with a $20.23 donation, and so on. "These small things can have a big impact," Hall said.
The people of Westport have also established special grants to be awarded every year, such as the Dr. K Humanitarian Award in honor of longtime Staples teacher Gerald Kuroghlian, who died in November 2021. The award was established by Dave Ruden, a 1978 graduate of Staples High School and the owner of GRL Media, which publishes the Ruden Report, a website covering Fairfield County sports.
"I wanted to do something so his memory would linger on, he was such a part of the fabric of Staples," Ruden said of Kuroghlian.
Ruden was a student in Kuroghlian's English class, "and the least likely person to become a journalist," he recalled. Years later, he saw his teacher again at a retirement dinner for a Staples coach. "I got the nicest compliment in my career – 'You're a terrific writer,' he said."
Last year was the first year the Dr. K Humanitarian Award was presented. "Hopefully decades and decades of Staples students will remember him," Ruden said.
The Staples Tuition Grants awards ceremony this year will take place May 30 at Staples High School.
For more information about the grants program, including how to donate, visit Staples Tuition Grants.
__________________________________
Freelance writer Gretchen Webster, a Fairfield County journalist and journalism teacher for many years, was editor of the Fairfield Minuteman newspaper for 10 years and teaches journalism at Southern Connecticut State University.