By Gabby DeBenedictis and Katy Golvala / CTMirror.org
The U.S. Food and Drug Administration last week gave approval of updated Pfizer-BioNTech and Moderna COVID-19 vaccines designed specifically to target a subvariant of Omicron.
Though the vaccines have been approved for individuals 12 years old and over — and authorized under emergency use for those ages 6 months through 11 years — the federal Centers for Disease Control and Prevention has yet to make a recommendation on who should receive the new shots.
That decision is expected to be announced following a vote from the CDC's Advisory Committee on Immunization Practices, or ACIP. The vote is scheduled for Tuesday.
The state Department of Public Health has sent all COVID vaccine providers in the state a notice regarding the newly authorized booster. DPH did not include details on when the shots would be available to the public.
Here's what Connecticut residents should know about the updated COVID-19 shots.
What's different about the new vaccines?
The new vaccines will "more closely target currently circulating variants," according to the FDA. The shots are monovalent, meaning they are designed to protect against a specific variant of Omicron.
Will I have to pay for the COVID-19 booster shot?
The federal government will no longer purchase COVID vaccines, meaning that insurers and individuals will now have to pay for shots. For those with private insurance, shots will likely remain free, but those without insurance will have to pay. Doses run anywhere from $110 to $130.
Uninsured children can still receive free COVD-19 vaccines through the federal Vaccines for Children program.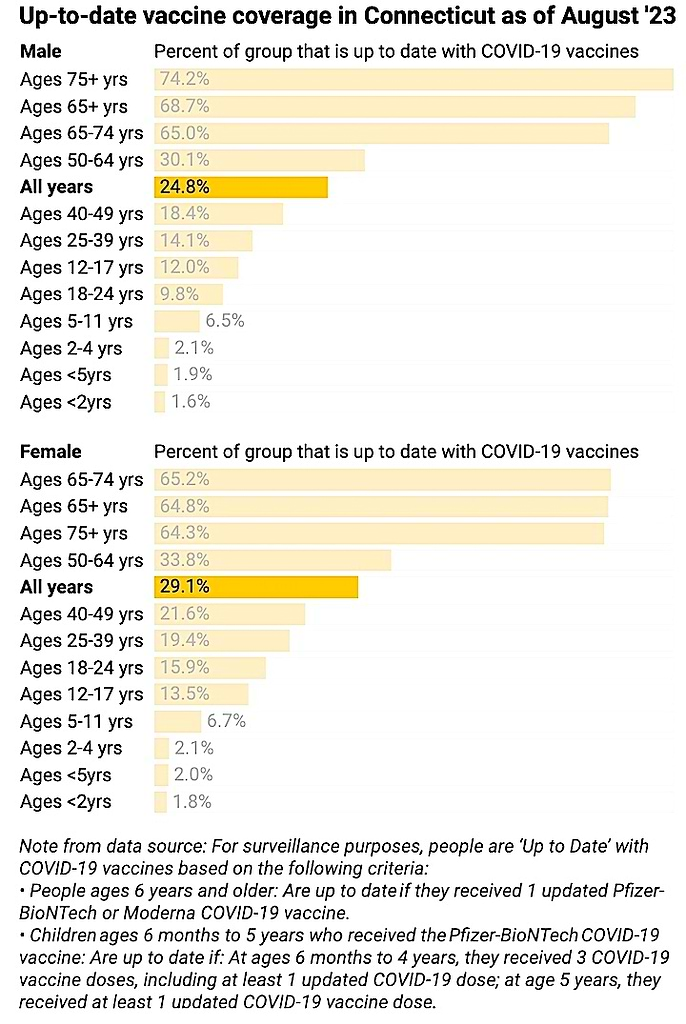 In early August, DPH spokesperson Chris Boyle confirmed the state has limited information about subsidized doses for uninsured adults. The federal government will make "a small number of doses" available through its Bridge Access Program and manufacturers will provide some additional doses, but he said the department does not have additional details about either initiative.
"There are no other state or federal funds to purchase COVID-19 vaccines for adults," stated Boyle.
The DPH communication stated that as of Tuesday, providers can no longer administer the old version of the COVID booster, meaning people can't get boosters until the newly-approved one becomes available.
DPH specified that the de-authorization of the previous booster, issued by the FDA, isn't due to any safety concerns, but rather in anticipation of the new version becoming available.
A spokesperson for the Department of Public Health did not respond to a request for comment in time for publication.
Where can I get a COVID-19 booster shot?
Search for vaccine locations near you here.
Are most Connecticut residents considered up-to-date on their COVID vaccine?
Around 25 percent of men and 29 percent of women in Connecticut are up-to-date on their vaccines, CDC data show — meaning they've received one dose of an updated Pfizer or Moderna vaccine that protects against both the original virus and the omicron variant BA.4 and BA.5.
That vaccine became available in September 2022.
Have COVID cases been rising in Connecticut?
The state Department of Health has not been publicly reporting data on COVID-19 cases or positivity rates since June 1, but CDC data shows that hospitalizations have been on the rise in Connecticut over the past several weeks after falling sharply from January to July.
Since hitting a low of 80 the week of July 1, they rose to 184 the week of Aug. 26.