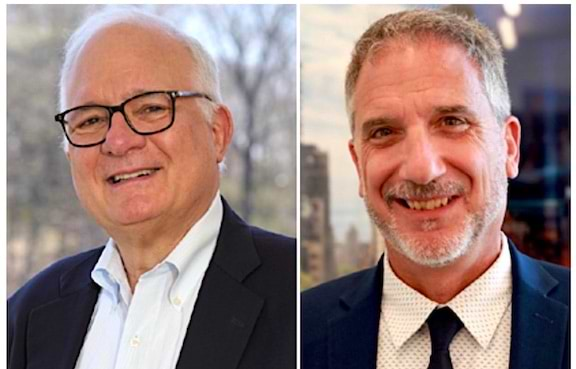 WESTPORT — Charles Haberstroh, a longtime town official and civic volunteer, and William Harmer, the Westport Library's executive director, will be honored June 8 with "First Citizen" awards presented by the Westport-Weston Chamber of Commerce.
The business group's First Citizen ceremony, returning after a pandemic hiatus, will take place at 6:30 p.m. Thursday, June 8, in Branson Hall of Christ & Holy Trinity Episcopal Church, 75 Church Lane.
Tickets to the event, which includes dinner, cost $125, and can be reserved online by clicking here.
Keynote speaker will be U.S. Sen. Richard Blumenthal, D-Conn.
Four high school students will be given "Young Entrepreneur" awards at the event, for "creating new and intriguing business ventures," according to the chamber. They are: Marley Brown and Addison Moore, both Staples High School students, and Akhila Kooma and Jamie Semaya, students at Weston High School.

Haberstroh, the founder and CEO of CastleKeep Investment Advisors, has held numerous public offices since moving to Westport in 1990, including with the Board of Selectmen, Representative Town Meeting, Board of Finance and the Parks and Recreation Commission. He also has been chairman of the Levitt Pavilion Committee and a member of the Westport Sunrise Rotary Club.
Harmer has been the director of the Westport Library since 2015, and prior to that was a library director in Michigan.
"We have selected a fine and admirable mix of awardees this year," Matthew Mandell, the chamber's executive director, said in a publicity release.
"Each year the board looks for one nonprofit and one traditional businessperson, and these dedicated individuals stood out and represent what is best in our town for their work ethic, generosity and how they approach business."
For more information, check the Westport-Weston Chamber of Commerce website or call 203-227-9234.