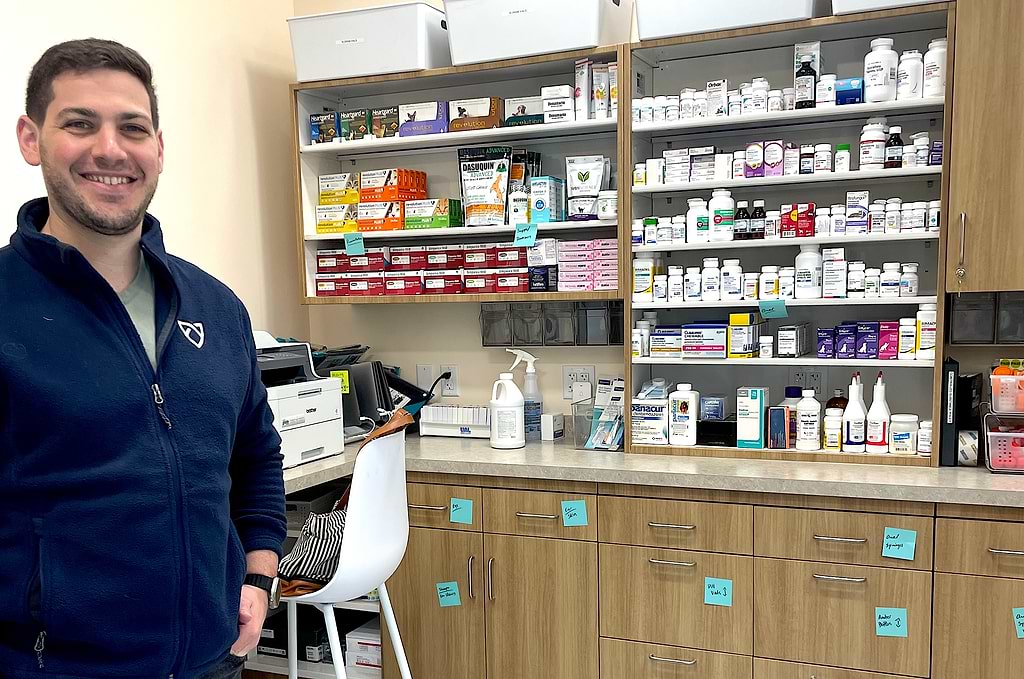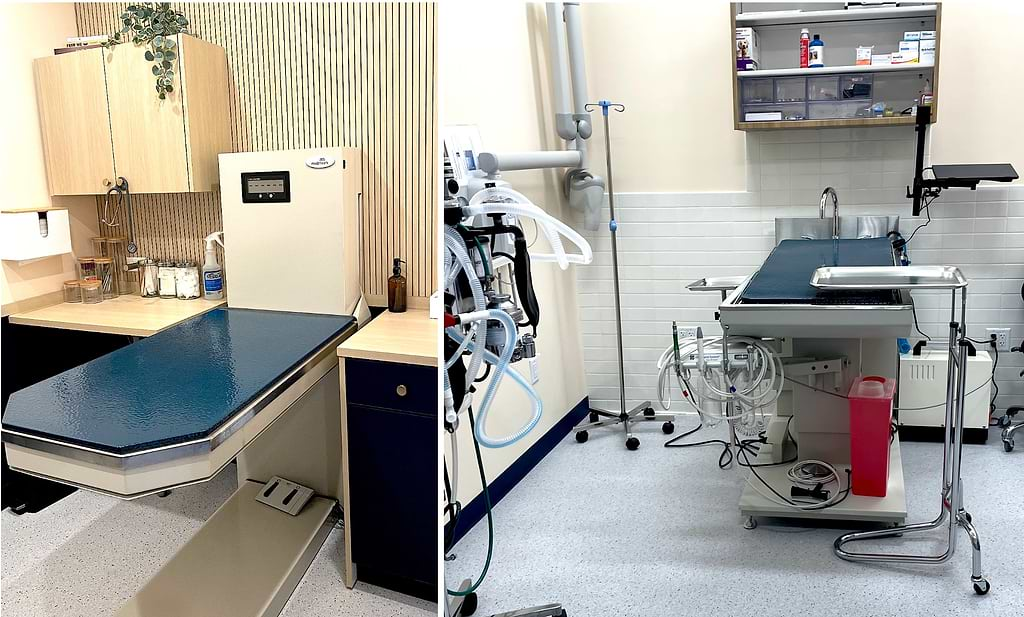 By Gretchen Webster
WESTPORT — A rapidly expanding medical-care business for animals, which has opened 32 locations since 2019, opens a local clinic downtown Wednesday, May 10.
Bond Vet — a full-service veterinary clinic offering emergency and routine care, tele-health and other services for dogs and cats — is located at 1 Main St., corner of Post Road East, once the site of the Westport Library.
It is Bond Vet's first Connecticut location, with a second facility in Fairfield in the planning stage. The business has 11 more outlets currently under construction.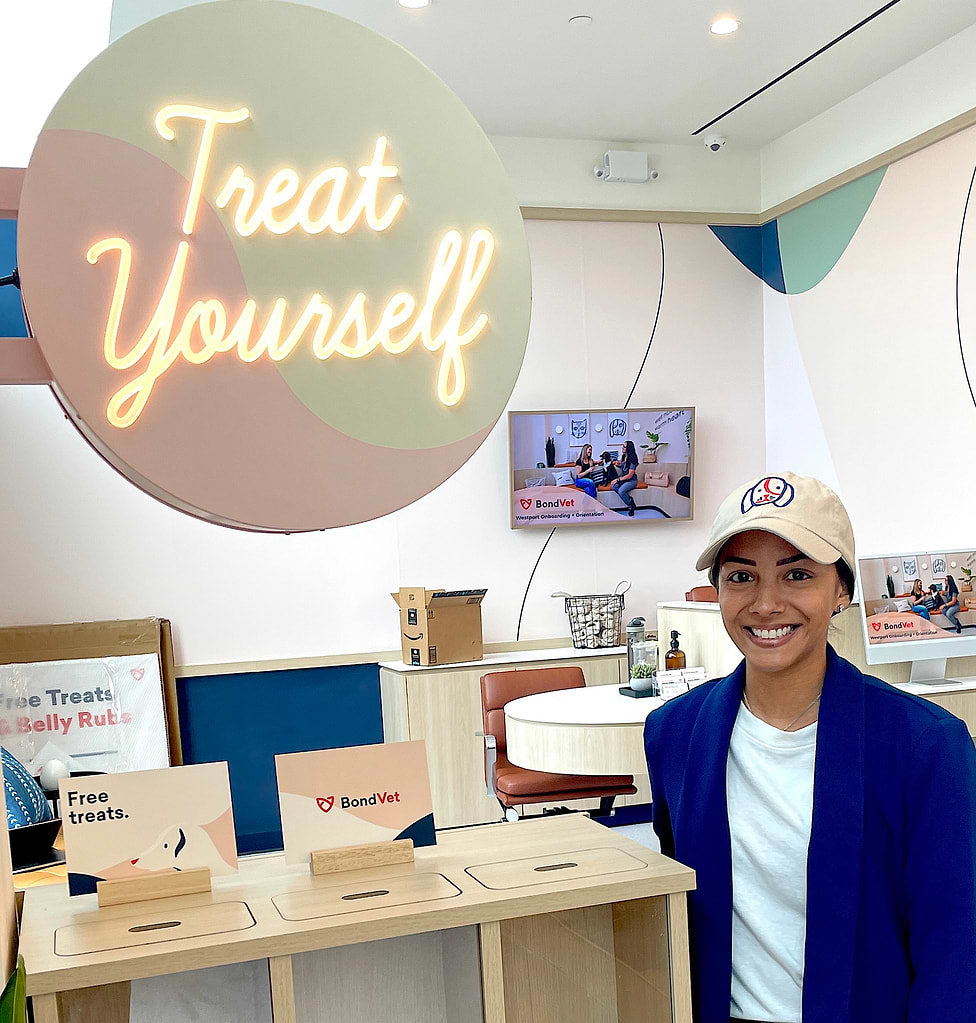 The veterinary service has walk-in health services for dogs and cats at any time during regular clinic hours in its Main Street facility, bordering Parker Harding Plaza. Also offered are tele-health appointments with a medical staff member, and a 24/7 phone service with veterinary technicians available to answer questions.
And just for dogs, there is a treat bar located at "nose level," inside the clinic's main entrance off the Parker Harding parking lot, next to Starbucks. Dogs (and their owners) are invited to stop in for a treat.
"The treat bar helps put them at ease. It's a welcoming place," said Lauren Heuser, senior director of real estate for the company.
Bond Vet built up its business in 2020-21 during the pandemic, she said, when most veterinarians were closed. Considered an essential service, the Bond Vet facilities were permitted to remain open as well as open new locations. Plus, the isolation imposed by the pandemic meant many people acquired pets during that time.
"The pandemic really helped us, with a lot of people getting pets," commented Jewels Malave, clinic operations manager for Bond Vet, who was in the Westport office Tuesday, helping prepare for the opening. 
Emergency services for pets were especially needed during that time, she said.
Bond Vet will share records with other local veterinarians for primary care, and their patients can feel free to use Bond Vet services for emergency care at times when other veterinarians' offices aren't open.
There has been a national shortage of veterinarians, Malave said, and Bond Vet works with veterinary schools to recruit and train new doctors for their facilities. They also help veterinary technicians (comparable to nurses for humans) get trained and licensed, she said.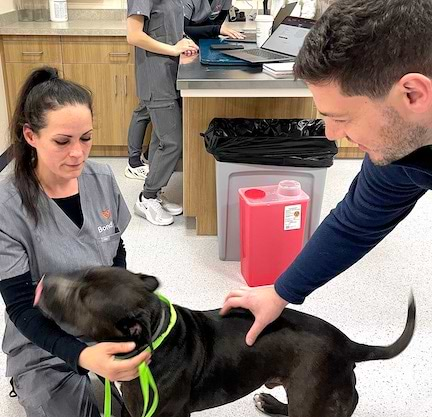 Bond Vet has transformed the downtown building that most recently housed Freshi restaurant, and at one time the Westport Library, into a clinic with up-to-date veterinary equipment. That includes examination rooms with movable exam tables that are also scales, so heavy dogs don't have to be lifted onto a scale, and a separate X-ray room.
Dr. Jeremy Kimmelstiel, regional medical director for Bond Vet, said the clinic's in-house laboratory for blood work and other tests can provide results "instantaneously." The facility also has several surgical rooms and a full oral surgery and dentistry room, "which should be more common in veterinary offices than they are," he said.
The business was founded by Dr. Zay Satchu, chief veterinary officer; Mo Punjani, CEO, and Lukas Keindl, with the first Bond Vet clinic opening in Brooklyn in 2019. New York City currently is home to the most Bond Vet facilities, but the company also has clinics in Boston, Washington, D.C., Chicago and the Tri-State metropolitan area.
"We're really excited to be in Westport," Heuser said. "We love the vibrancy of the town."
An open house at the new Westport facility will tape place Saturday, May 13, from noon to 2 p.m., offering merchandise from area merchants such as goodie bags, photos, paw prints, raffle prizes and refreshments.
Visit the Bond Vet/Westport website for information or call 203-309-1113. The clinic is at 1 Main St. Hours are: 9 a.m. to 7 p.m. Tuesday-Friday; tele-health hours, for advice only, 10 a.m.-6 p.m. every day, and a 24/7 telephone service with a licensed veterinary technician for questions or referral for emergencies. Clinic hours may be expanded in the future.
__________________________________
Freelance writer Gretchen Webster, a Fairfield County journalist and journalism teacher for many years, was editor of the Fairfield Minuteman newspaper for 10 years and teaches journalism at Southern Connecticut State University.