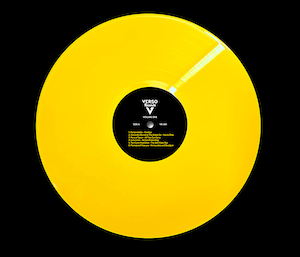 WESTPORT — It's a record-setting event.
The release is imminent for a limited-edition vinyl record from the Westport Library's Verso Studios — a 12-inch LP that library officials are calling "the first vinyl record ever to be recorded, produced and released by a public library."
Listeners can judge for themselves when "Verso Records: Volume One is released June 3. In any case, the $22 vinyl record will be hard to miss — it's bright yellow. (There also will be digital version available for $10.)
To mark the occasion, a release party is planned at 7 p.m. Saturday, June 3, at the library, 20 Jesup Road. Four bands featured on the album are scheduled to perform.
The event is open to the public free of charge; register to attend by clicking here. A $25 ticket purchases both a copy of the record and a drink.
"Verso Records: Volume One" includes 12 tracks performed by Connecticut and tri-state area musicians, recorded by Travis Bell, the audio studios manager and in-house sound engineer, at the library's Verso Studios.
The album can be pre-ordered by clicking here. Copies of pre-ordered records can be picked up at the release party or will be shipped starting June 5.
For more information, call the Westport Library's Verso Studios at 203-291-4828.