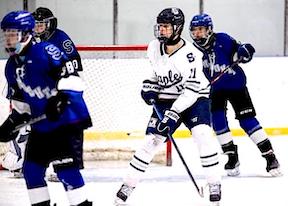 By Andy Hutchison
The Staples High boys hockey team dropped a pair of contests last week, falling 4-1 at Newington on Jan. 18 and 6-2 to Masuk of Monroe at The Rinks at Shelton on Jan. 21.
In the Newington game, Staples trailed 2-0 heading to the third period and sliced the deficit in half just seven seconds into the third when Derek Wolgast was set up by Tyler DiMaio and Carter Fass.
The game remained a nail-biter until Newington scored twice more late in stanza. Staples was outshot 36-13.
Against Masuk, DiMaio had a goal and an assist, Jacob Serfaty scored and Harry Goodburn had an assist.
Kyle Suftin lit the lamp three times for a hat-trick to lead Masuk, which outshot Staples 36-14.
The Wreckers aim to rebound on Wednesday, Jan. 25, when Wilton visits Milford Ice Pavilion at 6 p.m. it will be a rematch of the Dec. 14 season-opener won by Staples 4-3 in overtime.
Andy Hutchison has been covering school sports — including Staples athletics — as well as news and feature stories in Fairfield County, since the 1990s. Learn more about us here.