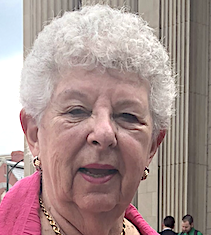 Following is the obituary for JANICE AMBERG DEAN, submitted for the family by the Harding Funeral Home.
_____________________________
Janice Amberg Dean, beloved mother, grandmother and great-grandmother, passed away on May 24, 2023, at the age of 88.
She lived a life filled with family, accomplishment and a constant thirst for knowledge. Janice will be deeply missed by her family, friends and all who knew her.
Janice was born on November 30, 1934, in Alton, Ill., to Fred and Agnes Amberg. Janice graduated from Marquette Catholic High School in 1952, where she was a member of the Lambda Alpha Xi senior chapter, Beta Gamma Upsilon Sorority.
On June 9, 1956, Janice married Evan B. Dean at St. Patrick's Church in Alton. Together, they embarked on a journey that took them from Alton to Rochester, N.Y., and eventually to Westport while raising their eight children, Jennifer (Michael Burke), Mark (Jaime), Christopher (Carline), Jayne (Gaetano Albani), Eric, Mary Ann (Mark Lindwall), David, and Thomas (Andrea), along the way. Janice was a dedicated mother who instilled strong values in her children and supported them in all their endeavors.
At age 46, Janice decided to pursue higher education and enrolled at Sacred Heart University. She earned a Bachelor of Science in business administration, graduating magna cum laude in 1983.
She obtained her real estate license and managed Scott Associates in Darien for many years. She was proud to lead them in the transition to computerization, overseeing the implementation of hardware and software and training the staff.
In retirement, Janice and Evan traveled extensively and frequented New York City, indulging in plays and museum visits. They enjoyed rounds of golf and bridge games. Janice's dedication to bridge led her to achieve the prestigious rank of Bronze Life Master in the American Contract Bridge League in 2016.
At 85, Janice took up chess and displayed her competitive spirit by effortlessly defeating her children and grandchildren.
In addition to her many accomplishments, Janice found joy in her 19 grandchildren and one great-grandchild.
Janice Amberg Dean is predeceased by her husband of 63 years, Evan B. Dean, and her daughter Jennifer Dean Burke. She leaves a legacy of strength and determination that will continue to inspire all who knew her.
Janice's family would like to extend their deepest gratitude to all those who have shown their support and condolences during this difficult time. The memories of Janice's warmth and kindness will forever remain in the hearts of her family and friends.
Family and friends are invited to attend a funeral on Friday, May 26, meeting directly at Assumption Church, 98 Riverside Ave., at 10 a.m., for a Mass of Christian Burial. Interment will follow in Assumption Cemetery, 73 Greens Farms Road. Condolences in memory of Janice may be left online at www.hardingfuneral.com.