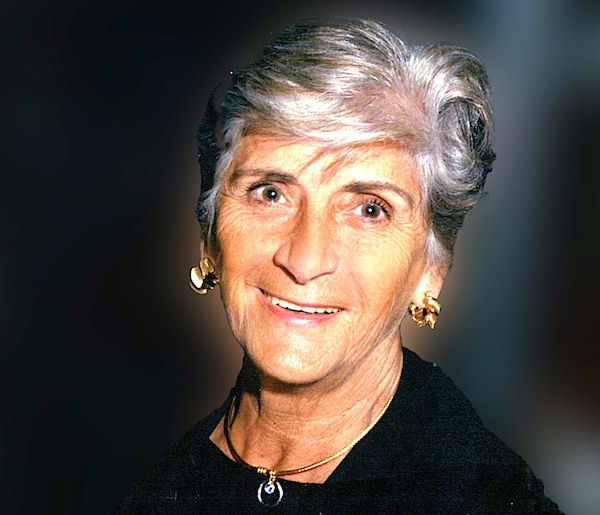 Following is the obituary for GIOVANNA "JENNIE" CAIATI, submitted for the family by the Harding Funeral Home.
_______________________________________
Giovanna "Jennie" Caiati, 94, of Westport, passed away peacefully on May 16, 2023, surrounded by family.
Jennie was born on Oct. 26, 1928, to Frank and Giovanna Nistico of Reggio Calabria, Italy, and Westport.
Jennie was just 13 when she and her mother opened the first Arrow Restaurant in Saugatuck. A tiny space on the point of Saugatuck Avenue and Franklin Street where they quickly became a staple in the community.
In a short time, the success of their business grew into a 180-seat Italian restaurant that became a "home away from home" for many Westporters and is still remembered fondly by many.
Later in life, Jennie's love of flowers led her to open Blossoms Plus, a florist and event planning company in Westport. Her creative flare and passion for design soon caught the eye of many local celebrities, such as Martha Steward, Joanne Woodward, Donna Summer and Rodney Dangerfield, to name a few of her loyal clients.
After retiring, Jennie spent much of her time wintering in Florida with family and friends, although she never slowed down. She loved to travel and enjoyed several trips to Europe and the Mediterranean. She was also an avid cruise enthusiast and would go just about anywhere with her sister-in-law, Helene Nistico, and best friend, Lorraine. And never said no to a trip to the casino or dinners out.
Her door was always open, and she would remind you frequently that, "You don't need an invitation," to stop by for coffee and a visit. She challenged her mind by playing word searches, Gin Rummy and spending time in the garden.
But more than anything, Jennie, or "Granny" as she was affectionately known by her grandchildren and great-grands, valued family above all. She could never do too much for her family and was perceived as the consummate "giving tree."
Jennie is predeceased by her beloved husband, Dominick A. Caiati, her parents and six siblings, Pauline (Bottone), Lily (Bottone), Rose (Pascarelli), Joseph, Louis and Frank Nistico. 
She is survived by her three children, Darlene Pianka (Stephen), Dominick Caiati (Erin) and Lorenzo Caiati; her seven grandchildren, Milissa Malloy (Matthew), Lauren Flory (Richard), Lorenzo Caiati Jr., Kayla, Nicole and Victoria Caiati, and Jack McElreath, and five great-grandchildren, Connor, Bryce, Parker, Brynn and Luke, whom she loved and adored.
Friends are invited to attend a funeral on Friday, May 19, meeting directly at Assumption Church, 98 Riverside Ave., at 10 a.m. for a Mass of Christian Burial. Interment will follow in Willowbrook Cemetery 395 Main St. The Harding Funeral Home in Westport is assisting the family with the arrangements. Condolences for the Caiati family may be left on line at www.hardingfuneral.com.