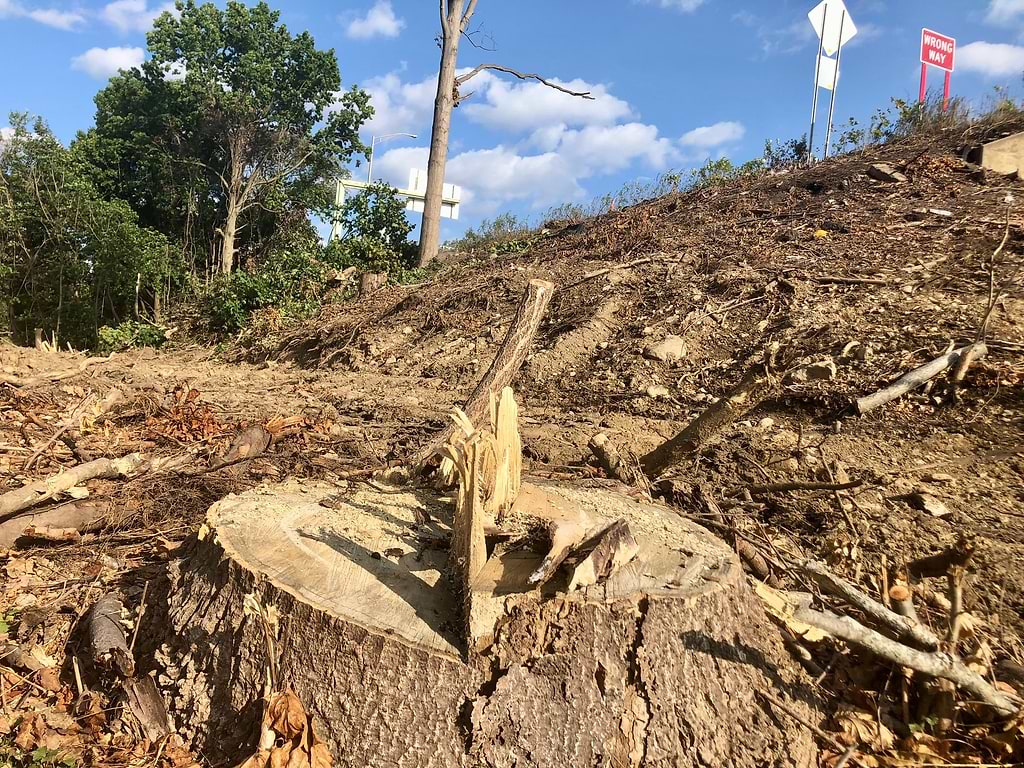 By Thane Grauel
WESTPORT — Work has begun to prepare the area around Interstate 95 at Exit 17 for a major bridge replacement project and other improvements.
The embankments on both sides of I-95 around Saugatuck Avenue have been stripped of vegetation. Trees cut down and brush torn out.
It's visually jarring, but the embankments won't look like they have for the last six decades. I-95, also known as the Connecticut Turnpike, will be widened by 28 feet in the area for the new bridge and ramps.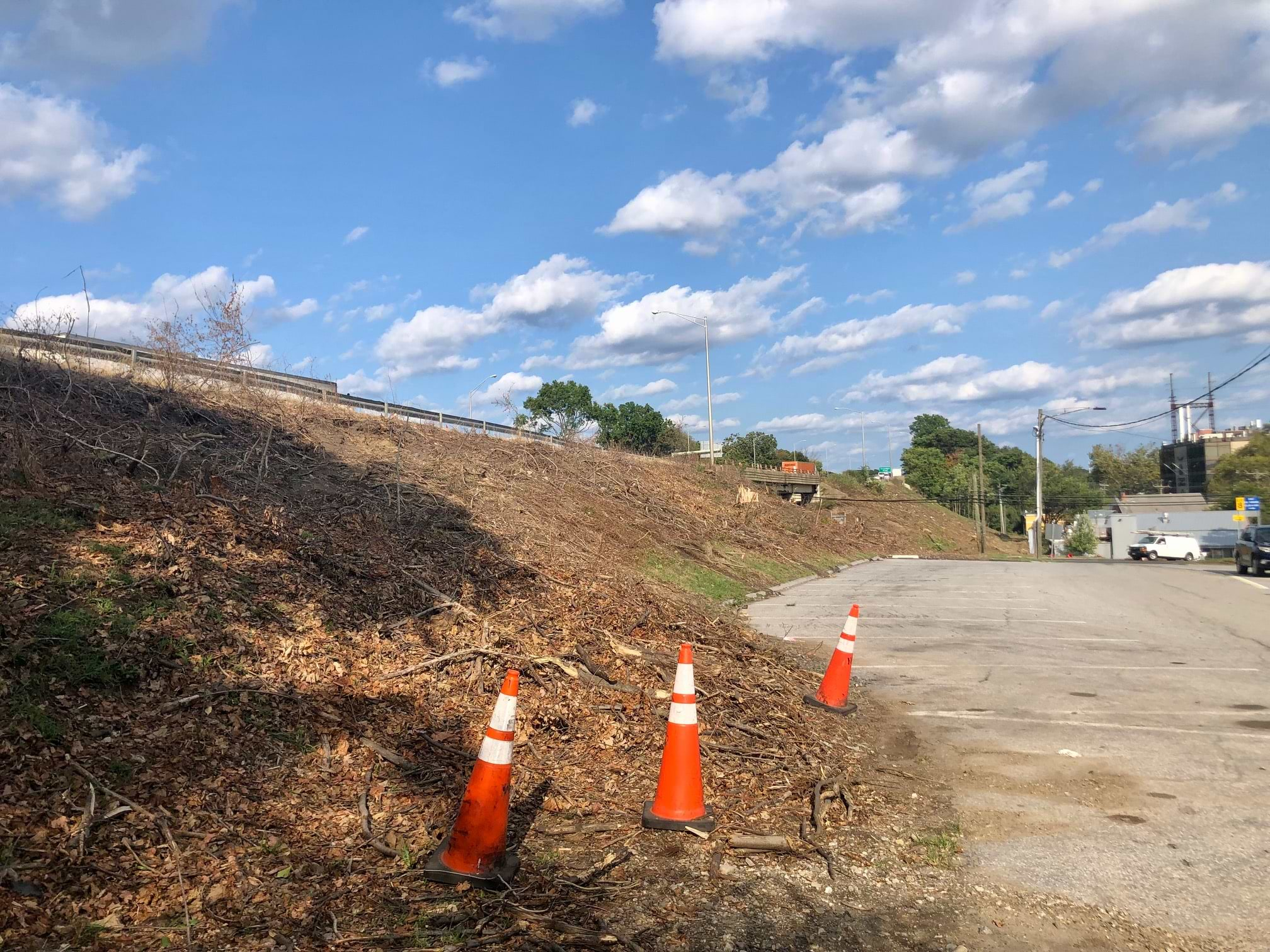 That means retaining walls — which do not exist now — will be built in Saugatuck to support the wider turnpike.
On the southern side of I-95, retaining walls will extend from the commuter lot opposite Charles Street to the new bridge at Saugatuck Avenue, and from Saugatuck Avenue up Charles Street to the Franklin Street overpass.
On the northern side, retaining walls will be added from the grassy area of the southbound exit to Saugatuck Avenue, and from Saugatuck Avenue to Franklin Street.
A Connecticut Department of Transportation informational video does not state how high the walls will be, or if they'll be plain concrete or finished with something else.
New concrete abutments will be built beneath the existing bridge on Saugatuck Avenue, which the state calls Bridge 62 (Franklin Street is 63, the Saugatuck River bridge is 64, and so on).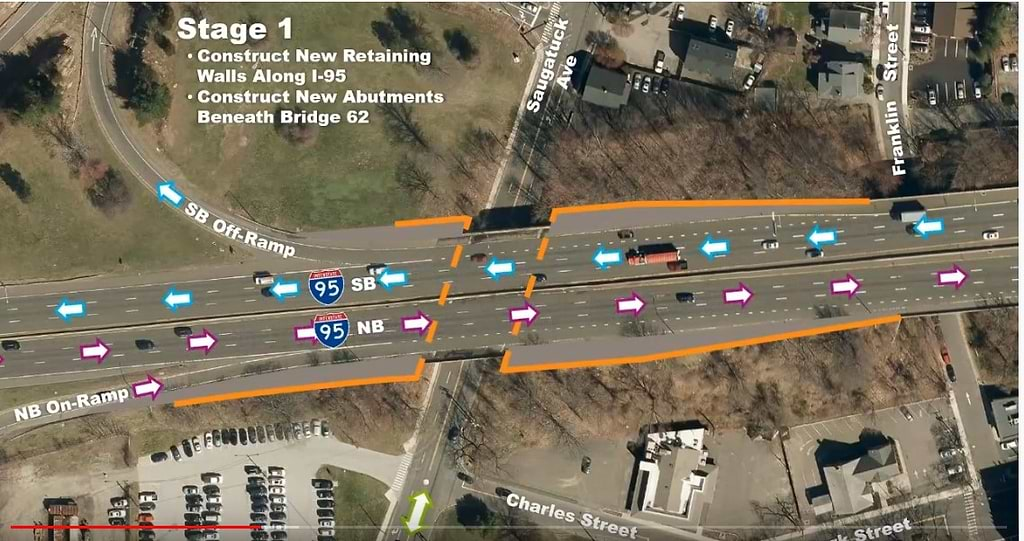 There will be blasting and "pipe jacking," which is used for tunneling.
Another phase will build temporary supports for two work areas on Saugatuck Avenue on each side of I-95. That's where two new spans will be built.
Later, on different weekends (anticipated between Sept. 15 and Nov. 1, 2023), the northbound and southbound spans will be demolished, and with the use of heavy hydraulic jacks, new spans will slide into place over Saugatuck Avenue.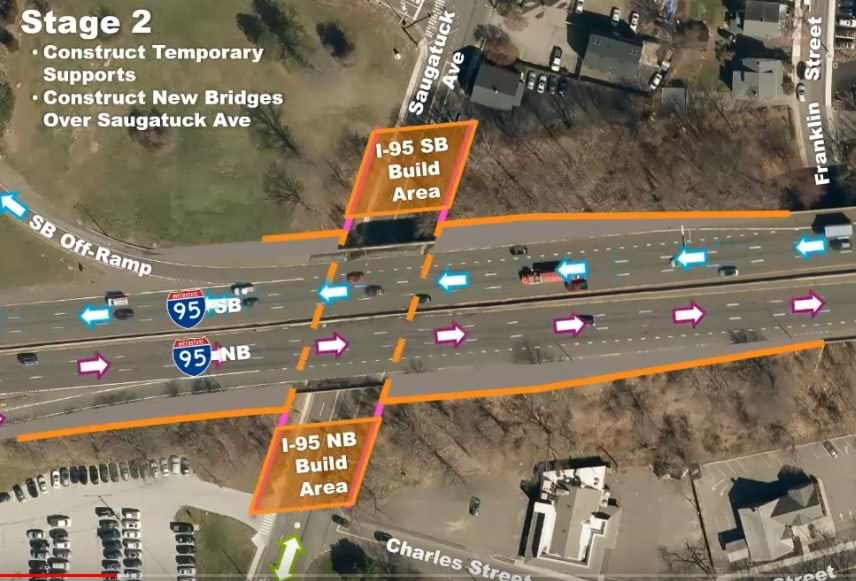 "There will no long-term disruptions to local traffic," the DOT said. Detours will be in place when needed, using Riverside Avenue.
On I-95 during this phase, northbound and southbound traffic will be restricted to two lanes each.
The northbound ramp will be closed for reconstruction, so it will fit the widened highway, the DOT said.
The southbound ramp also will be closed for a time.
The span replacements will be done "utilizing an Accelerated Bridge Construction Method called Lateral Slide, which minimizes the disruption to I-95 commuters," the DOT has said.
Learn more about that method of construction here.
The DOT said existing utilities along Saugatuck Avenue will be transferred from poles to underground conduits.
The driveway for Commuter Lot 8, now across from Charles Street, will be shifted south.
The spans over Franklin Street and the Riverside Avenue/the Saugatuck River will have "concrete deck repairs, the replacement of expansion joints and installation of new standpipes," the DOT said.
The DOT lists its goals on its website:
• Reconstruction of the center median and right shoulders, along with resurfacing of the highway mainline and ramps at Interchanges 16 and 17.
• Reconstruction of median consistent with other stretches of I-95, to provide a 6-foot-wide capped concrete barrier section.
• Widening of left and right shoulders where possible.
• Improving drainage by replacing and rerouting drainage structures.
• Replacing existing highway illumination system.
• Installation of realigned traffic Incident Management System.
• Installation of new guide rails.
• Utilization of wet retroreflective pavement markings to provide increased visibility in wet conditions.
Thane Grauel, executive editor, grew up in Westport and has been a journalist in Fairfield County and beyond more than three decades. Reach him at editor@westportjournal.com. Learn more about us here.