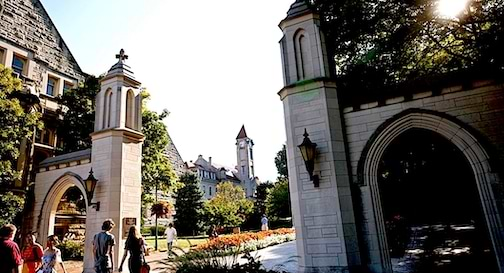 By Linda Conner Lambeck
WESTPORT — Indiana University boasts on its website it is where students will get the quintessential college experience.
Sixteen members of the Staples High School Class of 2022 took the Bloomington-based public research institution at its word and are studying there this fall as freshmen, according to self-reported data collected by Westport school officials and shared Monday with the Board of Education.
The Hoosier contingent is the largest among roughly 450 Staples graduates to land at a single second post-secondary institution last June.
The next closest was Syracuse University at 12 graduates, while Lehigh University in Bethlehem, Pa., and the University of Connecticut tied for third place with 11.
In what is becoming a tradition, the Class of 2022 Report to the school board offers not only insights into where Westport students go after high school, but how competitive they are collectively compared to students at other high schools. (Click here to read about the Class of 2021 report.)
"By and large, our students ended up in a really good place," said Bill Plunkett, Staples director of guidance. "It's the reason we preach to them things are going to be okay."
Polled in the spring, 91 percent of the class reported feeling satisfied with their post-high school plans.
It was a class that had its sophomore year cut short by the COVID-19 pandemic. Junior year unfolded in a hybrid format with student activities severely curtailed and college visits largely conducted remotely.
Still, the class submitted a total of 3,731 higher-education applications, an average of 8.7 per graduate. That is about the same as 2021 graduates.
This year's applications yielded a 51.7 percent acceptance rate, which Plunkett says is slightly lower than in the past, but greater than the national average.
Other statistics from Staples '22 graduates' profile
93 precent of the class headed to a four-year college.
Just shy of 2 percent went to two-year colleges.
2 percent took a gap year.
The remainder of the graduates went straight into employment, college prep schools or were undecided.
Supt. of Schools Thomas Scarice said Staples students continue to perform at high levels and fare favorably compared to the national average.
Plunkett said the Class of 2022 applied to 440 different schools and landed at 162 different institutions.
Still, the same 25 colleges, in various order, tend to get the most applications and attract the most Staples grads year after year.
Plunkett is not sure why the Indiana Hoosiers rose to the top this year, but said that university has consistently been in the top 10 choices among Staples graduates for a few years.
Some of the attraction may have resulted from word of mouth by fellow students and alumni, he said.
Not surprisingly, UConn drew the most applications at 125 from the Class of 2022. Penn State was second with 79, followed by the Universities of Maryland, Wisconsin and Syracuse.
"We encourage students to cast a wider net and consider other schools," Plunkett said. "Some students like the rah-rah, big football schools."
Closer to home, six Staples students said they would attend Norwalk Community College. Usually, it's a larger number, Plunkett said.
As for getting into the most competitive schools, Staples graduates consistently do better than the national average.
Boston College accepts 14 percent of applicants nationally, but sent acceptance offers to 42 percent of Staples seniors who applied last year.
Harvard's acceptance rate for Staples applicants was 13 percent, compared to 3 percent nationwide. Yale picks 4 percent of applicants nationwide, but 8 percent of those from Staples.
A challenging process
The college-application process is at the root of a lot of student stress, both Scarice and Plunkett acknowledged.
Beyond building their grades and resumes, students still take college admissions tests, although a larger number of colleges are now test optional.
Some parents and students still don't trust the test optional approach by some colleges, Plunkett said. If scores are good, students send them.
Plunkett called Staples ACT scores "pretty remarkable," with a composite mean score of 29. The mean SAT score for the Class of 2022 was 1,224, slightly lower than the scores for both the Class of 2021 at 1,263 and Class of 2020 at 1,241.
Plunkett said the Staples SAT scores were highest in the state.
As for Advanced Placement courses and tests, participation and performance was down for the Class of 2022, but is expected to rise again this year, officials said.
The class had two National Merit Scholars and seven finalists.
Plunkett outlined for the school board what his department does to prepare students for their post-high school lives. There is a four-part webinar experience called Spark, which parents and students can access.
Staples has an online system that allows parents to check out how many students have applied to and been accepted a particular university over several years, Plunkett said.
College visits to campuses, suspended during the pandemic, are also making a comeback,
Board Secretary Neil Phillips wondered why more Ivy League institutions weren't among the most popular college choices for Staples students.
Plunkett was asked for a complete list of the schools that students decided to attend.
Board member Dorie Hordon called the stats impressive "It's where we want to be and where we want to stay," she said.
Hordon asked how the board can better support the guidance department to make the process stronger.
Staples counselors have a caseload of about 170 students each. Plunkett called it a good number, but said it is still a lot to manage.
"Additional staff would be helpful," he said.
Board Vice Chairwoman Liz Heyer said it is important for the board to understand where the gaps are in the process and how to address them.
Michele Carey-Moody, a Staples parent, said the online seminars provided by the guidance department are helpful, especially since parents can go back and watch them a second time.
A college night for Class of 2024 juniors is planned for January.
Freelance writer Linda Conner Lambeck, a reporter for more than four decades at the Connecticut Post and other Hearst publications, is a member of the Education Writers Association.